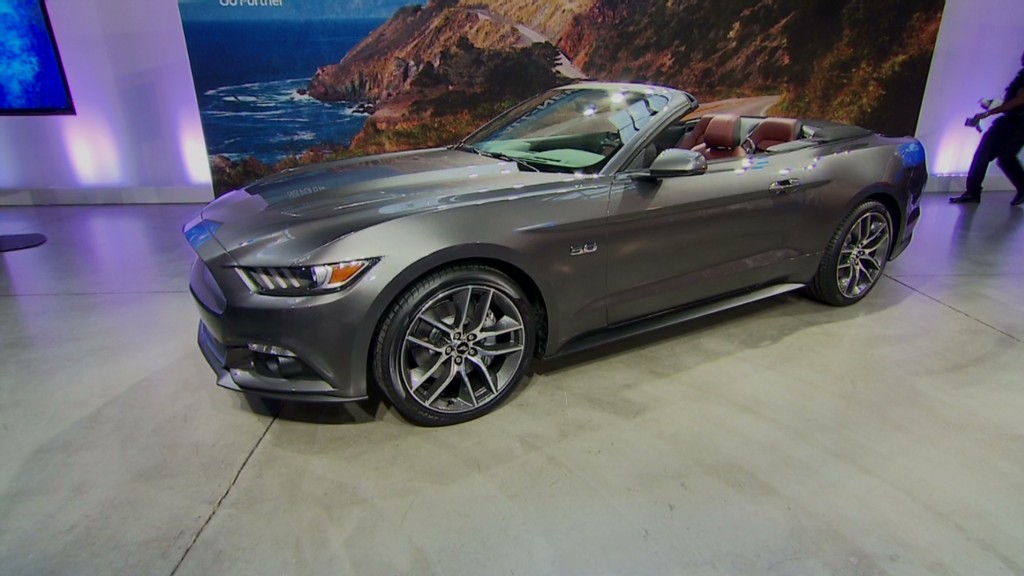 Ahead of the Mustang's 50th anniversary, Ford unveiled an all-new completely redesigned Mustang with more power, better fuel economy and an available four-cylinder engine.
The Mustang GT will still have a 5.0-liter V8 but with more power than the current version and there will also be an available V6 engine for price-conscious buyers. But, for the first time since the early 1990s, the Mustang will also be offered with a turbocharged performance-tuned four-cylinder engine.
"It is going to surprise and delight a lot of people," said Ford (F) Mustang chief engineer David Pericak.
And, for the first time ever, the base Mustang will have fully independent rear suspension That's something that almost every other passenger car on the market has had for many years, but it's a huge change for this performance icon.
The new suspension will provide a more supple ride and better handling than the current car, Pericak said.
Gallery - 12 historic Ford Mustangs
The new Mustang's body remains familiar with a long, bulging hood and stubby trunk. But the lines are a bit more muscular in the new version. The redesigned car is longer and lower than the current Mustang with a sleeker profile. It retains what Ford calls the "shark bite" front end with its signature trapezoidal grill.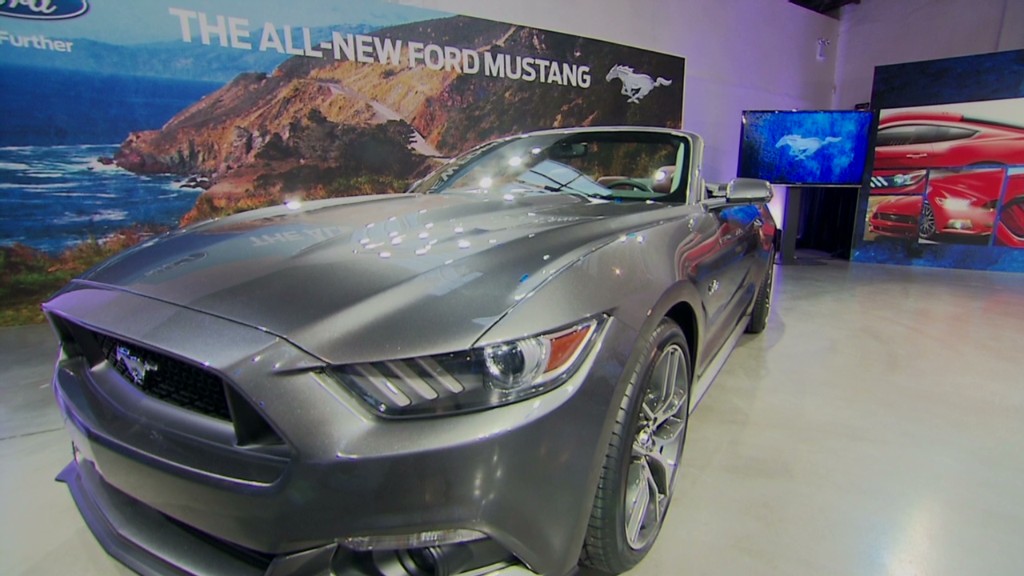 The new V8 Mustang's 5.0-liter engine will produce something over the current Mustang's 420 horsepower, according to Ford. The 3.7-liter V6, meanwhile, will also offer more than the current car's 305 horsepower but Ford hasn't released final performance numbers yet.
But the real news is the new four-cylinder 2.3-liter turbocharged engine, which will be available as a mid-range option. This little engine will crank out 305 horsepower and more than 300 foot pounds of torque (that's the pulling power you feel on acceleration.) Even with all that, Ford is promising "class-leading" fuel economy. Official fuel economy estimates for the car are not yet available.
Special performance packages will be offered with both the V8 and four-cylinder turbo cars. The V6 will be offered as a low-cost, entry-level option.
Final pricing for the car will be announced closer to the fall of 2014 when the car is expected to go on sale.
Since this is a performance car, it's expected that a large percentage of Mustang buyers will opt for the manual transmission. This will be a six-speed transmission with less space between the gears for quicker shifts. The shifter's also been moved closer to the driver's seat and away from the cupholders so drivers will no longer knock the lids off their soda cups while changing gears.
The automatic transmission will now offer steering-wheel-mounted paddle shifters for the first time. The car will also automatically match engine RPM for smoother shifts even under hard acceleration or when downshifting. Paddle shifters are nothing new but Ford engineers say that, until now, they haven't had a paddle shift system they felt was worthy of the Mustang.
A computer-assisted torque-vectoring program can direct power to individual rear wheels during hard turns for improved handling.
The new Mustang will be sold in countries around the world but will continue to be built at Ford's Flat Rock, Mich., assembly plant.