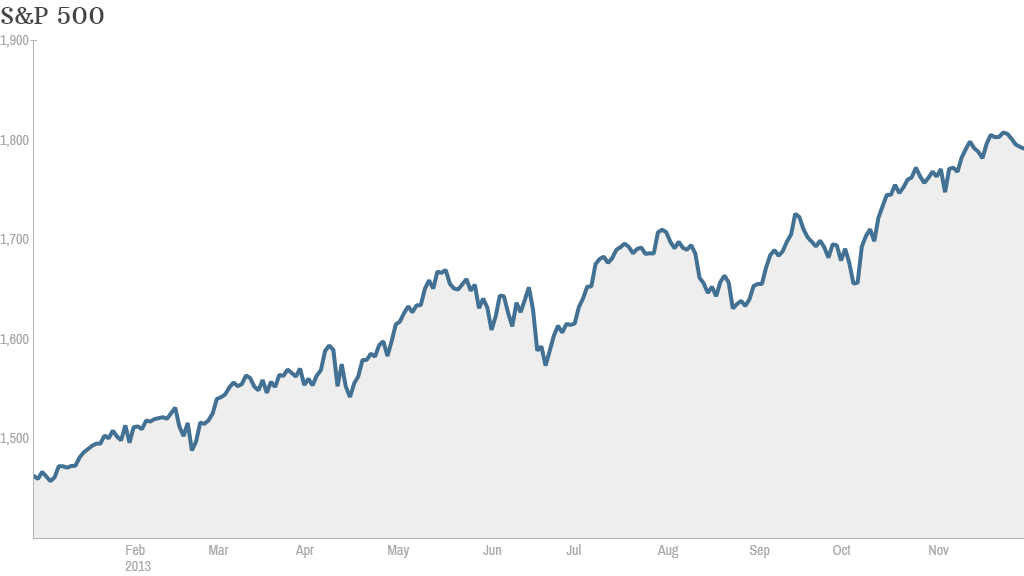 Stocks have enjoyed a great year but are off to a rocky start in December. Is the market finally starting to take a long overdue breather?
It's been 26 months since the S&P 500 slipped into a "correction," defined as a decline of 10% or more from a recent high, according to Sam Stovall, chief equity strategist at S&P Capital IQ.
On average, the index has gone through a correction every 18 months since 1945, Stovall wrote in a report this week.
The S&P 500 slid 5.7% from late May through late June, after the Federal Reserve hinted that it could scale back, or taper, the bond purchases that have helped fuel the bull market in stocks since March 2009.
Other than that, stocks have not had a drop of more than 5% all year. The S&P 500 is up more than 25% this year and has hit a series of all-time highs.
The broad market gauge has ended higher every week for the past eight weeks. But that winning streak is in jeopardy. The S&P 500 has fallen for the past four days.
Related: 20 top picks from 20 star investors
As stocks have pulled back, the market's so-called fear gauge has popped higher. The VIX (VWA), a measure of market volatility, has gained 15% over the past three days, though it's still at historically low levels.
And CNNMoney's Fear and Greed Index, which tracks the VIX and six other gauges of market sentiment, has fallen in the past week. It's still at Greed levels but was much closer to Extreme Greed a week ago.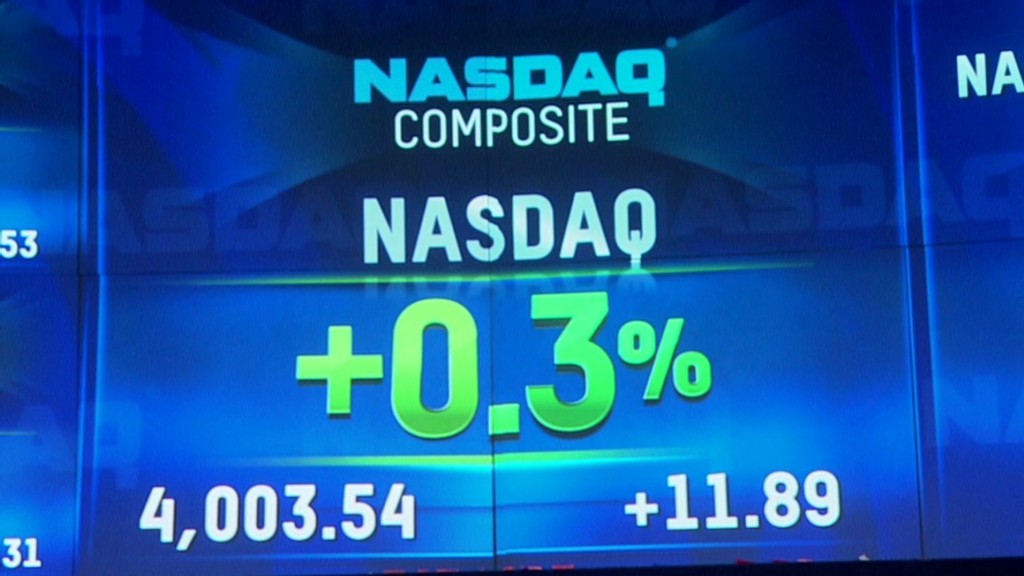 Jack Ablin, chief investment officer at BMO Private Bank, said it's too soon to tell if this week's selling is the beginning of a larger correction.
Ablin said much will depend on Friday's jobs report, which could give investors a better sense of what the Fed might say about tapering at its next policy meeting, which concludes on December 18.
Related: Don't fight the Fed, but be wary
Stocks have been under pressure this week despite strong reports on manufacturing and private-sector payrolls as some investors see good economic news as a sign that tapering is imminent.
"If we get a good jobs report and the market drops, that may suggest that investors' attitudes have shifted," said Ablin.
Dan Greenhaus, market strategist at BTIG, said that stock prices are a "bit stretched" right now, based on how high the S&P 500 is above its average level over the past 200 days. He and thinks that a pullback of 5% would not be surprising. But he argued that stocks do not need to fall just because it's been a good year for the market. While stocks are more expensive than a year ago, he said valuations are still not abnormally high.
The S&P 500 is trading at 15 times next year's earnings estimates, compared with a 10-year average of 14, according to data from FactSet.
Related: Bulls look for new highs in December
But John Linehan, head equity strategist at T. Rowe Price, said the market's green light has turned "decidedly yellow" and investors should "proceed with caution." He says that stocks are "probably due" for a correction in 2014.
Another reason to be cautious? The current bull market is now 57 months old, which is the average life-span for bull markets going back to 1928, according to T Rowe Price.
Still, Linehan thinks that a correction could be healthy. Any significant pullback "is probably a buying opportunity more than anything else."
In fact, Linehan expects the S&P 500 to end 2014 with gains "in the high single or low double digits." That's obviously not as strong as this year's gains, but it would still be a very good year for stocks.