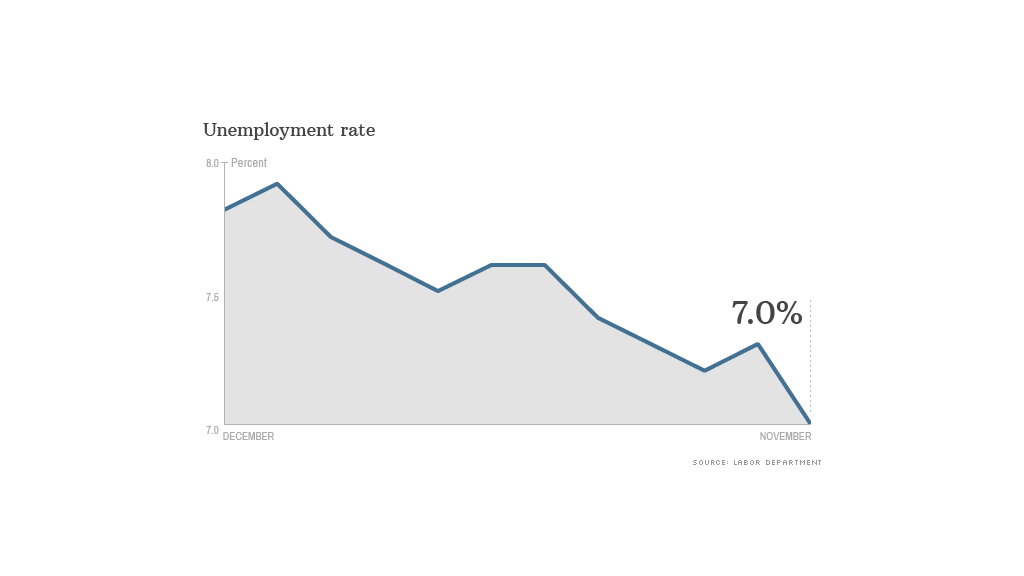 Has the job market finally hit its stride? Hiring continued at a solid pace in November, and the unemployment rate fell to a five-year low ... for the right reasons.
The U.S. economy added 203,000 jobs in November. Economists surveyed by CNNMoney had predicted payroll gains of 183,000 jobs.
The unemployment rate fell to 7.0% -- the lowest level since November 2008, as more people said they got jobs and joined the labor force.
This is encouraging news for the 11 million Americans who remain unemployed. The job market has been improving for three years now, but at a frustratingly slow pace.
Related: White House wants to extend unemployment benefits
The hiring was broad based, with big gains for sectors that tend to pay low wages as well as those that offer higher salaries. While retailers, restaurants and bars all hired more workers, traditionally higher wage sectors boasted even stronger job growth.
For example, professional and business services added 35,000 jobs.
"This was a strong, good quality report, showing continuing momentum," said Deloitte's Chief Financial Officer Frank Friedman. Deloitte alone is planning to hire about 18,000 people this year in its tax auditing and consulting businesses.
"We're optimistic about 2014, and we continue to hire at a pretty robust pace."
Did you get a new job? Tweet us at #igotajob
The transportation and warehousing sector added 30,500 jobs, and health care added 28,000 jobs.
Meanwhile, manufacturers hired 27,000 workers and construction companies hired 17,000.
"This year started off lopsided -- low quality jobs were growing, but only in the last few months, the high quality jobs are coming back too," said Rajeev Dhawan, director of the Economic Forecasting Center at Georgia State University.
The federal government continued to cut jobs, but state and local governments more than made up for those losses, hiring 14,000 workers.
Infographic: Economy still split between the 'haves' and 'have-nots'
2013 is on track to be the best year for job creation since 2005, but the job market still has a long way to go until it's entirely healed from the recession.
Only about 63% of Americans over the age of 16 participate in the job market -- meaning they either have a job or are looking for one. That's nearly the lowest level since 1978, driven partly by Baby Boomers retiring, but also by workers who had simply given up hope after long and fruitless job searches.
When Wal-Mart (WMT)recently opened two stores in Washington, D.C., more than 23,000 people submitted applications for the 600 job openings.
That means each applicant stood a mere 2.6% chance of being hired. Harvard has a higher acceptance rate.
"It's not uncommon for us to get this number of applications in urban areas when there is such a need for jobs," Wal-Mart spokesman David Tovar said.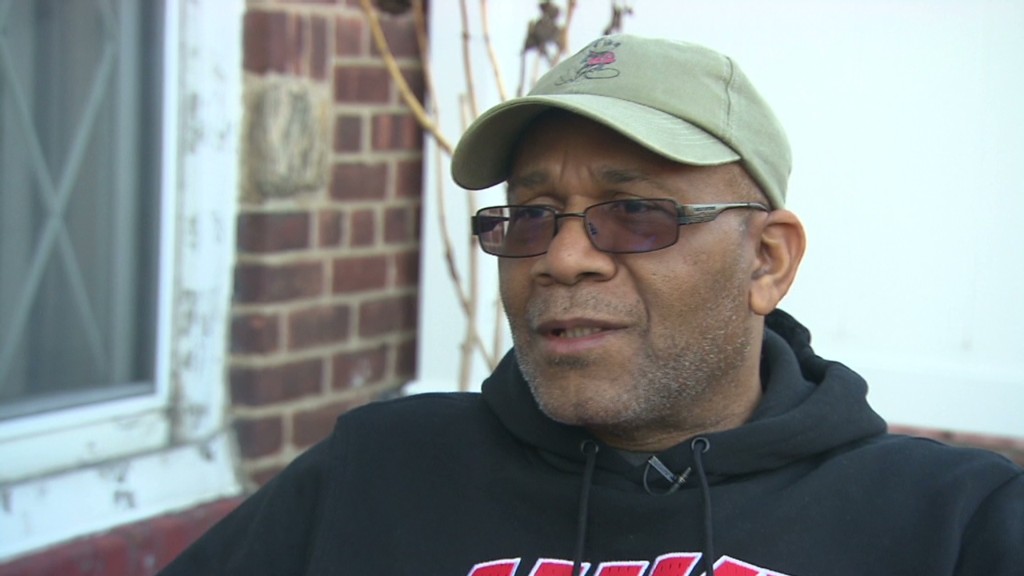 But perhaps 2014 will be the year the job market finally breaks out of its funk. The consistently stronger hiring growth could help convince some of the job market dropouts to look for work once again, economists say.
"The economy is poised for takeoff but suffers from headwinds," Dhawan said. "If we can survive January and there's no shutdown, we can take off."
The United States lost 8.7 million jobs in the aftermath of the financial crisis. As of November, it had gained about 7.4 million of those jobs back.