Stocks fell Tuesday as investors hit the pause button a day after the S&P 500 closed at yet another record high.
The Dow, S&P 500 and Nasdaq all slipped slightly. But this year has been a strong one for stocks, with all three indexes up more than 20% so far. But investors are wary to make big bets ahead of the Federal Reserve's policy meeting next week, when it will decide whether to continue pumping money into the economy at its current rate of $85 billion a month.
Though the broader market was little changed, a number of high-profile companies were making big news.
Related: Fear & Greed Index continues to show greed
General Motors (GM)announced a new CEO. The company named product development chief Mary Barra as next chief, succeeding Dan Akerson, who is stepping down. The U.S. government revealed Monday that it had sold the last of its stake in the automaker. Shares fell Tuesday but are still up more than 40% this year.
Lululemon (LULU) shares dipped after the yoga retailer announced that Laurent Potdevin will become CEO of the company in January, replacing outgoing CEO Christine Day. Potdevin had been the president of shoe company TOMS. Lululemon also said founder Chip Wilson will step down as chairman in the spring. Lululemon struggled through several very public product recalls this year.
Some traders on StockTwits were pleased with the news.
"$LULU appointed Laurent Potdevin as CEO, previously President of TOMS Shoes," said Cow. "Good choice. Upgrades coming. Short squeeze to $80. Bullish."
But most were skeptical of the move.
"$LULU lets not get to excited, New CEO Cannot Save Lululemon," said Trader_m3. "The glory dayz are over."
Given that Lululemon reports earnings on Thursday, the timing of the move was particularly concerning.
"$LULU anyone shorting this here?" asked scottsdalem. "It's suspicious when a new CEO is announced just 2 days before the ER. Rushing???"
Twitter (TWTR) shares surged nearly 6%. The stock hit an all-time high above and has now doubled from its IPO price.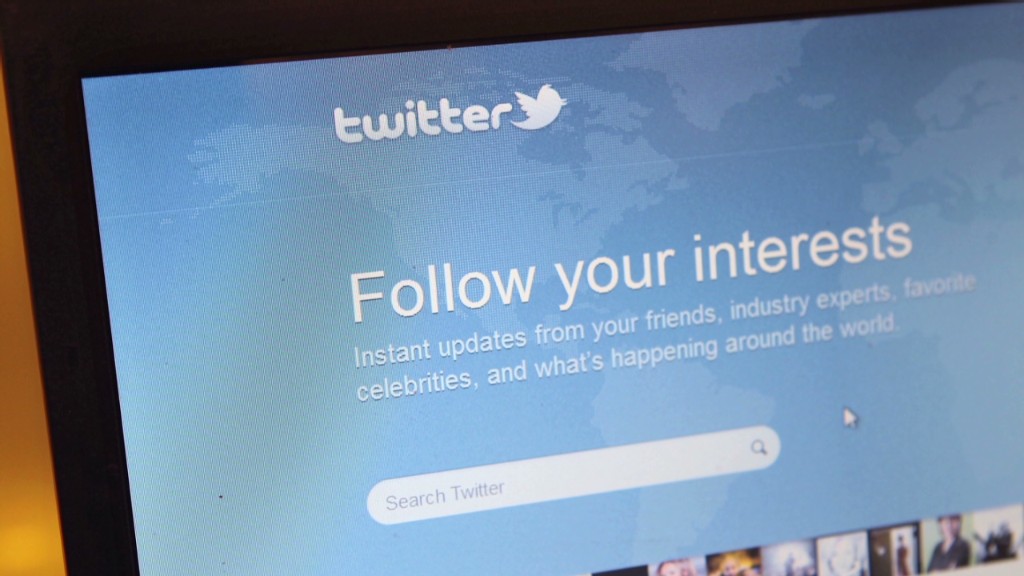 Some traders were optimistic, including Constantine1 -- who said Twitter could be on its way to become the next Apple (AAPL) or Google (GOOG): "$TWTR Don't sell one share of this stock - has a chance to be the next $GOOG/$APPL."
But most were wary of Twitter's big jump.
"TWTR has reached unsustainable levels," said goprules. "Expect correction & profit taking soon."
Though there wasn't any clear news driving up shares of Twitter, some traders cited rumors that Carl Icahn, who has had a great year in part due to his investment in Netflix (NFLX), is buying Twitter.
"$TWTR So all the excitement is about Uncle Icahn trying to inflate this one like $NFLX? hmmmm....." said Silence.
Related: Why Cerberus still hasn't sold Freedom Group
Bank stocks edged higher after federal rules officially announced the final details of the long-awaited Volcker Rule -- a key piece of the 2010 Dodd-Frank financial reform law. Shares of Goldman Sachs (GS) and Morgan Stanley (MS) rose more than 1% while JPMorgan Chase (JPM) also gained some ground. Bank of America (BAC) shares finished slightly lower.
On the earnings front, Toll Brothers (TOL)were down slightly even though the homebuilder topped profit and revenue estimates.
Gun maker Smith & Wesson (SWHC) soared in extended trading after the company reported sales and earnings that topped forecasts as well as strong guidance. The company, as well as rival gun maker Sturm, Ruger (RGR), have surged this year as calls for stricter gun control laws of have started to wane in the year since the tragic shooting at Sandy Hook Elementary school in Newtown, Conn.