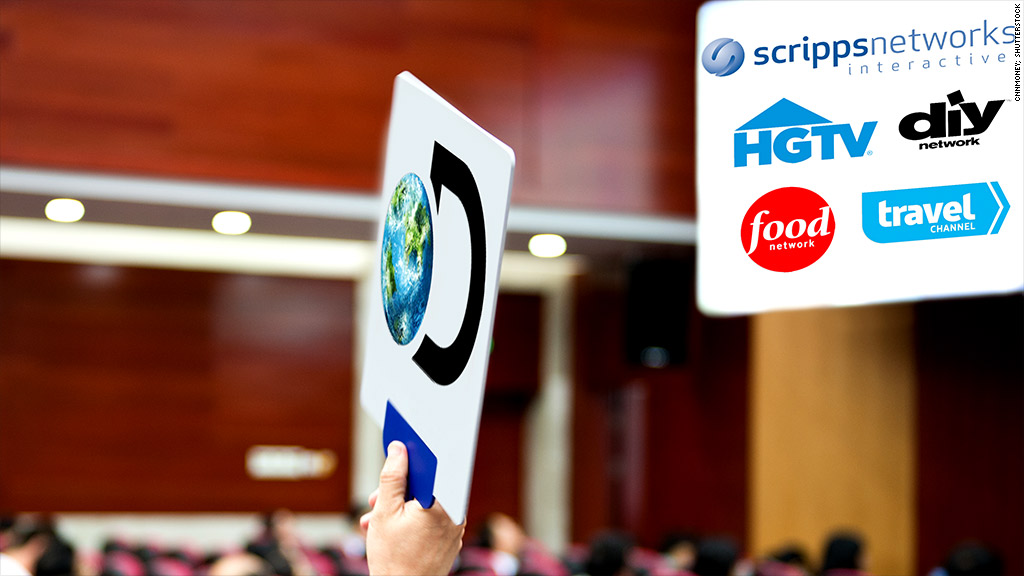 Discovery Communications' interest in acquiring Scripps Networks Interactive is the latest indication that in the cable business, the bigger the better.
Discovery's interest in a bid was first reported on Tuesday by Variety, the Hollywood trade magazine. Both Discovery and Scripps declined to comment.
For Discovery, the end game would be more cable channels that it can use to extract additional cash from distributors like Comcast and DirecTV. "Discovery simply has the boots on the ground and negotiating muscle to ramp growth," Matthew Harrigan, a Wunderlich Securities analyst, wrote in a note to investors on Wednesday.
Other analysts were more skeptical about Discovery's ability to use Scripps to win higher subscriber fees for its cable channels. "If anything, the combination has potential internationally where [Scripps] just recently made inroads," said the widely-respected media analyst Michael Nathanson of MoffettNathanson in a blog post Wednesday morning.
Related: Netflix won't release "TURBO: Fast" for binge viewing
Discovery and Scripps have a lot in common: they're both leaders in nonfiction cable television and they're both trying to expand outside the United States. To date, Discovery has made a lot more progress overseas than Scripps has.
Discovery's list of cable channels includes the Discovery channel, TLC, Animal Planet, Investigation Discovery, and Oprah Winfrey's OWN.
Scripps' list includes the Food Network, HGTV, DIY Network, the Travel Channel, and a number of lifestyle Web sites.
Nathanson added that there are potential cost synergies in "ad sales, affiliate sales, international and digital ventures, corporate overhead and public company costs."
The deal may never materialize, of course. Or it may end up happening between Scripps and another major media company.
Discovery (DISCA) and several of its competitors have inquired about buying Scripps in the past with nothing to show for it.
Stock in Scripps Networks (SNI) was up nearly 7% Wednesday afternoon.
Nathanson wrote that in the long term, he and his colleagues do believe that consolidation among channel owners like Scripps, Discovery and AMC Networks (who are among the biggest channel owners in the U.S., but are not in the top tier of Disney, NBCUniversal and the parent company of CNNMoney, Time Warner) makes sense, particularly given the forecasts for consolidation on the distribution side of the business.