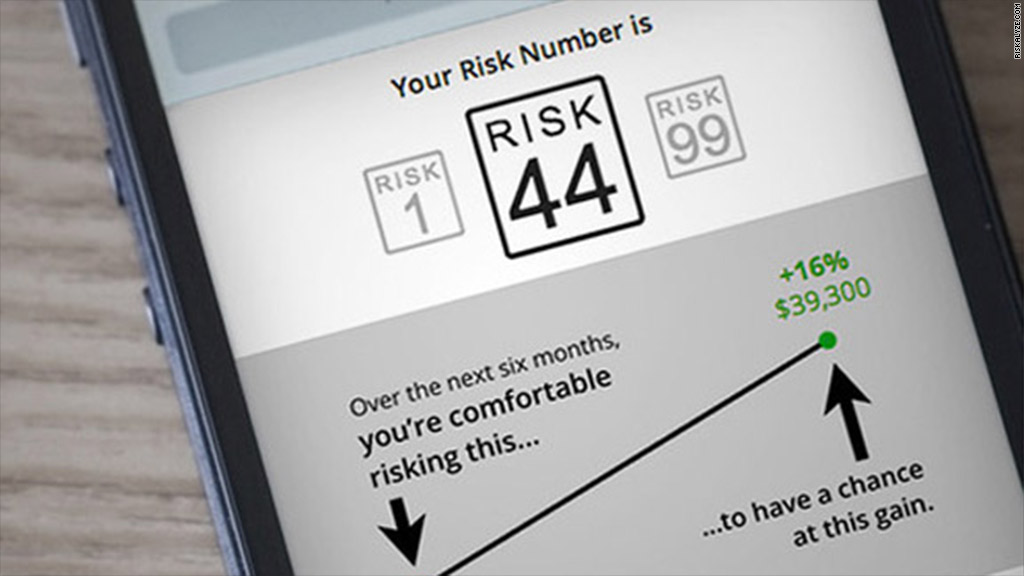 Estimating how much risk investors are willing to take has been part of John Picone's job for more than three decades. But the financial advisor says his job got a lot easier recently thanks to Riskalyze, a new company that helps to calculate how much volatility investors are willing to stomach.
Riskalyze, which CNNMoney just named one of the top 15 financial sites and apps for consumers, uses a web-based questionnaire to find how much people are willing to invest in stocks and what type of losses might prompt them to sell.
Picone, who runs Picone Financial Partners in Bonita Springs, Fla., said that Riskalyze has allowed him to avoid pigeonholing his clients and putting them in certain asset allocation programs based mostly on their age or other factors. That's because while most risk tolerance assessments ask questions based on how psychology affects investment decisions, Riskalyze's approach is rooted in math.
Riskalyze asks up to a dozen questions to quantify exactly how much risk an investor is willing to take -- a process that typically takes about 10 minutes and removes the "subjectivity and guesswork out of risk analysis," said Riskalyze CEO Aaron Klein.
At the end of the assessment, Riskalyze assigns a so-called risk fingerprint, which is a number between 1 and 99. A score of 1 is a sign that investors want to avoid almost any risk while a 99 indicates a strong willingness to accept volatility if it meant that there was also a chance of huge gains.
Related: 15 best financial sites and apps
The Riskalyze questionnaire helped Picone learn that one of his clients is actually a lot more comfortable with risk than he initially thought.
The assessment concluded that this client, a 64-year-old nearing retirement, had a risk fingerprint of 65. With that in mind, Picone was able to suggest a model portfolio that focuses on growth with income, which has a 60% allocation in stocks and 40% in bonds.
Prior to using Riskalyze, Picone had his client's portfolio focused on generating income with moderate growth. That may sound similar. But that allocation had 40% in stocks and 60% in bonds. So it was a more conservative portfolio than this client actually needed.
And thanks to this year's huge stock market rally, the client's returns have been better than if he had stuck with a portfolio weighted more towards bonds.
"Now my client and I can both see he's willing to be more aggressive, and we're on the same page about his expectations," Picone said.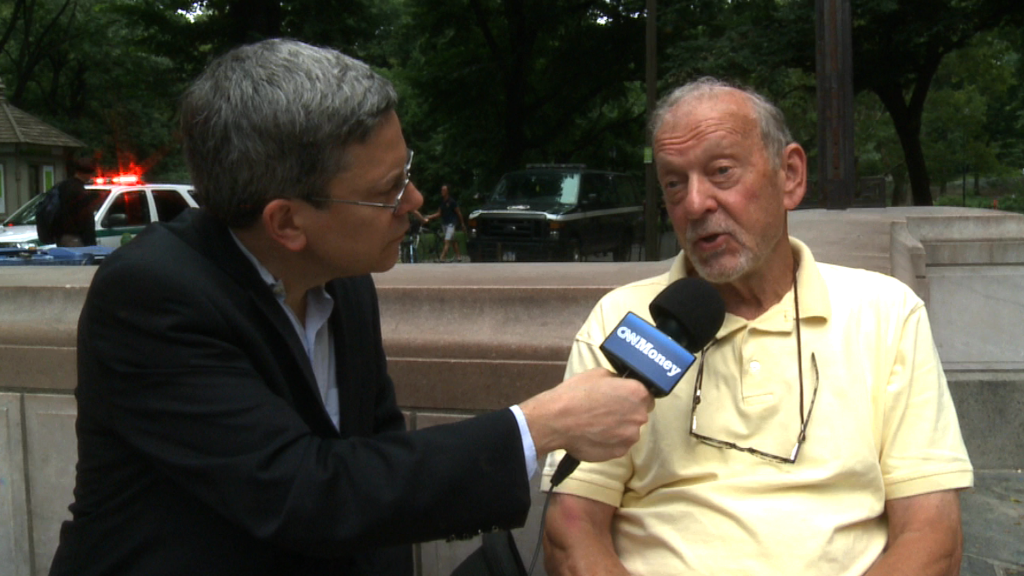 Riskalyze also lets investors test scenarios for individual stocks.
That's how financial advisor and Riskalyze co-founder Mike McDaniel persuaded one of his clients to reduce her 22% stake in Apple (AAPL) when it was trading near its all-time highs last year.
"At the time, Apple looked like it was going to the moon, so it was hard justify to clients why they shouldn't add more," said McDaniel, who is based in Nevada City, Calif.
But he was able to show his client how her entire portfolio would react to various scenarios with Apple's stock.
"The risk that such a large stake in Apple at all-time highs posed stuck out like a sore thumb," said McDaniel. "Seeing the math, she was able to take her emotion out of the process and make a rational decision."
Related: Bonds: Tweak your mix in 2014
McDaniel also used Riskalyze to convince many of his customers to reduce their bond exposure last year. He showed them the risks their bond-heavy portfolios would carry if the 10-year Treasury yield rose by a percentage point.
"My typical client is 72 and retired, and conventional wisdom suggests they should be heavily invested in bonds," he said, adding that he thought interest rates would rise this year. So investors with a big chunk of bonds stood to lose a lot of money.
Sure enough, long-term bond yields spiked to nearly 3% at one point this year from about 1.7% a year ago due to expectations that the Federal Reserve will begin to pull back on its stimulus measures.
"I was able to convince my clients to increase their exposure to stocks and cash, and that's been huge in terms of protecting what they would have lost in bonds," said McDaniel.