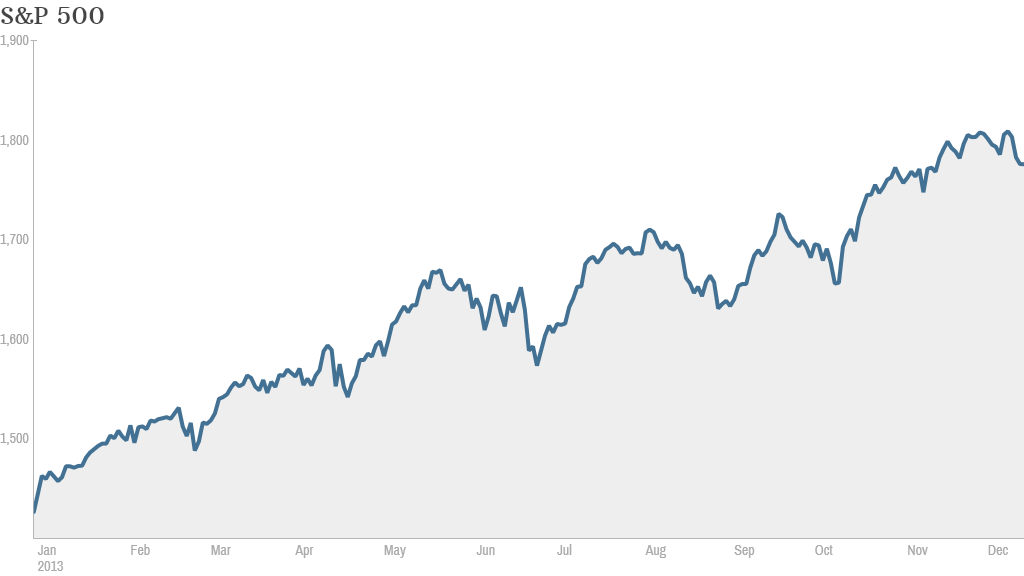 As the stock market heads into the final stretch of what has been a very strong 2013, all eyes will be laser-focused on the Federal Reserve this week.
The central bank wraps up a two-day policy meeting Wednesday and investors want to know whether it will finally announce that its ready to pull back on, or taper, the massive bond buying program that has helped fuel this year's mega-rally on Wall Street.
It looks like it could go either way. Analysts at Berenberg Bank wrote in a research note Friday that they see a 50% chance of tapering. Of course, that means there's also a 50% chance the Fed will do nothing.
The Fed has been purchasing $85 billion in Treasury bonds and mortgage-backed securities per month, a program known as quantitative easing or QE for short, since September 2012. This is the third round of QE since the financial crisis of 2008 and many investors believe that QE is the main reason the market has soared since stocks bottomed in March 2009.
Stocks went on a wild ride in May, when Fed chairman Ben Bernanke first hinted in that the Fed may taper "in the next few meetings."
When the Fed didn't cut back on QE in September as many had expected, stocks resumed their record run. But the Dow and S&P 500 have pulled back from their all-time highs this month on renewed concerns that tapering may be around the corner. The major market indexes all fell last week and are down about 1.5% to 2% in December. So the typical "Santa Claus rally" has yet to materialize.
The bond market will also be on taper watch. The yield on the 10-year Treasury note spiked from 1.6% in May after Bernanke's tapering comments to a peak of 2.98% in September just before that month's Fed meeting. Bond yields rise when prices fall. The big bond sell-off and sudden jump in yields led to a rise in mortgage rates and other consumer loans that track the 10-year note.
Related: Will the market actually cheer tapering?
Only a few months ago, a December taper seemed unlikely. The government shutdown and debt ceiling fight in October threatened to derail the recovery.
But a better than-expected November jobs report, decent third quarter GDP figures, and a budget deal in Congress have led some to believe that the Fed will start winding down its support for the economy sooner rather than later.
"It is a close call, but we think the renewed strength of employment growth in the past few months will be just enough to persuade the Fed to start scaling back its monthly asset purchases," analysts at Capital Economics said Friday.
Others aren't so sure.
The Fed "will almost certainly start to slowly taper its QE program in the first half of next year," Wells Fargo analysts said in a market commentary Friday. But the analysts do not expect a taper announcement at this week's meeting.
Bernanke's term as Fed chair ends in January. Current Fed vice chair Janet Yellen -- who is expected to be confirmed by the Senate this week -- will take over for Bernanke. Many experts think Bernanke would prefer to have Yellen start the tapering as opposed to having it be one of his last acts as Fed chair.
Related: Is the improving economy for real?
In addition to questions about when the Fed will wind down purchases, investors also want to know how much the Fed will scale back initially. The hope is that the Fed gradually tapers -- perhaps cutting the size of its monthly purchases by just $10 billion to $15 billion to a pace of $70 billion to $75 billion a month.
"I think the market will be fine with a small taper," said Samuel Wardwell of Pioneer Investments. "Do something, but don't taper to $60 billion."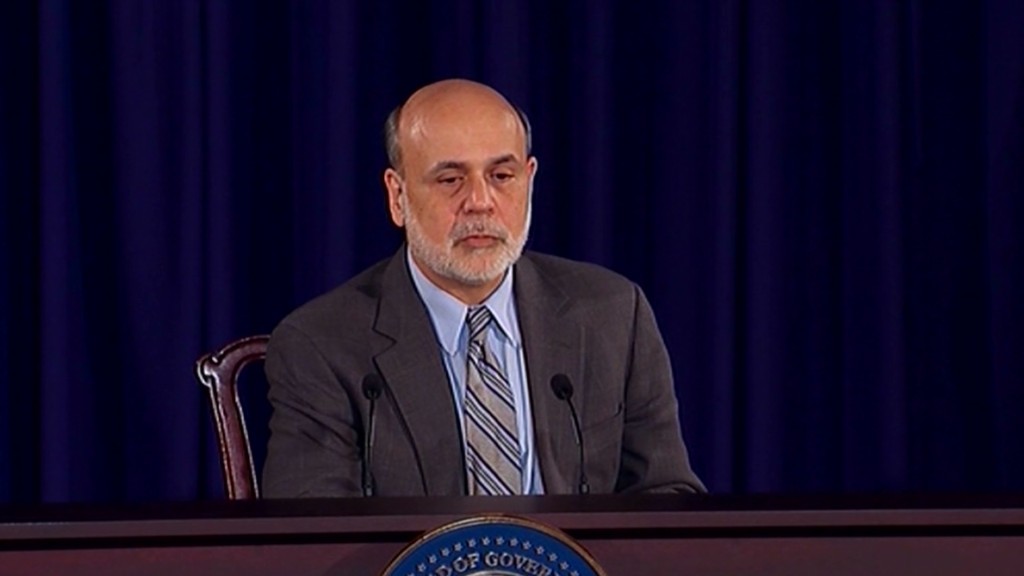 Even if the Fed doesn't decide to taper, Bernanke will face questions from the media in a press conference after the policy meeting concludes. The Fed will also release new economic forecasts for 2014 and beyond. Investors will be looking most closely at the Fed's latest projections for the unemployment rate, GDP growth and inflation.
While the Fed will be the main event this week, data on inflation and housing should also give investors something to chew on just before the holidays.
There are also a small handful of well-known companies scheduled to report their latest quarterly results this week, including FedEx (FDX), Oracle (ORCL), Nike (NKE) and struggling smartphone maker BlackBerry (BBRY). Movie theater chain AMC Entertainment is on tap to raise $350 million in an initial public offering. It could be one of the last of IPOs of 2013, a year that has been the best for new stocks since the tech bubble burst in 2000.