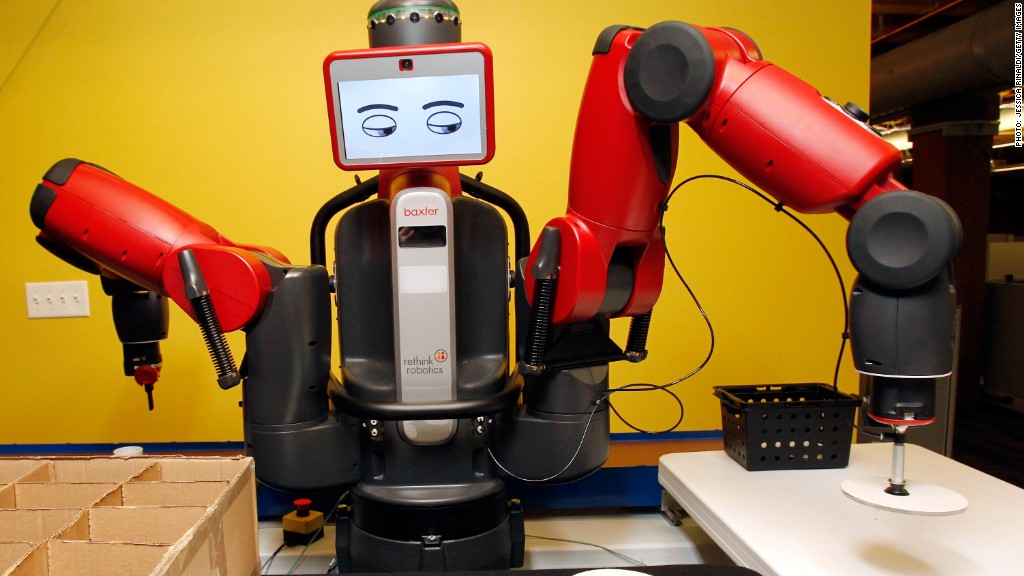 The robot invasion is finally here -- in corporate America, anyway.
Google and Amazon are grabbing robot-related headlines, while Microsoft (MSFT) and several other Big Tech companies are building robots in their labs.
Why? Robots are destined to be cash cows.
"There's a trillion-dollar industry that's staring everyone in the face," said David Bourne, a principal research scientist at Carnegie Mellon's The Robotics Institute.
Big Tech is on the precipice of breaking the robotics industry wide open, according to Bourne. If we compare the robotic industry to the computing boom, Bourne believes we're still in 1980. It's not quite 1984, when the Macintosh made computers mainstream, but robotics breakthroughs are quickly heading in that direction.
Amazon (AMZN) set tongues wagging earlier this month after announcing the concept of "Amazon Prime Air," which would use unmanned drones to deliver items to customers within 30 minutes.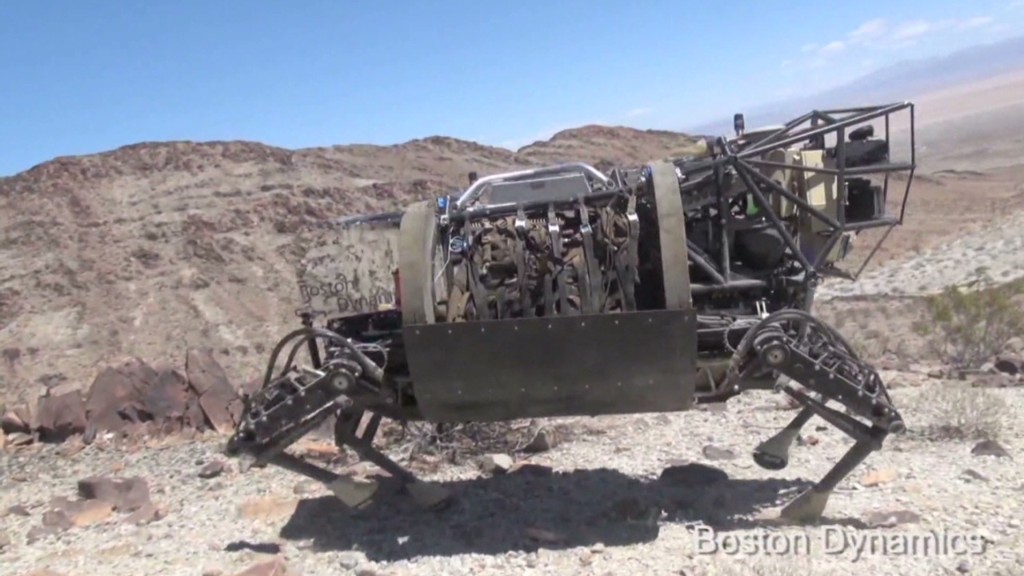 Just last week Google bought Boston Dynamics, a company that works closely with the U.S. military and is known for making fast, animal-like robots. It's just one of the eight robotics firms Google (GOOG) has quietly snapped up in the past six months, as part of a larger robotics push helmed by former Android chief Andy Rubin. And Google's most famous robotics project is its driverless car initiative.
Robots are truly beginning to make their way into big business: from manufacturing and agriculture to telecommuting bots, surgical machines and wildfire-fighting drones. And experts say there are dozens of other robotics projects that we haven't heard of yet.
"I guarantee everybody is looking very closely at [using robots], but they're not necessarily advertising their plans yet," said Mike Davin, editor of the trade publication The Business of Robotics. "In one or two years, though, there will be so much to add to the corporate robotics story."
Related story: 7 crazy drone concepts
Corporate America is investing so heavily in robots because they're cheap and perform functions humans can't or don't want to do. If search-and-rescue bots prove they can save thousands of lives each year, you can bet they will become a big business.
"On the most basic level, the appeal is obvious: robots work for 30 cents an hour, 24/7, with no lunch breaks," said Tom Green, editor-in-chief of The Robotics Business Review. "You can turn out the lights and they'll still work, and 'ask' them to do tasks that would be impossible for humans."
Robots have done those types of difficult or humanly-impossible tasks for decades with big manufacturers like automakers, but experts say a confluence of factors has now pushed robots into new sectors.
The clearest reason: The technology is finally sophisticated -- and affordable -- enough for companies to consider adding robotics in a relatively simple and cost-effective manner.
"These days you can pop an iPhone in a robot's head, and it's more powerful than what we had 30 years ago," said Bourne, who says he became the first-ever robotics professor in 1979.
Davin attributes that shift to the last decade's innovations in consumer electronics. We carry powerful cameras, chips and sensors right in our smartphones, and "the fact that this kind of tech is available on a mass scale for consumers makes it possible to innovate more easily on a corporate robotics scale, too."
Related story: 6 ways you can use 3-D printers
What's more, robots now take all sorts of forms. Many people own Roomba vacuum cleaning robots, and some robots are literally working side-by-side with humans.
"In the old days of industrial automation, robots were huge machines in cages," Davin said. "They were dangerous to be around, and people were told to stay away."
Compare that with robots like "Baxter," a manufacturing bot from Boston-based Rethink Robotics. Retailers including toymaker K'Nex put the $22,000 machine to work in a warehouses alongside human staffers, who can program "him" manually. Baxter even has a screen for a face, making him look almost ... cuddly.
"There's a reason that they add a cute face to him -- his eyes are meant to indicate to people which way he's headed, for example," Davin said. "This kind of thing adds to the idea of robots and people being able to work together."
So get ready: Your new coworker might be a robot.