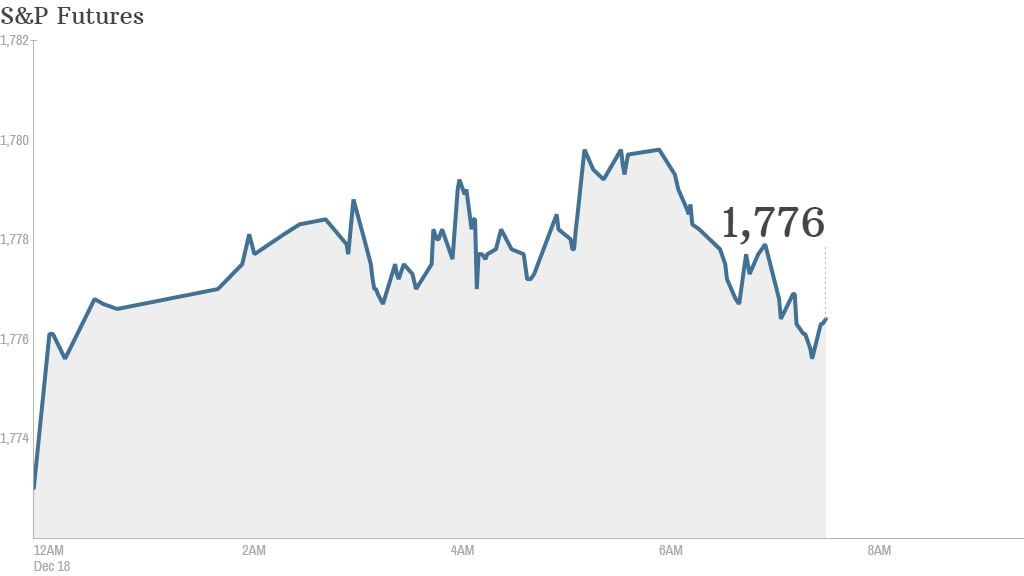 The Federal Reserve is back in the spotlight Wednesday.
Investors and traders are waiting for the central bank to outline plans to scale back its massive stimulus program, which has helped support a robust stock market rally over the past year.
The central bank will announce its latest decision on interest rates at 2 p.m. ET, followed by a press conference featuring Fed chair Ben Bernanke at 2:30. If it doesn't begin to pull back on its $85 billion per month of bond and mortgage securities purchases, investors will be parsing the bank's communications for indications of when it may start.
Market watchers are split over when the wind-down -- or taper -- will take place. Some are expecting the rollback to begin this year, while others are convinced it will be pushed out to 2014.
FxPro's chief economist Simon Smith sees a 40% chance that the Fed will announce a wind-down plan Wednesday.
U.S. stock futures were edging higher ahead of the opening bell, with the S&P 500 index rising by roughly 0.2%.
General Mills (GIS) shares were slightly lower after reporting earnings that missed forecasts, and FedEx (FDX) shares also dipped in premarket moves after delivering an earnings update. Oracle (ORCL) is set to report results after the market close.
Shares of movie theater chain AMC Entertainment (AMC) are due to start trading Wednesday after the Chinese-controlled company raised $331 million from its initial public offering late Tuesday.
On the economic front, the Census Bureau will release data on housing starts and building permits at 8:30 a.m. ET.
U.S. stocks finished little changed Tuesday.
Related: Why is saving money so hard?
In world markets, European stocks were on an upward march on Wednesday, with Germany's DAX index rising 0.9%. In the U.K., the FTSE index added 0.4% after data showed a sharp drop in the country's jobless rate.
It was a mixed finish for Asian markets. Japan's Nikkei rallied 2% while Shanghai's Composite index lost 0.1%.