Wall Street stopped worrying and learned to love the taper.
The Dow Jones industrial average jumped more than 290 points after the Federal Reserve surprised some experts Wednesday by announcing a modest reduction, or tapering, in its bond buying program. The S&P 500 and the Nasdaq also moved substantially higher. The Dow and S&P both ended at new closing highs.
The bullish response is somewhat curious, since investors were rattled when Fed chair Ben Bernanke first talked about tapering back in May. In recent months, stocks would often fall on good economic news because the market worried that it might mean the tapering was one step closer.
Some market watchers had still been holding out hope that the Fed would announce tapering after Bernanke's tenure ends in January. But the job market has been improving and Bernanke told reporters that he and other Fed officials -- including current vice chair and Bernanke successor Janet Yellen -- believe the economy will continue to create jobs.
But at the end of the day, investors have had plenty of time to get used to the idea of a slight reduction in the Fed's bond buying. And that word -- slight -- is key. The Fed said it will reduce its monthly purchases of mortgage-backed securities and U.S. Treasuries to $75 billion per month, down from $85 billion, beginning in January.
"Investors were not prepared for the Fed [tapering] statement last May," said Hank Smith, chief investment officer at Haverford Trust. "They were overly prepared for today's announcement."
The Fed has been buying bonds since 2008 and many investors say the liquidity boost has been the main driver of the bull market in stocks since 2009. The Fed's decision also can be interpreted as a sign the economy is back on its feet and no longer needs as much stimulus.
Related: Why tapering could be good for stocks
Bernanke said the Fed could take "further measured steps" to reduce its holdings, but he stressed that it will continue buying bonds "at a rapid pace" after the taper. He also said the Fed expects to hold interest rates at historic lows past the point when the unemployment rate falls to 6%.
The overall tone of the statement and Bernanke's remarks suggests that the Fed is still very "dovish," or willing to err on the side of caution, said Doug Roberts, market strategist at Channel Capital Research. "This may be the primary reason that the markets have rallied," he said.
The reaction in the bond market was also relatively subdued. The yield on the 10-year Treasury note ended slightly higher at 2.89%.
"This won't be a big shock for bonds, because there's still plenty of easy money in the global financial system," said Rick Rieder, chief of fixed income at BlackRock. Still, he expects interest rates to move higher over time, with the 10-year yield reaching 3.25% by the middle of 2014.
Related: Don't sell your winners! Ride the momentum
In other economic news, the number of new homes breaking ground soared nearly 23% in November from the month prior, the Commerce Department said. But applications for building permits, a leading indicator for new home construction, fell 3% in the month.
Ford breaks down. Ford (F) shares plunged 6% after the automaker said it expects profits in North America to be lower next year as it rolls out new models in the United States. General Motors (GM) and Tesla (TSLA) shares were also lower.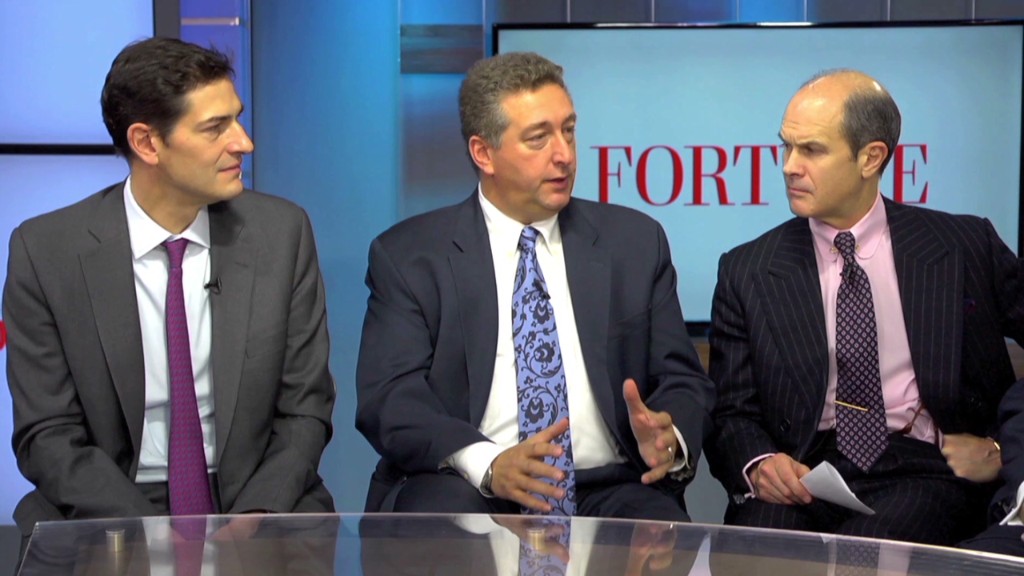 At least one trader was surprised to see electric car maker Tesla following its mostly gas-powered rivals lower.
"$TSLA Ironically following $F & $GM. Common sense will be back shortly with this one," said StockTwits user CJK1.
Other traders argue that the selling, which pushed Ford shares below $16 for the first time since August, was overdone.
"$F WOW talk about an overreaction," said StarPower. "Will get back to 17 no problem, just might take some time, IMO."
Related: Fear & Greed Index still shows fear
The retreat is a buying opportunity just in time for the holidays, according to another trader.
"$F Ford is a GIFT at this price!," said TJMeneo75
Not everyone is buying it, though. Some traders are bracing for more downside in Ford stock.
"$F get out..." said afernandez321.
What's moving. Gogo (GOGO) shares sank after the lock-up period for certain holders of the stock expired. Company insiders and underwriters were prohibited from selling shares for 180 days after the in-flight Internet provider went public on June 20.
Shares of movie theater chain AMC (AMC) rose 6% after the company raised $331 million from its initial public offering late Tuesday.
General Mills (GIS) shares recovered from early losses after reporting earnings that missed forecasts, while FedEx (FDX) shares rose slightly after issuing a decent outlook for the current quarter. Oracle (ORCL) shares were down in extended trading even though the software giant reported better-than-expected quarterly results after the closing bell.
Related: Why is saving money so hard?
Shares of social media companies were under pressure. LinkedIn (LNKD) was hit particularly hard, while Twitter (TWTR) suffered more minor losses.