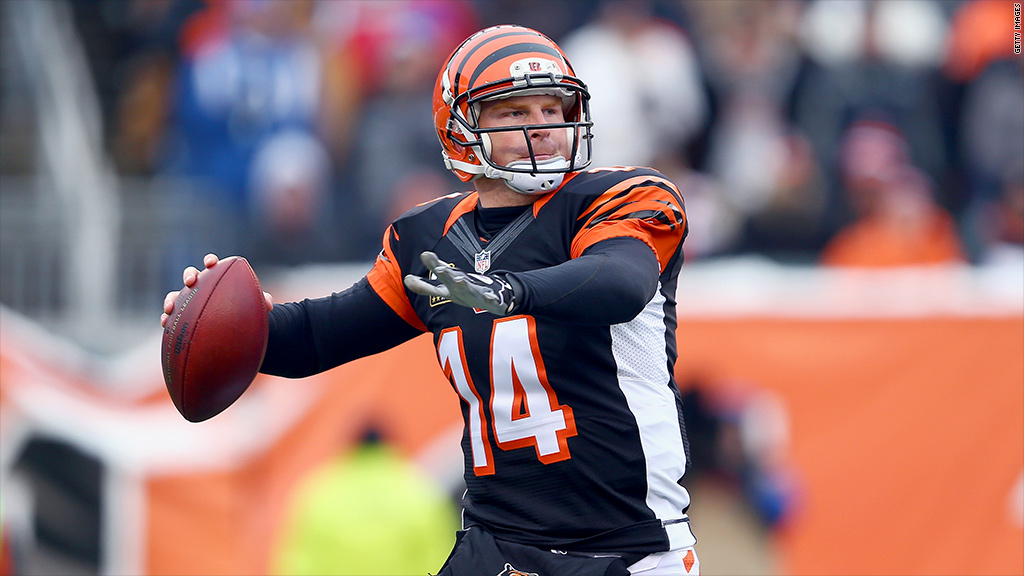 A rule that affects what football games can be televised is under review by the Federal Communications Commission, the agency said Wednesday.
The so-called blackout rule was designed to prevent sports fans from staying home and watching a local game on TV, instead of buying available tickets. So when a game is not sold out, television outlets cannot show that game in the home team's market.
The FCC is reviewing its rule that applies to satellite and cable companies. It is based on a separate federal law that applies to broadcast television.
In practice, the rule applies to National Football League games, and has roots in the 1950s and 1960s when ticket sales were a significant portion of team revenue. But broadcast revenues now dwarf ticket sales, and the NFL has become more popular, so there are fewer games that aren't sold out.
As a result, the blackout rule doesn't come into play much any more.
Related: The high cost of being a football fan
The FCC said only 16 games were affected by the blackout rule in 2011, involving just four teams: The Cincinnati Bengals, the Buffalo Bills, the San Diego Chargers and the Tampa Bay Bucaneers. So far this season, only one game has been blacked out, the NFL said.
In the mid 1970s, as many as 59% of NFL games were blacked out, it said.
The FCC has asked the public for feedback on whether the rule is still necessary.
A collection of sports fan and consumer groups petitioned the FCC in January asking them to overturn the rule. David Goodfriend, chairman of the Sports Fans Coalition, told CNNMoney blacking out games was an "obnoxious anti-fan" process, and that the federal protection was akin to protecting a monopoly.
Ken Reed of the League of Fans, which supported the January petition, argued that taxpayers shouldn't be blacked out of games in stadiums that they helped finance.
Related: Why football is still a money machine
A spokesman for the NFL said it "will strongly oppose any change in the rule.
"We are on pace for a historic low number of blackouts since the policy was implemented 40 years ago," said Brian McCarthy, a vice president at the NFL. "While affecting very few games the past decade, the blackout rule is very important in supporting NFL stadiums and the ability of NFL clubs to sell tickets and keeping our games attractive as television programming with large crowds."
A group of economists from schools including University of Chicago and Vanderbilt back the fans' arguments. Their research has found that "local television blackouts have little or no effect on ticket sales or attendance for the game that is being televised. Local blackouts of home games harm consumers without producing a significant financial benefit to teams."