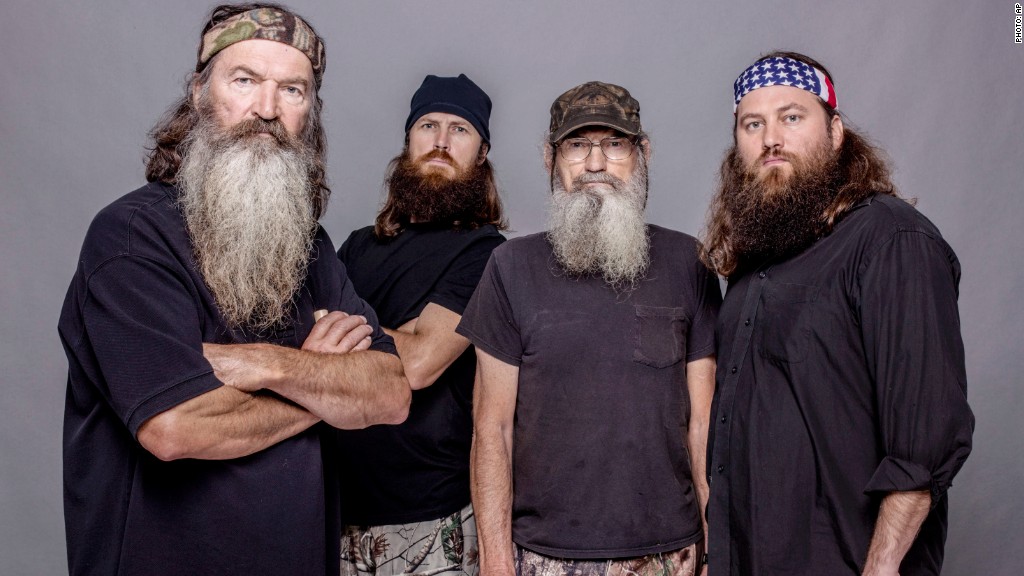 "Duck Dynasty" isn't just a smash-hit TV show, it's a merchandising powerhouse.
It's too soon to tell if retailers will pull the clan's products from their shelves after Phil Robertson made homophobic comments in an interview with GQ magazine. However the A&E network did suspend the reality show star.
Robertson founded his company Duck Commander back in the 70's, selling duck calls that developed a loyal following among hunters. Now that the family stars in a top-rated cable-TV series, the business has expanded to sell an array of backwoods-themed merchandise via national retailers.
Shoppers at Cabela's (CAB), Wal-Mart (WMT)and Target (TGT) can find Duck Commander branded items including DVDs, $15 action figures, $50 camouflage bedding sets, video games, throw rugs, a cookbook, coolers, T-shirts, caps, hoodies, underwear and, of course, the duck calls that started it all. The calls cost anywhere between $10 and $180, and come in the requisite camouflage pattern, plain wood, rattlesnake and hot pink.
Brian Warner of Celebrity Net Worth estimates Robertson's fortune is about $15 million.
Retailers could take weeks or months to decide whether to stop selling "Duck Dynasty" merchandise, said Marshal Cohen, retail analyst with the NPD Group.
"There's no question that [the comments] could have deep ramifications for the brand," said Cohen.
In speaking to GQ, Robertson compared homosexuality to bestiality and said that gays were "sinners,"along with drunks and terrorists. He said African Americans were "singing and happy" before the Civil Rights movement came along and compared Muslims to Nazis and communists.
The Human Rights campaign and the NAACP issued a statement blasting the comments, but it's not yet clear how fans will react.
"If [consumers] make a big deal about this," says Cohen, "Then this could turn into another Paula Deen."
Related video: Paula Deen's dumbest moment in business
Earlier this year, Deen and her Southern cuisine brand of merchandise got the boot from most major retailers -- Wal-Mart, J.C.Penney (JCP), Sears (SHLD), Target, Home Depot (HD) and the shopping network QVC -- after she admitted to using a racial slur. The Food Network let her contract expire and her newest cookbook was canceled, even though pre-orders were soaring.
But the "Duck Dynasty" might be unaffected, according to Celebrity Net Worth's Brian Warner.
"Even if the show's fans do not fully agree with his comments, I doubt they were surprised to hear them coming from an elderly duck hunter," Warner said. "Phil's comments will probably do nothing but boost the show's ratings and merchandise empire."
Related: New rifle mimics machine gun - and it's legal
Cabela's, Wal-Mart and Target did not return messages from CNNMoney about Duck Commander.
Robertson issued a statement: "I would never treat anyone with disrespect just because they are different from me. We are all created by the Almighty and like Him, I love all of humanity."
Indeed, a collection of his Christian sentiments, called "The Duck Commander Devotional," is available on Amazon (AMZN) in camouflage or pink leather.