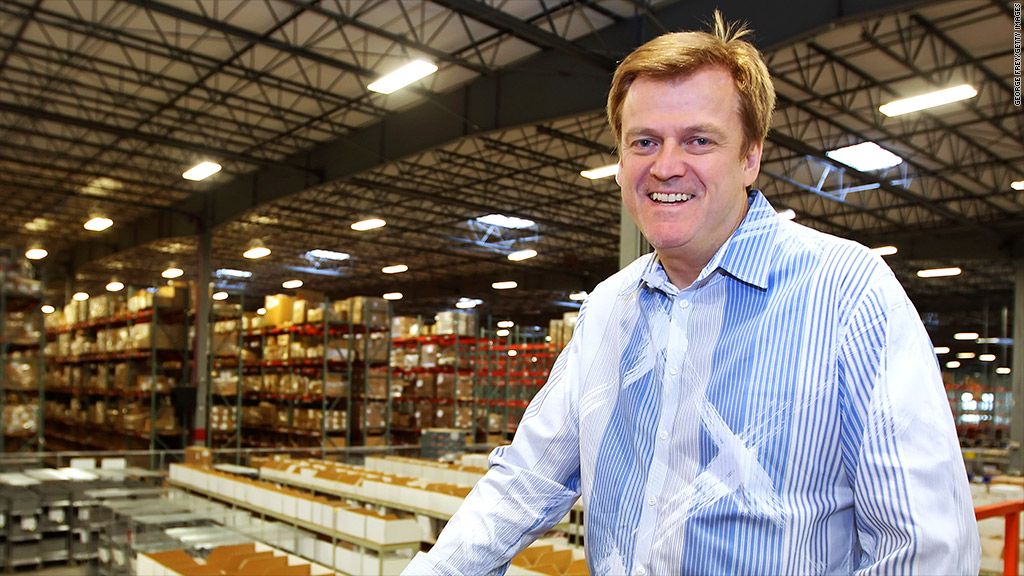 Overstock.com will become the first major U.S. retailer to accept Bitcoin, the company's chief executive Patrick Byrne told CNNMoney Friday.
Byrne said customers will be able to use the virtual currency to make purchases on Overstock.com (OSTK), which sells everything from digital cameras and bed sheets to patio furniture and even cars. The company is expected to have total revenue of $1.3 billion for 2013, according to FactSet Research.
"We think there's going to be a market in Bitcoin, and we want to get in front of it," said Byrne. "We want to be the first major e-tailer that accepts them." Byrne first made comments about Overstock.com accepting Bitcoin in an interview with Bitcoin blog newsBTC and later in the Financial Times.
Overstock plans to begin accepting Bitcoin near the end of the second quarter of 2014. Byrne said the move stems partly from his background in the Austrian School of economics, which is associated with the Libertarian party in the United States.
"We're the guys who like gold," he said. "We think the monetary base should not be something that a government can create with a stroke of a pen."
Unlike traditional currencies, Bitcoin is not backed by any government authority or central bank. It exists only on the internet and is "mined" by powerful computers that solve complex math puzzles.
Byrne said he is concerned about the possibility of "bad currency wars" in the future. He said the U.S. dollar is already being undermined by the Federal Reserve's easy money policies and by overspending by politicians in Washington.
Like gold, Byrne said Bitcoin should hold its value better than the dollar because it is "mathematically constrained" and cannot be manipulated by government authorities.
There are currently 12.1 million bitcoins in circulation, according to blockchain.info. The total number of bitcoins is capped at 21 million.
Critics say Bitcoin is at best a fad and at worst a haven for criminals looking to buy and sell illegal goods anonymously. But supporters argue that Bitcoin is a more democratic alternative to traditional currencies.
Former U.S. Congressman Ron Paul, an outspoken Libertarian from Texas, has said that Bitcoin could be the dollar's "destroyer" if it goes mainstream.
Bitcoin has exploded in value this year, rising from about $13 in January to more than $1,200 earlier this month. On Friday, bitcoins were trading at about $739 on the Mt. Gox exchange.
The currency is prone to wild swings and experts say Bitcoin will remain volatile as the technology evolves.
Byrne acknowledged that the volatility is a problem and that Overstock will need to "continually convert Bitcoins into dollars" to avoid losing money. Eventually, he said there will be a derivatives market that will allow companies to hedge their exposure to Bitcoin.
Related: Bitcoin worth almost as much as gold
In some respects, it's not a surprise that Overstock would move to accept Bitcoin. The company is unconventional. It is known for quirky ads and for shortening its name online to O.co.
Byrne also has a penchant for writing long, rambling shareholder letters in earnings reports. And he famously appeared on "60 Minutes" to complain about short sellers who were betting against his stock. He even told CNNMoney in 2003 that "When opportunities come along where we can knee the shorts in the groin, that's always good for fun and amusement. That's just icing on the cake."
But Overstock is not the first business to embrace Bitcoin.
British entrepreneur Richard Branson made a splash in November when he announced that his that his commercial space travel venture, Virgin Galactic, will allow customers to pay for their flights with Bitcoin.
China's leading search engine Baidu (BIDU) also accepts Bitcoin for certain services. And a car dealer in California recently accepted Bitcoin as payment for a Tesla (TSLA) Model S, valued at $100,000.
Bitcoin has been a particularly popular investment in China, but regulators have been cracking down. This week, China's largest bitcoin exchange, BTC China, abruptly stopped accepting new deposits. That came after China's central bank issued a warning and announced new rules for financial institutions dealing in bitcoins earlier this month.
European Union officials have also warned about the risks of Bitcoin and may consider regulating the currency.