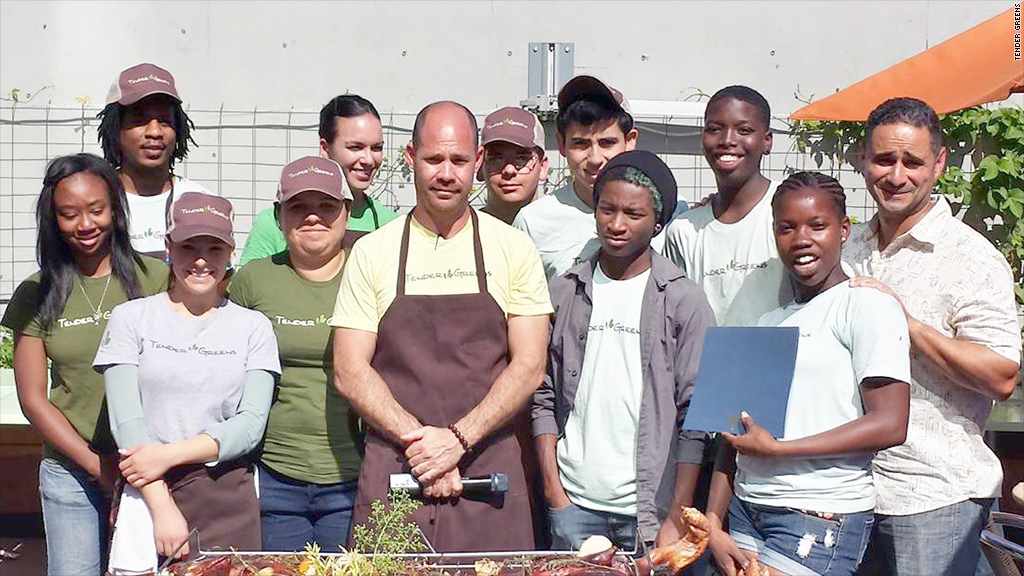 Josh Saurbier spent his teen years homeless, sleeping beneath highway overpasses in Los Angeles while taking care of his wheelchair-bound mother. When she died last year, Saurbier, then 20, had nothing -- no job, no education, no home.
Then he met Erik Oberholtzer. As CEO and co-founder of California restaurant chain Tender Greens, Oberholtzer had been trying for years to figure out how to help young people like Saurbier get back on their feet.
Last year, Oberholtzer's company started a charitable program dubbed the Sustainable Life Project. The three-month program targets young people ages 18 to 24 who are transitioning out of foster care, who may be homeless or who could easily end up in prison or prostitution.
The young people visit artisan food makers, urban farmers and food-processing facilities to learn about the sources of their food. They get culinary arts training from restaurant chefs, and they receive a paid internship inside one of the company's 12 restaurants. Those who do well in an interview get a full-time job with the company.
Related: Turning America's street guns into jewelry
Saurbier learned about the program last January through Covenant House, a local nonprofit that helps homeless teens. The nonprofit connects Tender Greens with youth that are likely to succeed. And the restaurant chain then conducts interviews and takes up to eight students every three months.
Saurbier is one of 15 youths who have graduated from the Sustainable Life Project since it started, and one of 10 who have landed restaurant jobs.
The program changed his life. Saurbier lost 50 pounds after learning how to eat healthy and now prepares salads at a Tender Greens restaurant in Hollywood. He is now training for other kitchen jobs and working to get his GED. He wants to become a chef.
"I had seen so much pain in my life," says Saurbier. "This is more than a job. It opened my eyes to see opportunity."
Related: Startups emerge behind bars
Oberholtzer started the program at a time when many CEOs were focused on surviving the recession. But Tender Greens was in the midst of a rapid expansion. The company grew from $7.3 million and 115 employees in 2009 to $28 million in revenues and 450 employees in 2013.
Despite the challenges of fast growth, Oberholtzer felt compelled to do more to help struggling youths after volunteering to cook for the homeless on Los Angeles' West side. "You can either complain or do something," he says.
Getting the program started was daunting. Oberholtzer decided to put it under the umbrella of Tender Greens instead of establishing a separate non-profit. It's allowed them to be more flexible with the program.
"We handle it much the same way we would handle a paid intern from a university," he says.
Sustainable Life Project takes no donations and instead relies on company revenue, donated food and the time of Tender Green's staff. The HR and finance executives handle administration and chefs teach culinary and job skills. Those involved in the program spend between two and four hours a week on it.
Related: Why 'do good' businesses are blowing up
Other than the time, Oberholtzer says the program isn't costly to run. Tender Greens pays students an hourly wage for their internship and covers transportation costs for farm visits. The rest of the program is incorporated into the company's daily workflow.
Fermin Arias, Tender Green's regional chef, spends about four to eight hours a week running the program. Much of the time is spent listening to the young people and offering advice like how to dress for a job interview or how to talk to people at work.
"Some show up for interviews in street clothes with a skateboard," says Arias. "They may not do this as a career, but hopefully the takeaway is they learn how to eat right and communicate with society."
So far, the program hasn't hindered Tender Green's growth trajectory: The chain will open six new California restaurants in 2014. In fact, the Sustainable Life Project has become woven into the company culture, where employees are inspired to use their skills and passion for healthy food to bring about change. It took a lot of work to get it going, but Oberholtzer says the results have been worth it.
"These kids just want a break," says Oberholtzer. "As long as they show up and work hard, the restaurant is a family for them."