Ho Ho Ho! Santa delivered more records for Wall Street on Tuesday.
The Dow rose 63 points, or 0.4%, and the S&P 500 and Nasdaq also rose modestly. The gains were enough to push the Dow and S&P 500 to fresh all-time highs, and the Nasdaq to a new 13-year high.
Trading volume was low Tuesday, with most investors away for the holidays. The stock market closed at 1 p.m. ET, and markets will remain closed Wednesday for Christmas Day.
While the broader market only advanced modestly, Tesla (TSLA) shares finished sharply higher. Shares of the electronic car maker spiked almost 6% Tuesday after the company said federal officials have reaffirmed the five-star safety rating of the 2014 Model S.
Investors were pleased with the news from the National Highway Traffic Safety Administration. It appears unrelated to a federal investigation into whether recent Model S fires are a safety issue, which has dinged Tesla stock in recent months.
Some traders on StockTwits, a social investing site, pointed out what they saw as misguided enthusiasm.
"$TSLA goes up on a months-old safety rating that was 'reiterated,'" said BullHorns. "Every company should reiterate positive news daily. LOL."
StockTwits user Fiftyfifty said that investors may be overreacting: "Knew people would confuse these ratings with the unrelated & ongoing investigation."
Twitter (TWTR) also rallied more than 8%, closing just below $70 apiece, after earlier topping that level for the first time ever. There was no apparent news for the surge, and followed Tuesday's 7.5% advance.
"$TWTR Santa very generous this Year//changed his reindeer for birdies," quipped Barkovsky.
Related: Fear & Greed Index gets greedy again
Markets have certainly made big moves so far this year. The Dow Jones industrial average and S&P 500 are both up more than 20%, while the Nasdaq has soared over 30%.
The broad rally puts the Dow on track for its best year since 2003 and the S&P 500 on pace for its best year since 1997.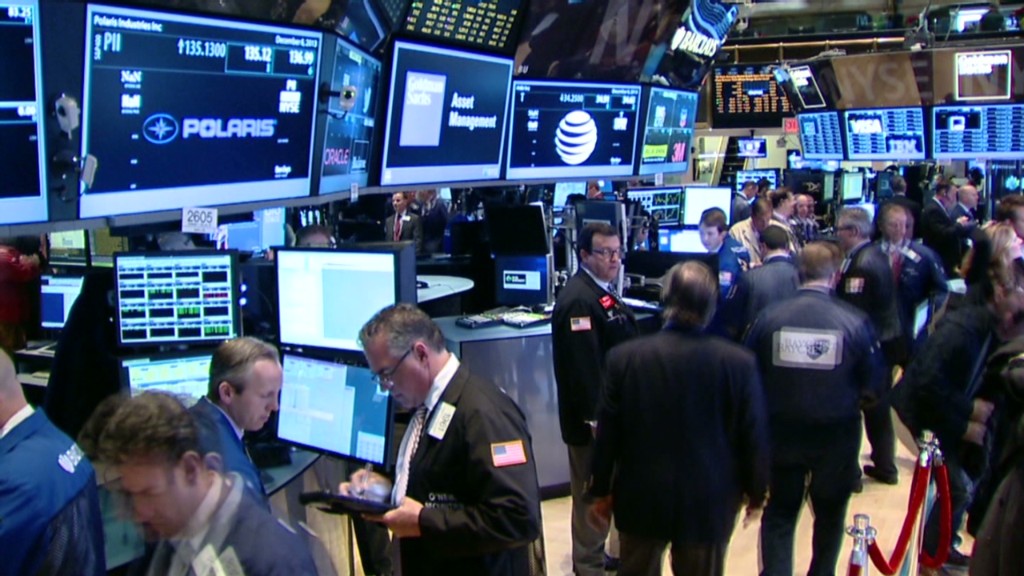 This year's gains have been driven by ongoing economic stimulus from the Federal Reserve, increased confidence in the economy, solid corporate earnings growth, and more individual investors entering the stock market.
Related: China is looking to avert another cash crunch
The Fed announced last week that it will pull back its bond buying program by a bit in January. But most experts believe the bull market, which began in early 2009, will continue for a sixth year in 2014, albeit at a more modest pace.
In European markets, the major indexes closed with modest gains during the holiday-shortened trading session. In Asia, markets ended mixed.