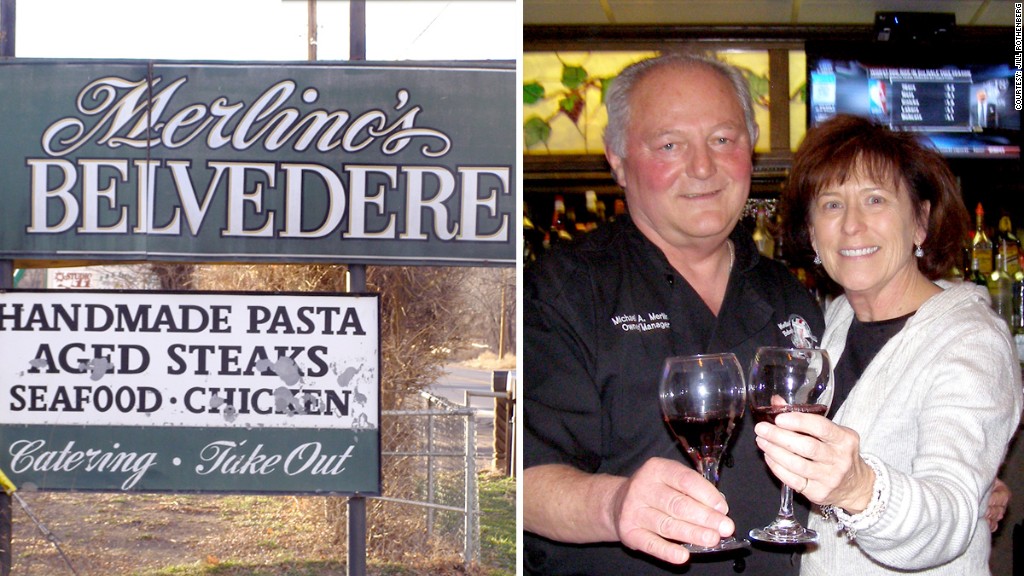 Six months after a 3,000-acre wildfire raged through Royal Gorge and decimated the economy of Canon City, Colo., Mike Merlino had no choice but to close his family's namesake restaurant.
So after nearly 70 years, Merlino's Belvedere will serve dinner for the last time on New Year's Eve.
Merlino announced the restaurant's closing on Dec. 2, which, ironically, led to a huge surge in business. Since then, the restaurant has produced over 400 gallons of its red sauce and over 700 pounds of sausage -- three times the normal amount.
But even with the bump, this year's gross revenue of $750,000 is still about 25% lower than in 2012, Merlino said. (In 2005, it was even higher at $1.3 million.)
His restaurant is a well-known destination for tourists and diners all along Colorado's Front Range, who drive hours for its award-winning homemade red sauce, pasta and steaks cured on site. It's also a favorite gathering spot for locals in this small town of 17,000. But it's been a daily battle to stay open for the last two years, in the wake of a series of natural disasters and a struggling economy.
Related: 5 of the oldest businesses in America
"In 2008-2009, there were rising gas prices on top of a weak economy," said Mike Bandera, president of the Canon City Chamber of Commerce. "We had a significant downturn in tourist traffic in the rafting businesses, and in restaurants and shops."
Sam Cruz, the restaurant's longtime kitchen manager, grill cook and handyman, has seen that reflected at Merlino's.
"In the late '80s, we had people waiting in line to get in every night," he said. "We were doing probably 150 to 200 dinners a night."
But until Merlino announced the closing, Cruz said the restaurant was doing just 20 to 30 dinners a night.
The economy of Canon City and surrounding Fremont County is built on tourism and the prison industry -- the county is home to 13 prisons, including the so-called Supermax. The county is one of the state's poorest, with a per capita income of around $17,400 and an unemployment rate of 8.7%, nearly 2% higher than Colorado as a whole.
The economic downturn is obvious in Canon City's largely shuttered Main St., which dead-ends into the Colorado Territorial Correctional Facility, the oldest operational prison in the state. Jobs are hard to come by, and many that do exist are plagued by static wages, says Merlino, a former president of the town's Chamber of Commerce.
Related: Is the economy as good as it looks?
"When you lose a lot of the local businesses like we have, people start migrating to Wal-Mart. It's a pretty dismal picture," he said.
At a time when chains like Chili's, Applebee's and the Olive Garden -- which all have locations within 40 miles -- have multiplied across the country, family-owned restaurants like Merlino's have either closed or barely managed to hold on.
"This is emblematic of what happens to a lot of family businesses, not just restaurants," said Giovanni Coratolo, vice-president of small business policy for the U.S. Chamber of Commerce. "If you're already in a recession, if a natural disaster or other unforeseen event happens, all of a sudden, you can't recover."
The Royal Gorge fire burned 3,220 acres over six days, including most of the Royal Gorge Park, and brought tourism to a halt. Bandera estimated that local businesses lost 25% to 35% of their expected yearly revenue. Merlino's, which saw a 40% drop in volume this past summer, was just one of the casualties.
Built in 1946 by his grandfather Ubaldo "Baldy" Merlino, a miner who emigrated in 1903 from Italy, the restaurant takes its name from Mount Belvedere in Italy, where Merlino's business partner and brother-in-law fought in WWII.
Related: The myth of the American Dream
"We have customers who have literally grown up with us," said Cathie Merlino, who manages the restaurant with her husband and acts as hostess. "Every birthday, graduation, marriage, they come here. Whoever it is, they become part of our family."
Over the years, the restaurant has also served a number of famous faces, including John Wayne, Charles Bronson, Nat King Cole and Jane Fonda when they were on location nearby.
The restaurant has been totally booked since Merlino made his announcement. Long-time customers are even flying in from out of state for one last meal. On a recent night, the 21 employees scrambled to keep up with the huge surge.
"On the morning after we announced we were closing, we had 89 voicemail messages requesting reservations," Merlino said.