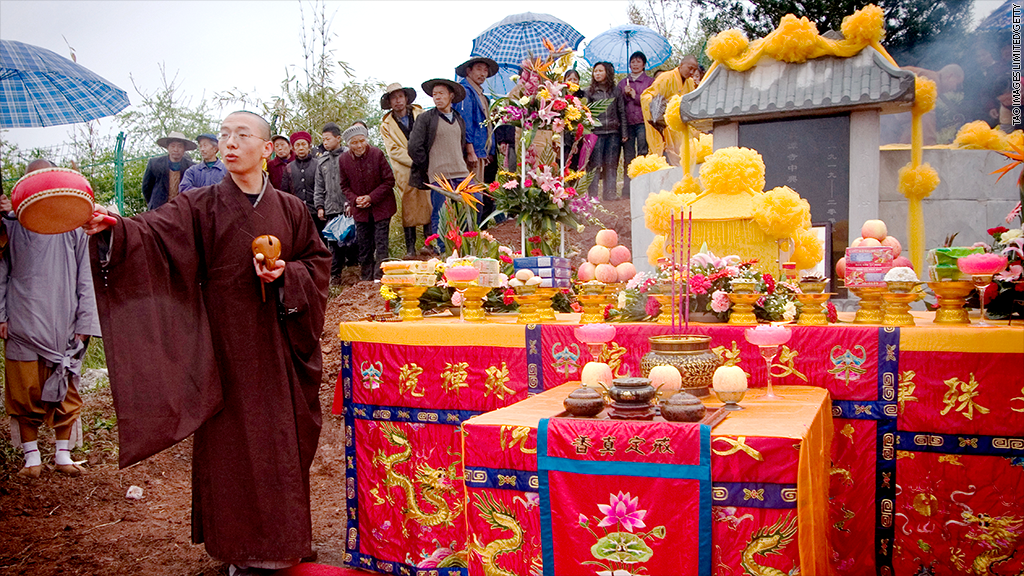 In the world's most populous nation, the business of burying the dead is booming.
China's aging population and elaborate burial rituals are fueling rapid growth in demand for death care services.
The country of 1.4 billion people has the most deaths in the world each year: 9.7 million in 2012. That figure is expected to hit 10.4 million by 2017.
Providing services from burial plot landscaping to funeral catering is a lucrative business. The industry was worth 93.5 billion yuan ($15.4 billion) last year, and is forecast to rise 10% annually for the next five years, according to Euromonitor.
Investors have already spotted the potential. Shares in Shanghai-based Fu Shou Yuan, China's largest death care provider, soared by as much as 66% when they began trading in Hong Kong late December.
Related story: The high cost of saying goodbye
The Chinese take the dead and dying very seriously -- improper rites are thought to bring bad luck to the living. Their customs are elaborate, and traditional beliefs dictate how everything should be done, from tomb location and body handling to the funeral procession.
Ceremonies, which can last for days, include burning offerings to ensure loved ones are comfortable in the afterlife. Sticks of incense, food and drink, fake money, iPads, Chanel handbags and even mansions go up in smoke.
And in a culture where social dignity is strongly valued, nobody wants to be perceived as cutting corners when paying their respects. In fact, some families even hire people to express grief around-the-clock -- the louder and longer the cries, the stronger the demonstration of filial piety.
Demand for burial plots is overwhelming some of China's cities. Cemetery prices per square meter can exceed the cost of premium apartments, according to Euromonitor. Tombs in Beijing can easily cost 75,000 yuan, or $12,000 -- three times the price per meter for housing in China's capital city.
In Hong Kong, it's hard enough to find space for cremated ashes, let alone a permanent burial plot, forcing residents to opt for temporary rentals where remains are exhumed after six years. Even then, there's a waiting list.
Related story: Europe's golden visas lure rich Chinese
So while the prospects for funeral directors look good, government curbs may take the edge off the industry's profits.
As part of a major crackdown on corruption, the Chinese government told officials in recent weeks to avoid lavishly spending on the deceased.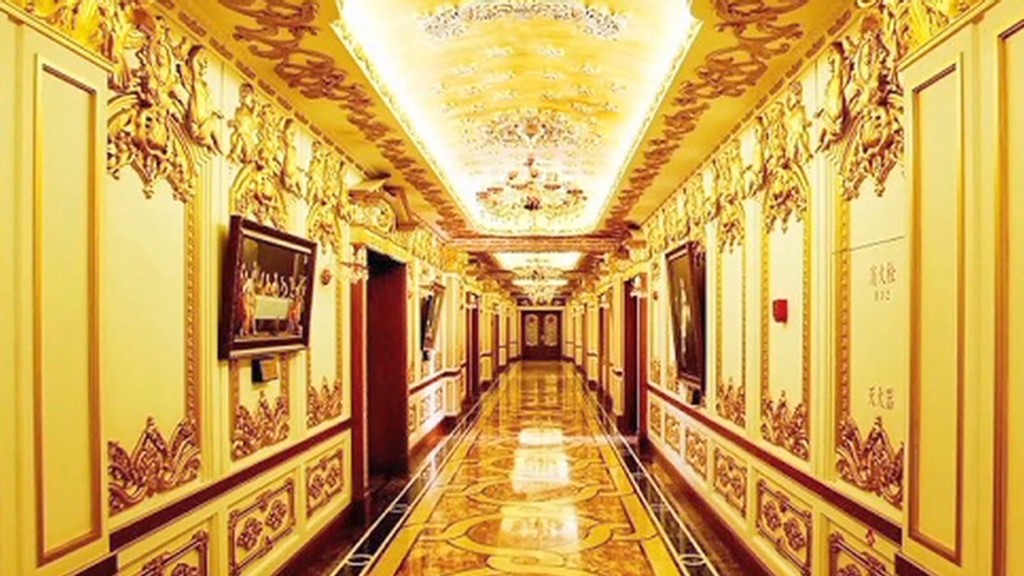 Beijing said government officials should instead set an example with "simple and civilized funerals," according to state media, rather than use them "to show off wealth and connections."
Under pressure over hazardous smog, the government is also pushing for more eco-friendly burials, requiring crematoriums to upgrade incinerators to control smoke pollution.