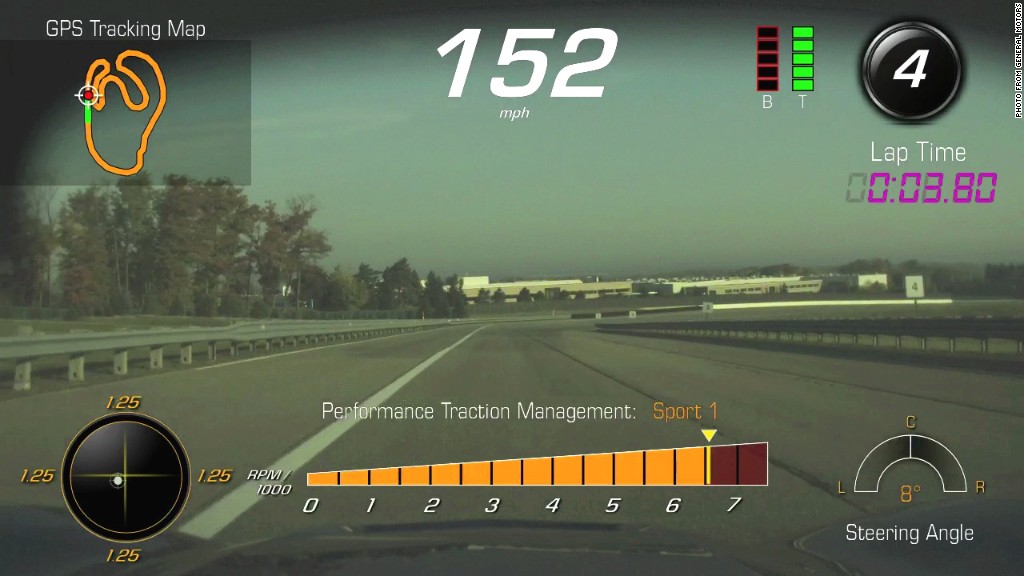 It looks like a video game, but is real life.
General Motors unveiled on Sunday a system that pulls together driving performance data with dashcam video -- giving drivers of its flashy Corvette sports car a way to record and share their experience behind the wheel.
The Performance Data Recorder will be available on the 2015 Corvette Stingray, the automaker said, calling it an "industry first."
"The fully integrated system enables users to record high-definition video, with telemetry overlays, of their driving experiences on and off the track," GM (GM) said.
Related: Stingray one of the best cars of 2013
After parking, drivers can relive their route -- whether it was around a racing speedway or downtown for groceries.
The video can be queued up on a dashboard-mounted monitor or downloaded to a driver's computer. The display shows the video plus a speedometer, throttle display and gear indicator. Drivers who use it when racing on an established race course can also see a map of the track and their lap time.
GM said it envisioned racers using the footage to "analyze their laps in incredible detail." The average driver could share the footage on social media.
Related: Stingray named Automobile Magazine's "Automobile of the Year"
The system pulls together a video camera mounted on the dashboard, a GPS receiver and the car's computer. A 32 gigabyte card inserted near the glove box can hold about 13 hours of driving data, GM said. It was designed by the company that works with the Corvette Racing team.
GM has not said how much the system will cost.
Chevrolet said the 2015 Corvette Stingray would be available in the third quarter of 2014.