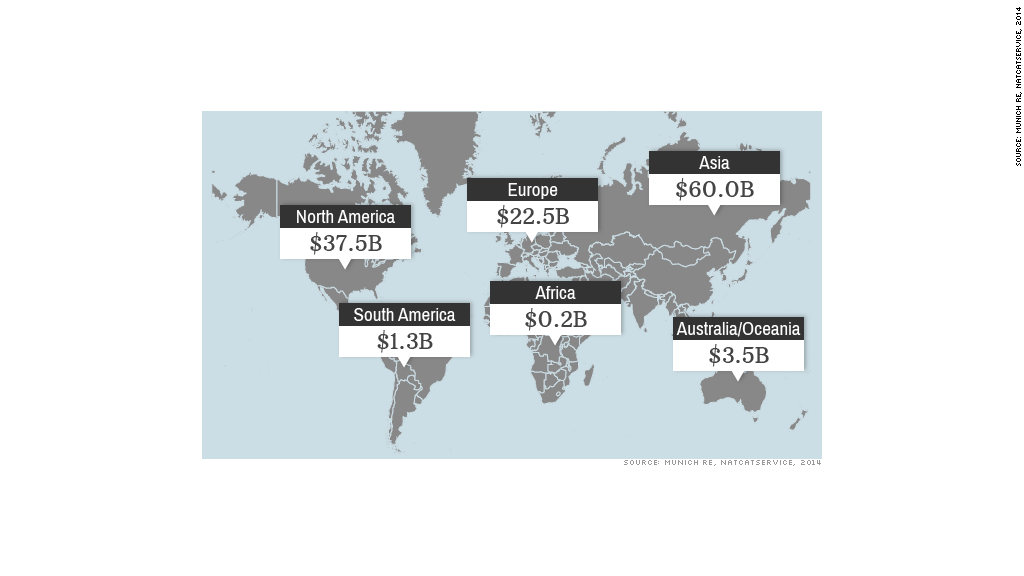 The world's weather was wilder than normal in 2013 but improved warning systems and defenses meant the cost of the damage was lower than in recent years.
There were 880 weather-related catastrophes around the globe in 2013 -- many more than in previous years -- causing total losses worth $125 billion, according to Munich Re. That compares with average annual losses of $184 billion over 10 years.
The insurance group's annual report on the impact of natural disasters showed the Philippines suffered the worst loss of life, while Germany was hit with the biggest financial damages.
The U.S. managed to come through 2013 relatively unscathed, thanks to the quietest hurricane season in more than 30 years.
Germany and neighboring countries suffered the single costliest natural disaster of the year: severe flooding in June led to $15.2 billion in losses.
Germany suffered again in July when a storm, pelting hailstones bigger than tennis balls, led to another $4.8 billion in losses.
Related: Superstorm Sandy victims still struggling to rebuild
The Philippines was hit by one of the strongest typhoons in history in November, leading to thousands of fatalities and leaving millions homeless.
Typhoon Haiyan tore through the southern part of the country with maximum wind speeds surpassing 300 kilometers per hour. Overall losses from the typhoon and its aftermath totaled roughly $10 billion, equivalent to around 5% of annual economic output. Only a tiny fraction of those losses are insured.
The U.S. faced a relatively quiet year after suffering heavily in 2012, when Superstorm Sandy, droughts, tornadoes, wildfires and a hurricane caused more than $110 billion in damages.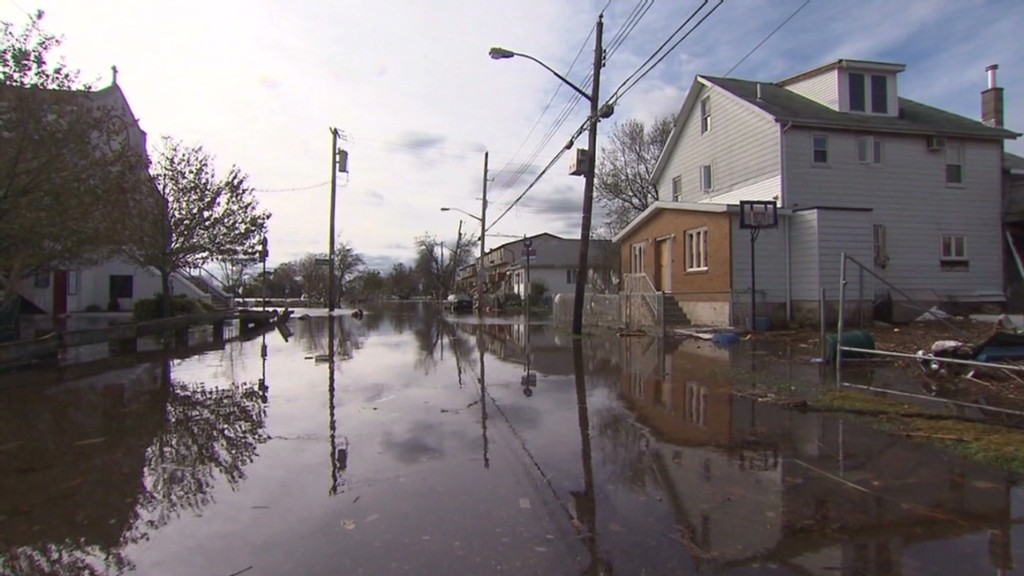 But America's northern neighbor -- Canada -- had a difficult year. Record flooding in Calgary led to $5.7 billion in losses, making it the costliest Canadian natural catastrophe in history.