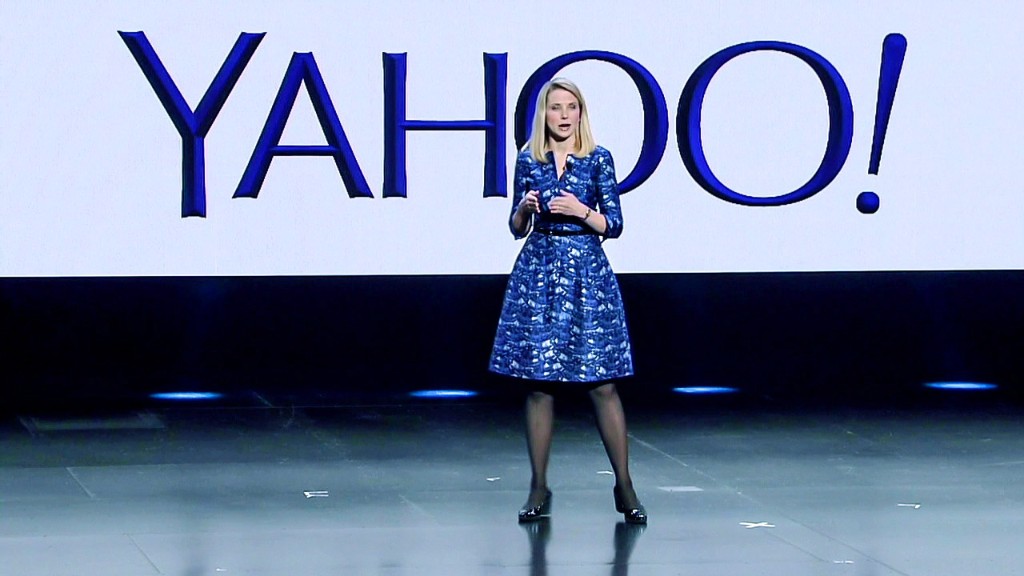 Marissa Mayer took the stage at the Consumer Electronics Show Tuesday not to revisit the last year spent at Yahoo, but to look at the future.
Joined by the likes of Katie Couric, David Pogue, David Karp, Nick D'Aloiso and SNL's Weekend Update team, Mayer and company rolled out Yahoo (YHOO)'s plans for the year, which include new apps, new sites, new acquisitions and improvements to existing products.
The two biggest products to be launched on stage were Yahoo News Digest and Yahoo Magazines, which will both factor heavily in Yahoo's media strategy.
Yahoo News Digest incorporates much of the technology Yahoo acquired from teenage developer Nick D'Aloiso when it purchased his app Summly for $30 million in 2013. Arriving as a small, well-designed feed of stories two times a day, content on Yahoo News digest is automatically written by computers but "editorially curated" by humans. The app draws upon multiple sources for each story, which includes text, images, video, maps and additional links.
Meanwhile, Yahoo's online news content is being reimagined as Yahoo Magazines, which delivers stories through a Tumblr-powered interface that works equally as well on a computer or a tablet. David Pogue, the widely-read former New York Times (NYT) columnist poached by Yahoo last year, took the stage to show off some of the product's features. He demonstrated Yahoo Magazines using via the Yahoo Tech section, which launched during the keynote. He also tossed out more than a few barbs at rival tech media competitors.
In other announcements, Tumblr CEO David Karp announced that all of Tumblr's ads would now be powered by Yahoo, allowing it to improve targeting on the social sharing platform. Yahoo also announced a revamped app for Smart TVs, which promises better TV and movie recommendations by analyzing what users choose to watch at any given time.
Related: Yahoo promises to not 'screw ... up' Tumblr
Mayer ceded the stage much of the time to let her team do the talking, but she had a few announcements of her own. She revealed the acquisition of the Android app Aviate, which is a home screen launcher that changes its lineups of apps and notifications according to where you are and what you're doing. Hinting that the company plans to compete with like-minded products such as Google (GOOG) Now and Apple (AAPL)'s Siri assistant, Mayer proclaimed that "the future of search is contextual."