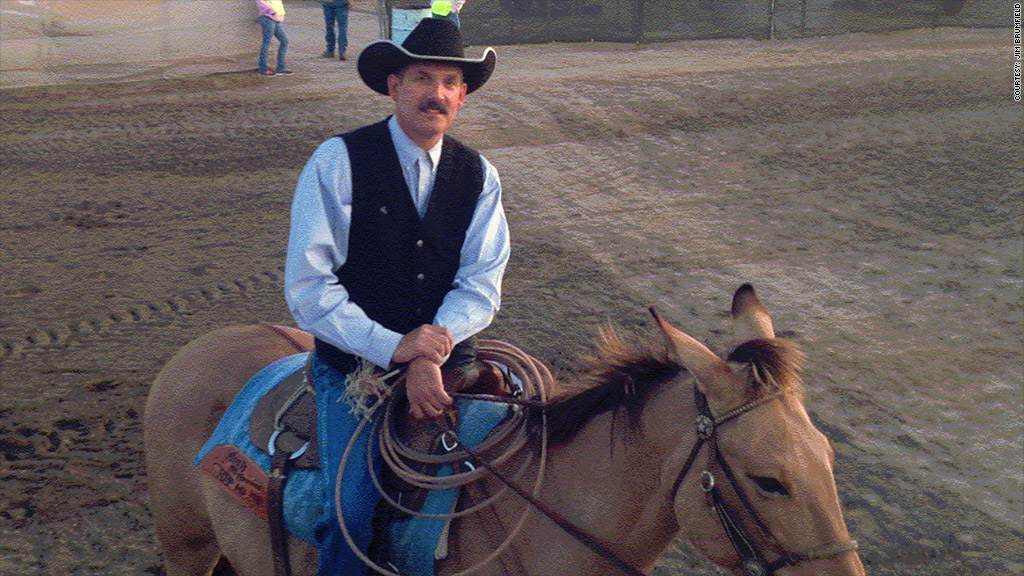 The Obama administration has fixed many of the problems that plagued the launch of Obamacare, but some Americans are finding themselves without coverage for the first time in years.
Some say the new, more comprehensive plans on the exchange are simply unaffordable, while others are encountering technical problems that have prevented them from signing up.
Take Jim Brumfield, 53, a real estate appraiser in San Juan Bautista, Calif, who bought his own health insurance for more than two decades.
A few months ago, Blue Cross told him it was terminating his catastrophic policy, which cost $196 a month, because it didn't comply with Obamacare requirements. So he then went looking for another policy.
Initially, his insurance agent told him the cheapest plan he could get on the Covered California exchange was $500.
Later, he looked into a catastrophic plan offering, which the exchange's shop and compare tool lists at $364, but he found even that too expensive.
So Brumfield is heading into 2014 without coverage even though he has a dangerous side job training horses.
A few days after New Year's, he discovered that Blue Cross had automatically rolled him into a new policy with a $513-a-month premium, but he has no intention of activating it.
His one last shot at getting insurance this year depends on whether he'd qualify for a premium subsidy available to individuals making less than $46,000 in 2014. That could get him a policy for less than what he used to pay. But since he's self employed, his income can vary widely from year to year. As a result, he wants to wait until his does his taxes for 2013 before making an estimate for 2014.
Regardless, he's leaning against buying a subsidized plan since it would mean hoping his business ventures do poorly this year.
"It shouldn't have to be this complicated," said Brumfield, who is single. "How many other people like me are out there who won't find out [their options] and may get hurt. It's very upsetting."
Share your story: Have you begun using your Obamacare benefits?
Realizing the public relations nightmare of having insured people lose their coverage because of health reform, the Obama administration took many steps to try to address their problems.
To deal with the millions who received termination letters, it allowed insurers to renew these policies for another year. But state insurance regulators needed to agree to this extension and not all did.
It also expanded the options for buying catastrophic plans, previously available only to those under age 30 and those who qualify for a hardship exemption. And it set up a special help line for these folks, though it only received 2,400 calls, the administration said.
To assist these folks -- and everyone else -- buy plans on the exchange, it overhauled the problematic healthcare.gov site and repeatedly delayed the deadline to sign up and pay for policies. Many states running their own exchanges, such as California, followed suit.
Regardless, some consumers have been left on the insurance sidelines.
It's unclear how many. About 11 million people buy their own insurance, and reliable estimates do not exist for how many are losing coverage for 2014.
Related: I signed up for Obamacare!
April Smith is one of them ... at least at this point.
For her, having insurance for her family was more important than going on vacation. She and her husband scrimped to pay for a $738 monthly Humana policy so her three boys would be covered.
But when her insurer told her the policy was going up to $841, the Talking Rock, Ga., couple knew they couldn't swing it. So Smith started a long journey through healthcare.gov in mid-October.
When she first applied online, the exchange told her that her children qualified for Medicaid and to wait for a call from a state agency. After not hearing from anyone, she called the exchange's help desk but was directed to the Georgia public assistance agency. But that agency told her it did not receive any forms from the federal exchange and that the family didn't qualify for Medicaid.
Smith then completed several more exchange applications either online or with agents over the phone. But she was told that her oldest two boys, ages 17 and 13, did not qualify for coverage on the exchange or for state government health programs, while the 11-year-old might qualify for PeachCare, which is Georgia's coverage for uninsured kids.
Finally, an exchange agent advised her to write an appeal letter, which she did.
This week, she got a response from the exchange's appeals division informing her to apply for PeachCare and that the state agency would tell her what to do from there. She did and plans to follow up with the agency this week.
Smith was not able to get far enough through the process to know what her family's premium or deductibles would be under Obamacare because she could not get a quote for the entire family. One call center agent quoted her a price in the $300 range just for her and her husband. She thinks she'll qualify for a subsidy and be able to get a policy that's at least as good as her old one.
Meanwhile, she's losing sleep over the fact that her family has no health insurance and telling her sons not to play too rough.
"I worry one of them will get sick and then what am I going to do?" said Smith, 39, who works transcribing voice-recorded medical reports into text. "It's driving me crazy. I'm terrified."