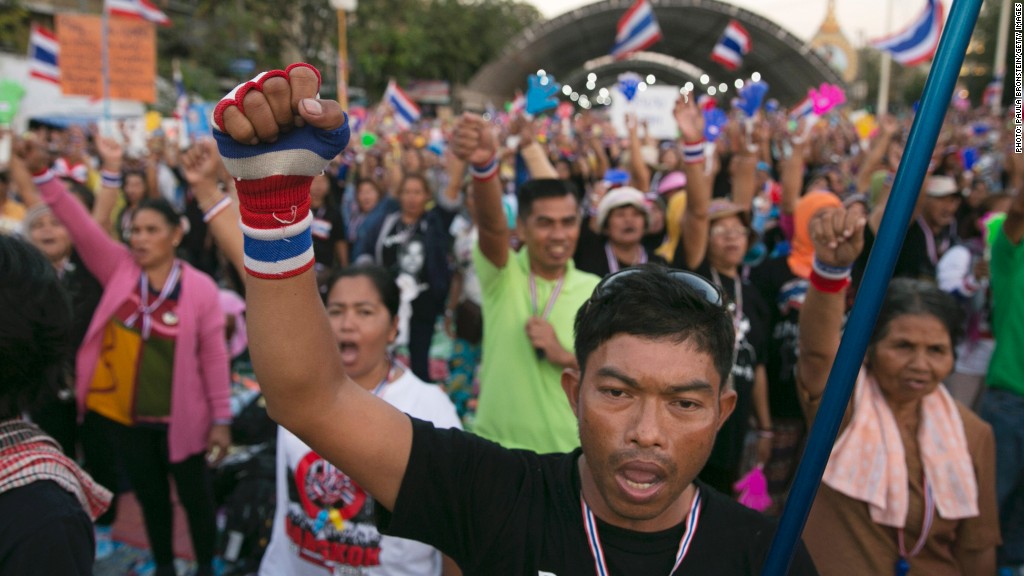 Protesters surged into the streets of Bangkok Monday, closing major intersections and snarling traffic in an effort to force Thailand's democratically-elected prime minister from office.
The protests, which have been gathering momentum for months, have agitated financial markets and weakened the country's currency, underscoring the financial cost of political instability in Asia.
Markets were calm Monday, but Thailand's benchmark stock index has plunged 14% over the past three months.
The Thai baht has plummeted to multi-year lows, dropping almost 5% against the U.S. dollar over the same period. Exports have contracted, and the tourism industry -- which contributes about 7% or roughly $25 billion of the country's GDP -- has taken a hit.
Related story: China to overtake U.S. as world's top trader
The situation is likely to remain complicated as antigovernment protesters have vowed to boycott elections scheduled for Feb. 2, raising the possibility of further turmoil in a country prone to military coups.
Organizers say the latest round of demonstrations in Bangkok, a city of 10 million, will include efforts to cut off electricity and water supplies to government offices.
The protesters, many drawn from Thailand's middle and upper classes, are hoping to oust Prime Minister Yingluck Shinawatra, a populist who draws support from rural residents in northeastern Thailand. Opposition groups hope to install a new government led by an unelected "people's council."
Analysts at Barclays said the political instability is now bleeding into monetary policymaking, complicating the timing of an interest rate cut by the central bank.
"While the external backdrop has remained relatively robust, domestic growth drivers in Thailand such as tourism and retail sales have weakened," they wrote in a research note.
Related story: Biggest risk to markets is global politics
Political turmoil in Southeast Asia has not been limited to Thailand.
Violent protests have also roiled Cambodia in recent weeks, where garment workers marching for higher wages have been killed in clashes with pro-government security forces. Further west, in Bangladesh, mounting distrust has led to violence and marred attempts to hold elections in the long-volatile country.
The mounting instability could imperil growth across a wide swatch of Asia, where slower growth in China and tapering by the Federal Reserve was already expected to weigh on emerging economies.
Emerging markets were the prime beneficiaries of low interest rates in the United States, which encouraged a rush of capital into the developing world. Should rates rise and that trend reverse, vulnerable economies in Asia could take a hit as their currencies weaken and investors flee.