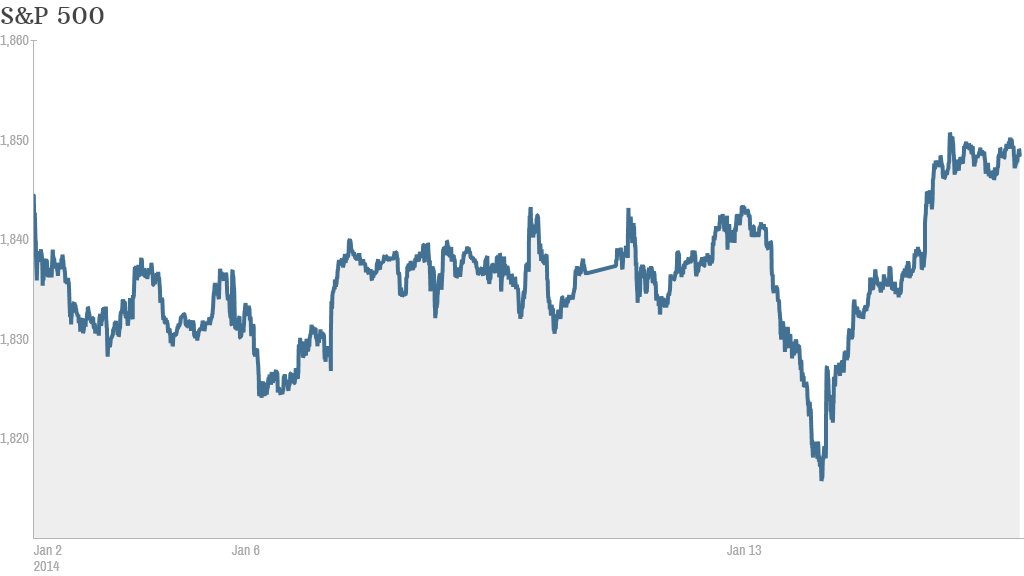 Stocks rose for a second day Wednesday, with the S&P 500 ending at a new record on strong bank earnings and solid economic reports.
The S&P 500 inched above its previous closing high from Dec. 31, led by big gains in shares of technology companies, such as NetApp (NTAP) and Citrix Systems (CTXS). The Dow Jones industrial average gained more than 100 points, but is still down for the year. The Nasdaq rose to its highest levels in more than 13 years.
CNNMoney's Tech 30 index was also higher, with Twitter (TWTR) and Apple (AAPL) both up.
Bank of America (BAC) boosted investor confidence by reporting better-than-expected earnings and revenue for the fourth quarter. The report followed solid earnings Tuesday from JPMorgan Chase (JPM) and Wells Fargo (WFC). Shares of Bank of America rose on the news, as did major banks that have yet to report such as Goldman Sachs (GS) and Citigroup (C).
The financial sector is expected to have the best profit growth in the fourth quarter, according to FactSet Research. Overall, earnings for the companies in the S&P 500 are expected to be up 6.1% versus the fourth quarter of last year.
Related: Fear & Greed Index moves closer to Extreme Greed
In economic news, producer prices increased 0.4% in December, the government said. Manufacturing activity in the New York area expanded at a rapid pace in January, according to the Federal Reserve Bank of New York.
The Fed's latest snapshot of economic conditions across the country showed that growth continued at a modest pace in recent weeks. Most of the central bank's regions expect "more of the same" or an improvement in activity going forward, according to the Beige Book.
Wednesday's reports "added to renewed market optimism," following solid December retail sales and business inventories data on Tuesday, said Michael Englund, an economist at Action Economics. Despite an unexpected slowdown in hiring last month, "the bulk of U.S. economic surprises remain upward," he added.
Related: How to invest when the market feels scary
General Motors (GM) shares fell even though the automaker announced on Tuesday that it will pay its first dividend since 2008. The stock was down because the company said Wednesday morning that it expects 2014 profit margins to be similar to last year and that restructuring costs for fixing problems in Europe are expected to be about $1.1 billion.
The automaker also predicted most growth globally for the industry this year. But GM still has fans on StockTwits.
"$GM Buying on today's weakness," said JDR1983.
Shares of electric automaker Tesla Motors (TSLA) were up again after CEO Elon Musk told CNN late Tuesday that the company is on track to produce a cheaper, mass-market car in three years and still plans to offer a full-size pickup similar to the Ford (F) F-150 in four to five years.
The stock traded as high as $172 a share, but some traders are betting on more upside.
"$TSLA this is $200+ share... their car is amazing," said Dexterslab.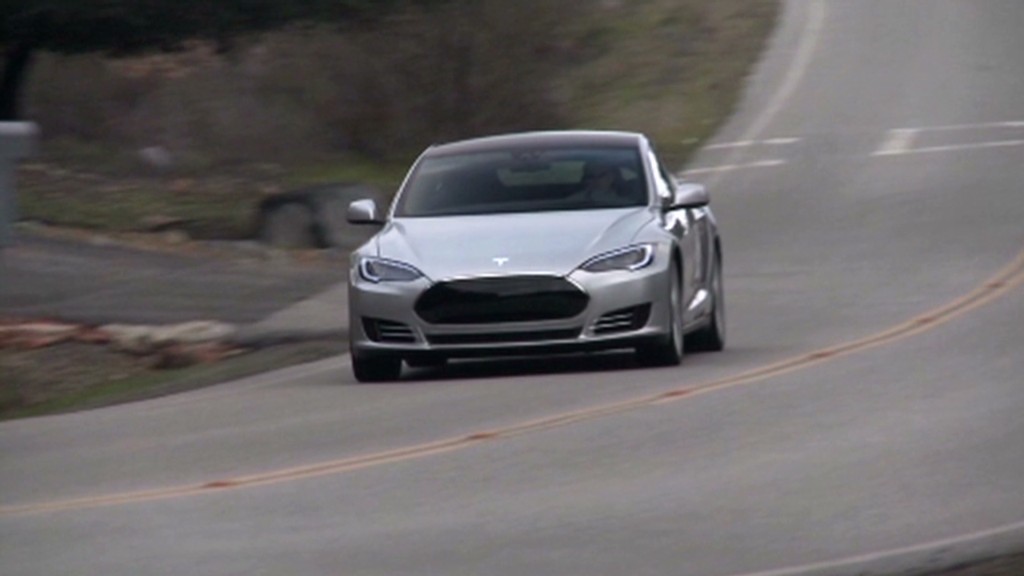 Netflix (NFLX) shares fell one day after a federal appeals court struck down Federal Communications Commission rules that prohibit Internet service providers from restricting access to legal Web content. The stock was the biggest loser in the Tech 30 index.
"$NFLX change in net neutrality rules makes this too crazy to get in yet," said StockTwits user shakerguy.
Shares of 3D printer maker ExOne (XONE) fell sharply after it warned late Tuesday that revenue would be far below its earlier forecasts. The warning follows disappointing guidance from 3D printer maker Stratasys (SSYS) earlier in the day. Fellow 3D printer companies 3D Systems (DDD) and Voxeljet (VJET) were down in early trading as well.
A few traders on StockTwits said the selling in 3D printing stocks was overdone and were stepping in to buy.
"$VJET $DDD 3D usually loses momentum a few times a year. Eager shorts love call the top. Every significant dip has been a buying opp," said MTPennybags.
The main European stock market indexes all finished the day higher. Burberry (BBRYF) shares surged in London after the luxury retailer reported a 14% jump in retail revenue in the third quarter, which includes the holiday season. Asian markets mostly closed the day with gains.