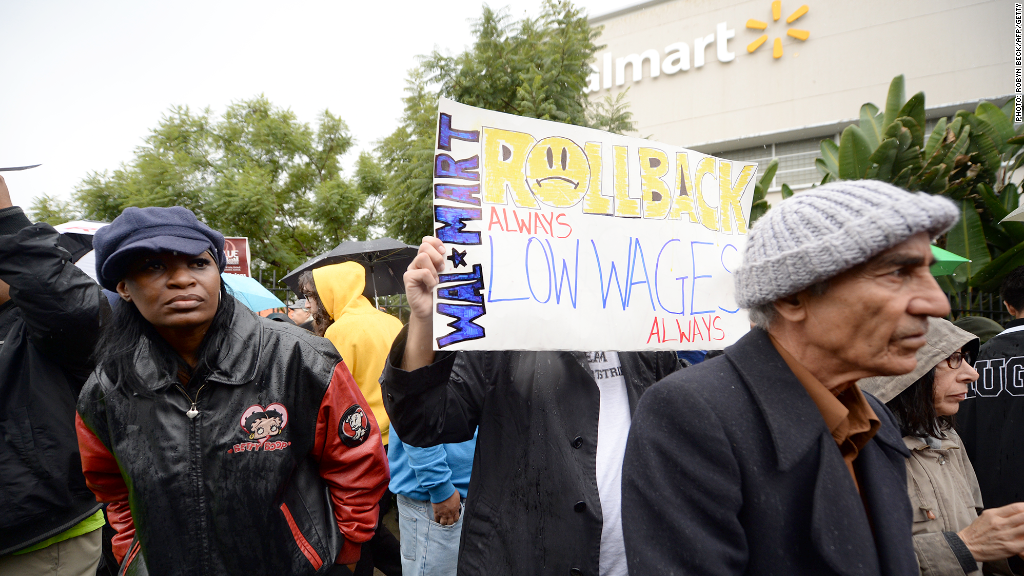 Federal officials have filed a complaint against Wal-Mart for allegedly retaliating against workers who staged Black Friday protests in 2012.
The National Labor Relations Board, which protects the rights of workers who organize for better working conditions, is taking a next step in a case against Wal-Mart (WMT) for alleged unfair labor practices. The agency had warned in November that the complaint could be filed.
The complaint, filed Tuesday and circulated Wednesday by union representatives, details times when Wal-Mart allegedly illegally threatened "reprisal" against workers who protested on November 22, 2012, both on national television and to employees directly.
The agency also said Wal-Mart stores in 14 states unlawfully threatened or disciplined workers who participated in legal strikes and protests.
The complaint involves more than 60 employees, 19 of whom were allegedly fired as a result of their participation in the protests. It also named more than 60 Wal-Mart supervisors and one corporate officer.
Related: Millennials turn up heat against low wages
The complaint means that Wal-Mart will face a hearing in front of an administrative law judge of the NLRB. A date has not been set for the hearing, but Wal-Mart has until January 28 to respond.
Wal-Mart spokesperson Brooke Buchanan said the filing is just a procedural step, and it gives the company an opportunity to present the facts in the case.
"We don't believe it's reasonable or okay for people to come and go from their scheduled shifts as part of a union-orchestrated PR move and not be held accountable," she said. "We take this very seriously and look forward to presenting our side."