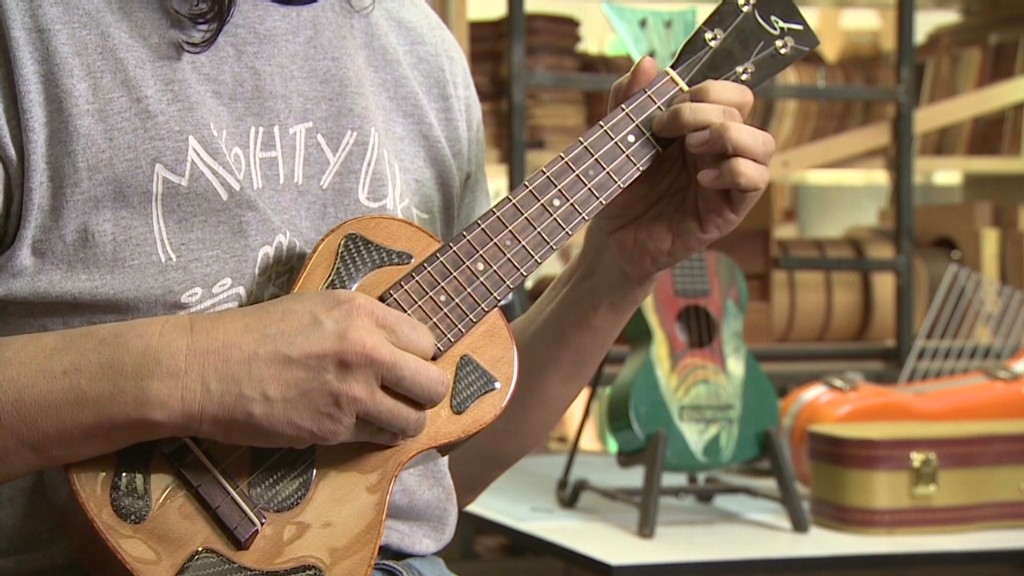 In early December, a little music store on a busy road in Salt Lake City sold a dozen ukuleles in a single day. Several dozen more sat in boxes scattered on the floor, ready to replace the wall of ukuleles Brian Winter would sell in the weeks before Christmas.
"I keep telling people ukuleles are keeping our lights on some days," said the owner of Acoustic Music, which sells ukes from $30 to $1,800.
The little four-stringed instrument is on fire, and small music shops across America couldn't be more thankful. They're often not the most expensive instrument in the shop, but they're bringing in traffic and convincing people that learning an instrument isn't as impossible as it might seem.
Between 2010 and 2012, ukulele sales nationwide jumped from 581,000 to more than one million, according to the National Association of Music Merchants.
Teenagers are a big part of the boom. Winter has heard about students sitting in high school hallways, strumming away. And it's not just music nerds: Six members of the University of Utah football team came to his store about a year ago and spent an hour sprawled on the floor playing ukuleles. They didn't end up buying any, but Winter guesses they already had some of the instruments at home.
Related: A restaurant to fuel Rust Belt revival
A 96-year-old great-grandfather bought a ukulele from the store, which inspired his kids and their kids to come in and buy more. About two dozen ukuleles later, Winter knows one thing.
"It's a contagion to some degree," he said.
The instrument is often far less expensive than a guitar, which at Acoustic Music can run from $150 to $9,000, and its small size and fewer strings make it easier to play, according to some musicians.
"It's pretty much idiot-proof," said Tracy Leenman, owner of Musical Innovations in Greenville, S.C. "Anyone can learn to play it in a short amount of time."
She's seen the ukulele surpass the recorder as the instrument of choice for some music teachers at local elementary schools. The shop recently sold classroom sets -- 30 instruments each -- to four schools in the area.
The power of popular culture is a big reason for the recent ukulele boom, shop owners say. Stars like Eddie Vedder and Jack Johnson play the instrument, and it featured prominently on the TV show "Glee."
Related: 5 of the oldest businesses in America
As Leenman sees it, the ukulele impacts her overall potential for growth.
"In terms of getting people in the door and getting involved in music that haven't been involved in music before, I'd say it's the most effective tool we have," Leenman said.
At Hix Bros. Music outside Chicago, "some days all we do is sell ukuleles," said Peter Hix, one of the owners. Electric guitar sales are down, but ukuleles, banjos and mandolins are all up.
"The ukulele has come and gone a number of times in American music culture," said Hix, who has been playing the instrument since he was 5. Now 61, he teaches about 60 students a week, ranging in age from 6 to 82. The eldest just started.
"We have a new group of young players coming up -- to them a banjo is a new thing, to them a ukulele is a new thing," Hix said.
Related: Made in America. Sold in China.
Winter's small shop in Salt Lake City sold nearly 300 ukuleles during the holiday season, which was about on par with last year's demand. He estimates that 10% to 15% of his overall business comes from ukulele sales.
This year, he noticed that customers seemed more interested in sound and quality, leading some to buy more expensive instruments. Some people were buying their second ukulele or bring an experienced uke player with them for advice.
"My definition of a fad is something that climbs, spikes and dies," said Winter after selling three ukuleles to a customer one January afternoon. "This climbed, spiked and now it's sustaining that same level."