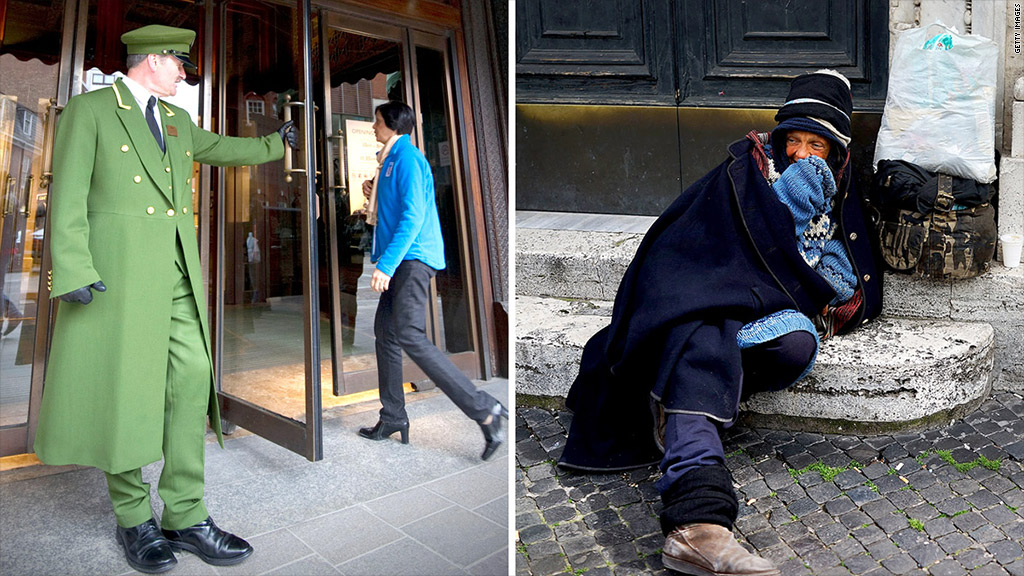 The economic recovery is gathering pace but too few people are feeling the benefits, and experts warn that rising inequality is the single biggest risk the world economy faces.
The top line numbers are looking brighter: The global economy should grow by 3.2% this year, up from 2.4% in 2013, according to the World Bank.
Yet for many, in the developed world and emerging markets alike, the recovery from the worst economic crisis since the 1930s has a phantom-like quality. Many people can't see an improvement in their quality of life, and the gap between the rich and poor is growing.
"Since the global financial crisis, it's been a race to the bottom in jobs, wages and living standards," said Philip Jennings, general secretary of UNI Global Union.
Central banks have pumped trillions of dollars into the world financial system to stabilize their economies, sending stock markets and real estate prices soaring to the benefit of the wealthy.
At the same time, governments have slashed public sector jobs, reduced protections for those working in the private sector, cut welfare benefits and made pensions less generous -- changes that hit the young and most vulnerable the hardest. Companies continue to shed jobs, too.
Related: More austerity for U.K. despite recovery
The World Economic Forum, which is hosting its annual meeting of the business elite in the Swiss mountain resort of Davos this week, surveyed over 700 experts about what was the biggest risk to the global economy over the next 10 years.
The answer: a yawning gap in incomes that could put a huge strain on social cohesion.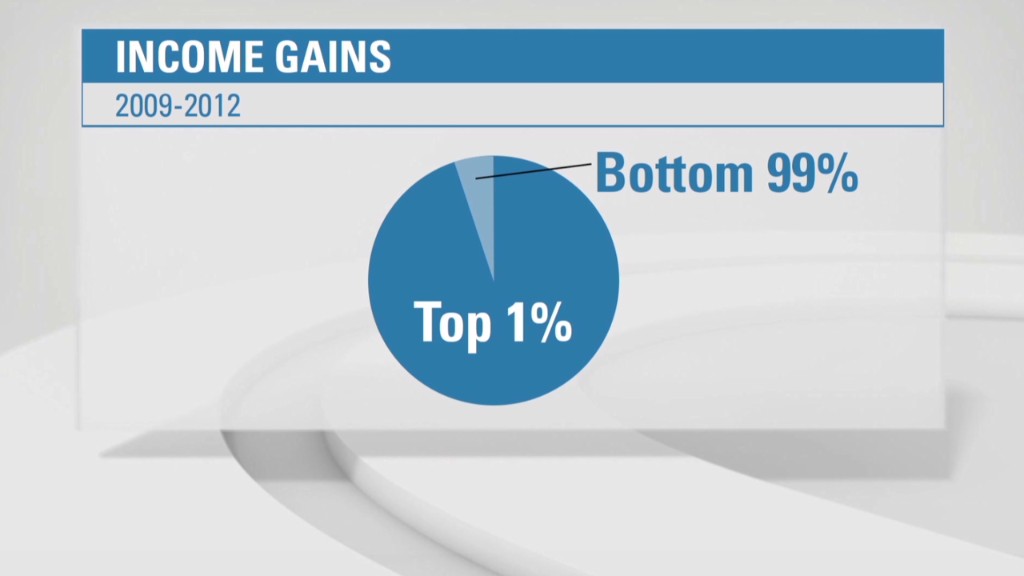 Taking third place on the list, after extreme weather, was unemployment.
Europe may have stemmed its debt crisis but risks a "lost generation" of people born in the aftermath of the fall of the Berlin Wall, nearly 25 years ago, because it isn't creating enough jobs.
Eurozone unemployment has been stuck at a record high of 12% since April 2013, meaning over 19 million are without work. For those under 25, the picture is even worse -- nearly one in four does not have a job.
Where jobs are being created, such as the U.S., U.K. or even Spain, they're often poorly paid or offer only temporary employment, making it hard for people to save money, gain experience and build a career.
Many are giving up on the search for work, discouraged by repeated rejections or low wages. And chronic long term youth unemployment may be creating another crisis -- major health problems that will add billions to future care costs.
In Davos, heads of state will rub shoulders with central bankers and top executives, who on average pay $20,000 to attend (before flight and hotel costs).
And searching questions will be asked about growing inequality and the future of work. But answers will be harder to find.