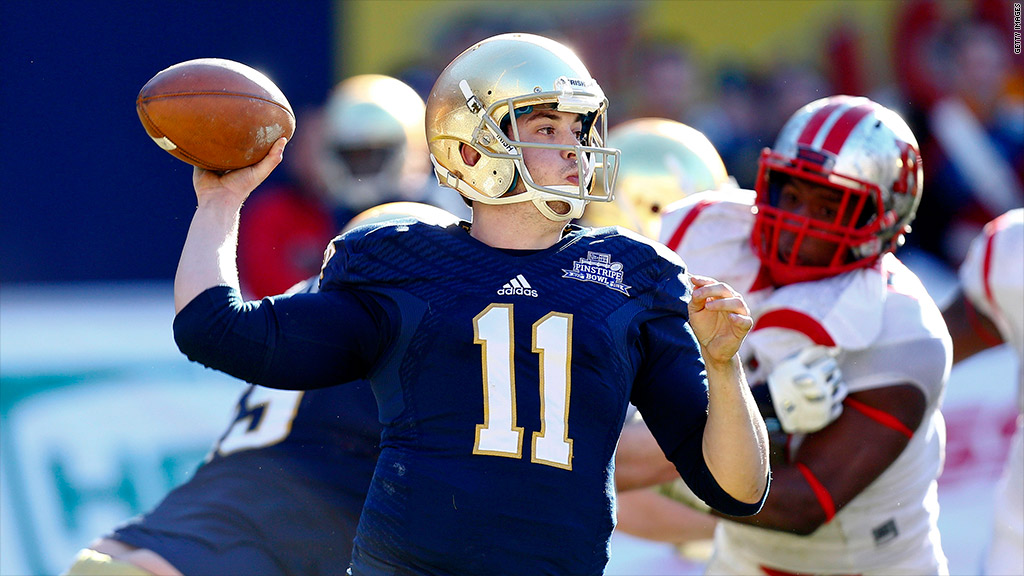 Under Armour will be looking for gold beneath the Golden Dome.
The sports apparel maker announced Tuesday that it has reached a 10-year contract as the exclusive outfitter of the University of Notre Dame's 26 varsity teams.
Notre Dame athletic director Jack Swarbrick refused to say how much the deal was worth, but claimed it was "the largest financial commitment ever made by a brand to a university."
This is Under Armour (UA)'s 13th deal with a Division I university, the company's founder and CEO Kevin Plank said. Its stock rose after the deal was announced and ended the day up about 3.4%.
The contract begins on July 1 and uniforms will be ready for athletes starting in the fall. The university's current supplier is Adidas (ADDDF), and rival Nike (NKE) also boasts an impressive roster of D1 schools.
Under Armour has been criticized for its football uniforms at some schools, including what appeared to be a bloodied American flag pattern on a line of uniforms for Northwestern University. Those uniforms were designed for a single game supporting the Wounded Warrior Project. A 2011 design for the University of Maryland -- Plank's alma mater -- also received criticism. This fall, the Terrapins were suited up in new uniforms dubbed Maryland Pride 2.0.
Related: Should the NCAA pay college players?
Notre Dame's distinctive gold and navy blue look -- and, sometimes, green -- won't be radically changed, Plank said.
"We're not anticipating doing anything unusual, crazy," he told reporters. "We need to honor and respect the history of the university."
Plank noted Under Armour also has a contract with the Naval Academy.
"Somebody sent me an e-mail the other night and said, 'Congratulations on being able to cover both God and country,'" he recalled. "I think I echo that sentiment, and I'm pretty excited about that, too."