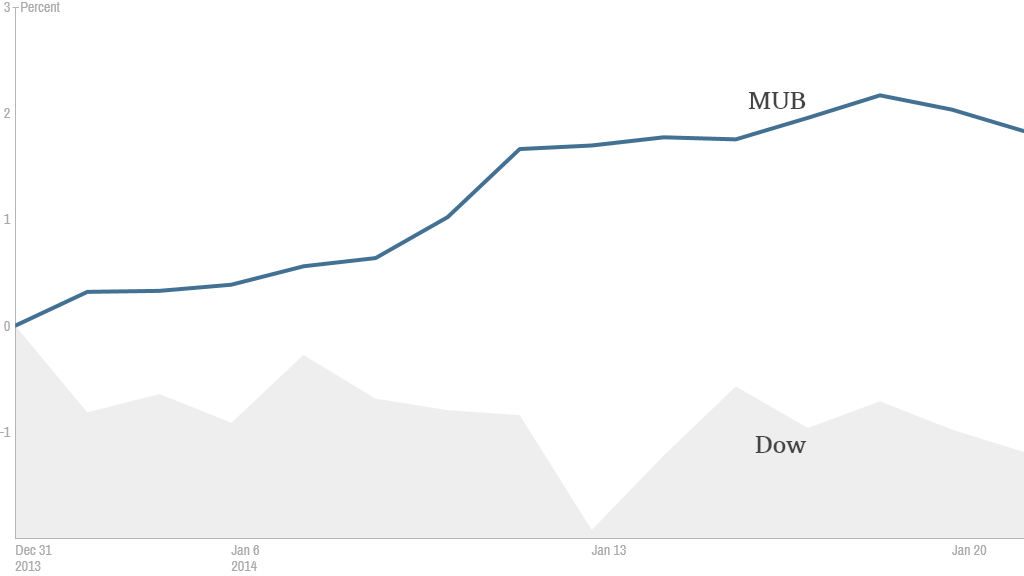 This is supposed to be a bad year for bonds, according to just about everyone on Wall Street. But the first few weeks of 2014 have not gone according to plan.
Bond yields have been falling as prices have gone up. The yield on the 10-year Treasury note is trading at about 2.85%, down from 2.97% at the end of 2013.
And money has been flowing back into bond funds. In the first week of January, investors put nearly $2.7 billion into mutual funds that invest in bonds, according to the Investment Companies Institute. It was the first time investors had put more money into bonds since late May -- a sign that some investors may think last year's bond sell-off could be done.
Bond exchange-traded funds have also experienced strong inflows. Investors put $928 million into bond ETFs through Jan. 15, according to data from XTF.
"You'd be hard pressed to find any signs of a panic trade out of fixed income," said Nick Colas, chief market strategist at ConvergeEx Group.
By contrast, investors withdrew $3.3 billion from mutual funds that invest in U.S. stocks during the same time frame.
Stocks have been off to a rough start in 2014. The Dow Jones industrial average is down more than 1% for the year while the S&P 500 is also slightly lower.
Related: Invest in innovation? 5 stock picks
While it's early and things could change at any moment, the trend so far has been the opposite of what most experts have predicted for the year. Many investors still seem confident that 2014 will be good for stocks, even though few expect a repeat of last year's big rally. Experts also expect more selling in bonds. Most strategists believe the 10-year yield will rise above 3% by year's end.
In fact, every single large U.S. brokerage firm has an "underweight" rating on global fixed income assets, according to Colas.
Related: Top stock picks from top pros
The consensus is that interest rates will rise this year as the Federal Reserve cuts the size of its monthly bond purchases as the economy strengthens. That should make stocks a better bet than bonds, since a stronger economy usually translates to corporate profit growth and higher stock prices.
But some bond ETFs have surged this year to their highest levels since May, when the Fed first announced plans to "taper" its bond purchases, notes David Lutz, head ETF trader at Stifel Nicolaus.
Lutz recently dubbed it the "Great Unrotation," a reference to the Great Rotation of money out of bonds and into stocks that many investors have predicted will take place in earnest this year.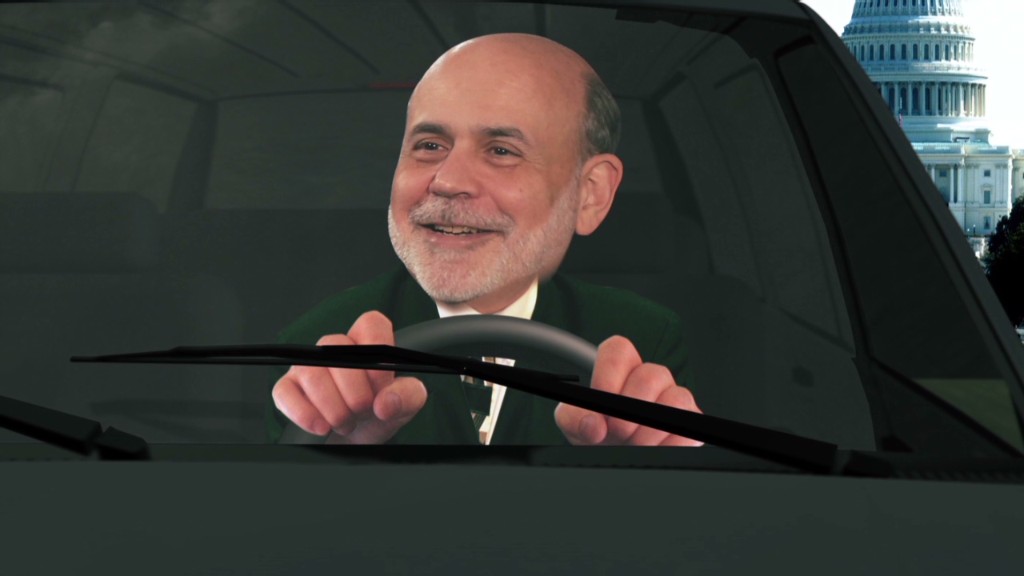 One of the top performing bond ETFs this year is designed to mimic the municipal bond market. The iShares National AMT-Free Muni Bond Fund (MUB) is up 2%, despite worries about financial health of Detroit and Puerto Rico.
Investors also seem to like high-quality corporate debt. The iShares Investment Grade Corporate Bond ETF (LQD) has gained about 1% this year.
ETFs that track high-yield corporate bonds (PHB (PHB)), or junk bonds, have also gained. Even an ETF tied to long-term Treasury bonds (GOVT (GOVT)) has outperformed the S&P 500.
To be sure, it's a bit early to draw any conclusions. The first few weeks of the year may not mean much 11 months from now.
Related: 5 investing lessons from climbing Mt. Everest
But because bond funds suffered the worst outflows on record in 2013, it may not be that surprising to have some money flowing back in during the early part of 2014.
With stocks trading near all-time highs, investors are on the hunt for assets that are comparatively cheap. Bonds fit the bill.
"People are looking for value, and there's a tendency to buy laggards early in the year," said Kate Warne, chief market strategist at Edward Jones.
But she was quick to add that stocks are still a better bet for 2014.
"I wouldn't give up on the idea that the rest of the year will be positive for stocks," she said. "Simply because the first two weeks weren't as strong as everyone expected doesn't mean the trend has changed."