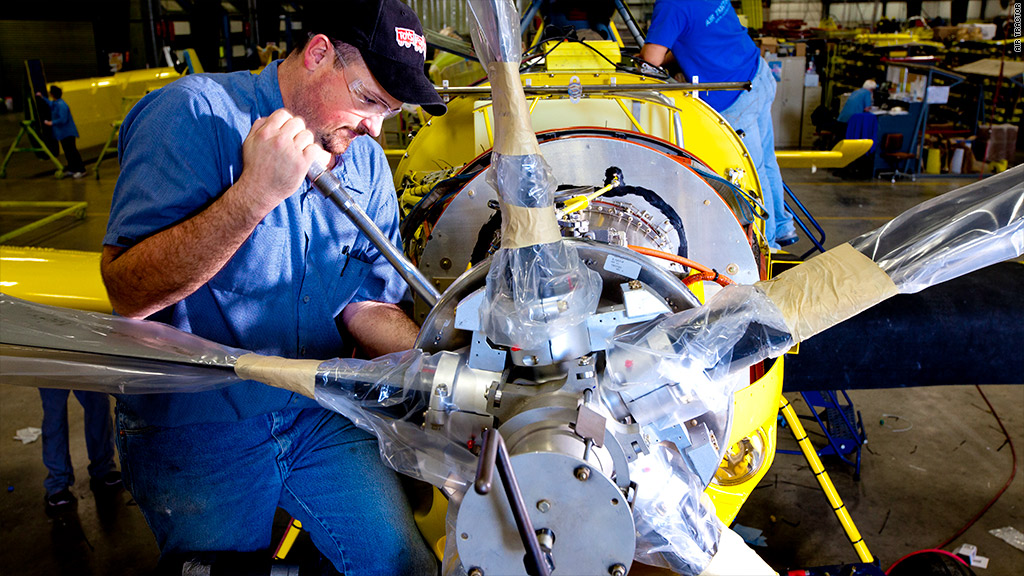 For budding entrepreneurs, the United States is an ideal launching pad for startups. But if you want to grow your firm, experts say it's a mistake to focus only on America.
"If I'm a U.S. small business, why would I want to target only 5% of the market and not also embrace the rest?" asked David Ickert, former chair of the Small Business Exporters Association (SBEA).
Yet, most small businesses are reluctant to take their products overseas. Out of the 6 million U.S. small businesses that have employees, only 5% are currently exporting goods and services, according to Dennis Chrisbaum, director of international trade finance with the Small Business Administration.
That's just under 300,000 small businesses that are taking advantage of other markets. A recent industry report said the government hopes to help 50,000 more small businesses export by 2017. Chrisbaum went even further and said the number of small businesses exporting had the potential to increase by 3% to 4% a year.
"The largest untapped resource for American exports is small- and medium-size companies," said Jody Milanese, senior director of government affairs with the SBEA. "Although the number of small exporters has been steadily growing, [it] is still not as much a part of the business culture in the U.S."
Fear of the unknown holds them back, said Ickert, who is also vice president of finance at Onley, Texas-based Air Tractor.
"[Businesses] worry about language barriers, cultural differences, shipping costs, getting financing for exports and whether they'll get paid on time," he said.
Related: Made in America. Sold in China
Air Tractor, which makes aircrafts for agricultural aerial surveillance and field spraying, has been exporting for 15 years. The firm's decision to export has paid off immensely over the years, said Ickert, who's been with the company for 24 years.
"We realized that if we wanted to grow, we had to find new markets," he said. "The U.S. market in our industry was already saturated."
Air Tractor's exports to countries like Brazil, Argentina and Canada now account for 50% of its total sales.
More importantly, the growth allowed the small-town business to keep hiring at home, which is crucial because it employs about 9% of the town's 3,000 residents.
Atlanta-based Princeton Healthcare makes diagnostic imaging devices and consults at medical centers in the United States, Asia, the Middle East and Africa. It has been exporting for over a decade.
"We decided early on as a small business that we wanted to go overseas," said CEO Don Williams. "There may be 20 companies in the U.S. doing the same thing. That means our margins at home wouldn't be as big as in international markets."
The gamble paid off, and today, 50% of Princeton's revenue comes from its international business.
Related: America's favorite businesses
Kearney, Neb.-based Chief Agri Group has been exporting its grain storage and transportation systems for over a decade and has seen the same kind of success.
"We wouldn't be the company we are today if we ignored the overseas opportunities," said Mike Lewis, a senior finance executive with Chief Agri Group. "A decade ago, 75% of our sales were domestic. Now, half our sales come from our international deals."
The firm specifically targets emerging markets in South America and Eastern Europe, anticipating that those regions' growing populations will create more demand for grains and grain storage systems.
Small businesses need to develop that kind of foresight, said Princeton Healthcare's Don Williams.
"As American businesses, we have to get out and knock down doors to create opportunities for ourselves," said Williams. "If we don't, then others will grab them first."
A recent SBEA survey showed more small business owners are warming to this idea. From 2010 to 2013, there was a 20% uptick in the number of firms interested in finding overseas customers for their products and services.
"This is a clear indication [of the] changing attitudes by small businesses that exporting is a viable option to grow their business, particularly given the sluggish economic recovery we've seen in the past three years," said Milanese.