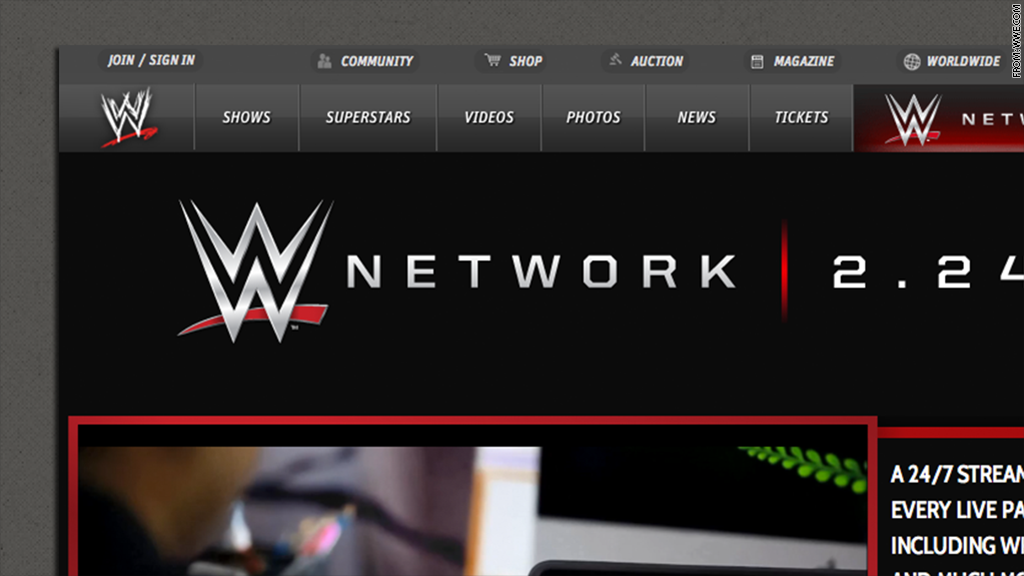 It's no secret that TV and the Internet are becoming increasingly intertwined. As streaming technology progresses, it has opened up all sorts of new possibilities for television viewing.
The old television guard have embraced the Internet TV realm tentatively, mostly using it to lure customers back to the safe haven of regularly scheduled programming. But there are a handful of renegade companies that are craftily shaking up the television landscape, forcing every other media company to pay attention -- and in some cases reconsider.
Here are 5 companies to take notice of in the online television space.
WWE: With its forthcoming WWE (WWE) Network, the pro wrestling monolith will be the biggest and most influential company to completely circumvent traditional television. With its $10-a-month streaming network, content from its cable offerings will also be available through the service. There will also be new original series developed exclusively for the network, and all 12 of its pay-per-view shows will be live-streamed to subscribers at no additional cost.
Related: WWE launches its own streaming network
This is how all TV channels could look in the future.
Netflix: When Netflix (NFLX) makes a move, it generally makes a big one.
It teamed up with Roku to help usher in the era of the streaming TV box. It teamed up with David Fincher and Kevin Spacey to produce cable-quality original content that is only available online. It's leading the charge to make online streaming the official method of delivery for ultra-high definition "4K" video. And it's finding great success with many of the moves it makes, with shares surging 300% last year alone.
HBO: HBO Go has already offered its online service as an a la carte option in Scandinavia, and the company has publicly stated an interest in doing the same elsewhere if it financially makes sense.
But its most boundary-pushing move yet was when CEO Richard Plepler said that he was OK with people sharing HBO Go accounts, because it's good marketing. Given HBO's position in the TV industry, that's a move that won't go unnoticed. (HBO is owned by Time Warner (TWX), CNNMoney's parent company.)
Microsoft: The Xbox 360 was one of the first devices to gather up quality streaming services under one roof. But even as rivals started copying it, the Xbox still remains one of the best set-top boxes.
With the Xbox One, Microsoft (MSFT) is now developing exclusive TV content for the device and attempting the ambitious goal of integrating that streaming content with traditional cable content via its OneGuide TV overlay. For example, with the WWE's Network plan to offer scheduled programming, you could see its listings right next to an AMC or CNN.
Vevo: Music videos suffered an awkward transition from television to the Internet, but now the format is arguably more alive than ever thanks to Vevo.
Vevo has helped to bridge the gap with its fantastic apps on devices like Roku and Apple TV. Not only is it a treasure trove of videos new and old, but the app gives you the freedom to search, explore, and auto-play videos based on what you've already been watching. It's a killer feature that any streaming service with a large library should aspire to.