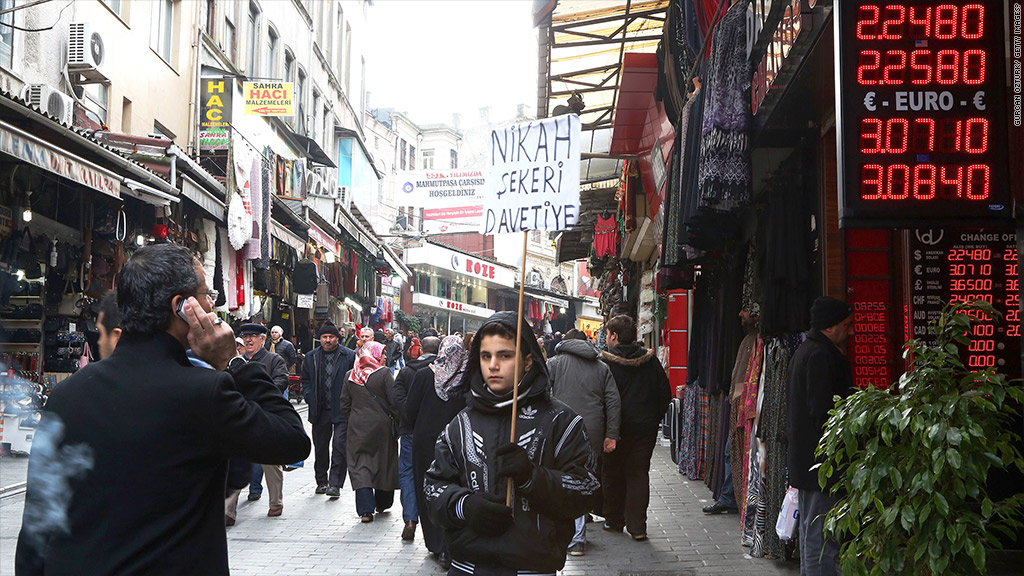 Turkey's central bank hiked interest rates Tuesday in an effort to stabilize the country's currency following a sweeping sell-off in emerging markets.
The announcement came following an emergency meeting convened in response to the crisis. The bank increased its key overnight lending rate well beyond what analysts were expecting to 12% from 7.75%.
Other emerging market currencies, including Argentina's peso and India's rupee, have also been hit by expectations that the Federal Reserve and the Bank of England will pull back on their stimulus measures, which have driven inflows to developing economies in recent years.
Related: Emerging markets rattled as anxiety rises
Over the past month, the Turkish lira has sunk to record lows against the dollar, and weakened sharply against the euro. It stabilized Tuesday on expectations that the country's central bank would act, and extended gains following the announcement.
Turkish stocks have also struggled of late as a wide-ranging probe into public sector corruption continues to spook investors.
Police have so far detained scores of high-profile suspects, including the sons of three ministers, a mayor and the chief executive of a major state bank. The investigation has undermined the government of Prime Minister Recep Tayyip Erdogan ahead of national elections in August.