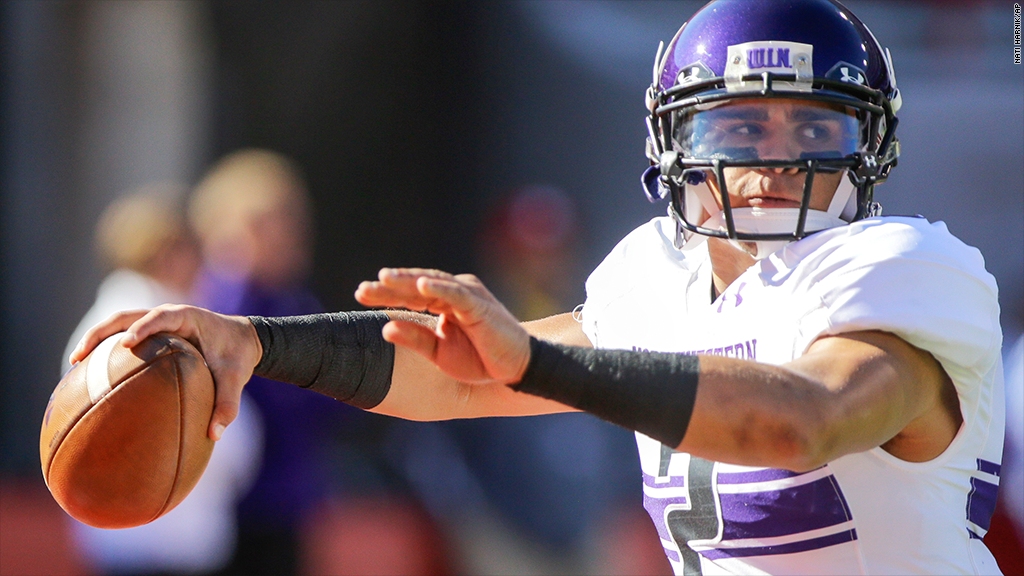 Football players at Northwestern University are seeking to join a labor union, according to the College Athletes Players Association, which wants to be the first union to represent college athletes.
Ramogi Huma, president of the National College Players Association (NCPA) announced the formation of the related union Tuesday, which filed a petition with the regional office of the National Labor Relations Board (NLRB).
With the backing of the United Steelworkers union, Huma says he has gotten signatures of support from an undisclosed number of Northwestern football players.
Huma, a former college athlete himself, Northwestern quarterback Kain Colter and Steelworkers President Leo Gerard met with reporters in Chicago Tuesday to discuss the organizing effort.
Huma said that the athletes produce billions of dollars for the schools, which in turn pays coaches millions. But he said the system leaves players unable to cover basic expenses of attending school.
"The players need more than an advocacy group. College athletes need a labor organization that can get them a seat at the table," he said.
Colter said safety issues, such as protection of players who suffer concussions, and assurances that players will not have to pay future medical care to treat injuries they suffered during their playing careers, are among the top issues for the new labor group.
"The same medical issues that professional athletes face are the same medical issues collegiate athletes face, except we are left unprotected," said Colter.
He said athletes at major college programs only have about a 50% graduation rate, which does not set them up for success later in life.
"These injustices occur in the NCAA because student athletes don't have a voice," he said. "They don't have a seat at the table. The current model resembles a dictatorship."
The organizing effort was first reported by ESPN's "Outside the Lines."
Northwestern University said that because the players are not employees, it does not believe collective bargaining is the appropriate way to address their concerns. But it did praise the effort by the students.
"Northwestern teaches them to be leaders and independent thinkers who will make a positive impact on their communities, the nation and the world," said Jim Phillips, the school's vice president for athletics and recreation. "Today's action demonstrates that they are doing so."
The NCAA also said it opposed the effort.
"This union-backed attempt to turn student-athletes into employees undermines the purpose of college: an education," said Donald Remy, the NCAA's chief legal officer, in a statement. "Student-athletes are not employees, and their participation in college sports is voluntary. We stand for all student-athletes, not just those the unions want to professionalize."
DeMaurice Smith, the executive director of the NFL Players Association, said that he welcomed collective action at the university level.
"These Northwestern student athletes are smart and perhaps more importantly, brave," he said. "The NCAA has refused to address this issue for years."
Related: Oakland Raiders cheerleader sues team over wages
Figures filed by Northwestern University show that the Big Ten Conference football program had revenue of $30.1 million in 2012-13. It had expenses of $21.7 million, leaving it a profit of $8.4 million.
But that is only a fraction of the money generated by college athletics. Federal reports filed by the 244 major college football programs show combined revenue of $3.6 billion in the 2012-13 school year, and a combined profit of $1.3 billion. Men's basketball at those schools produced another $1.1 billion in revenue, and a profit of $334.9 million.
The NCPA points to a study it did in conjunction with the Drexel University Sports Management department that found the average annual scholarship shortfall that athletes have to pay themselves to attend school is $3,285.
It is proposing that major colleges agree to give $52 million a year to football and men's basketball players -- an additional $3,000 each that it says would cover most of out-of-pocket costs. It is also proposing an additional $52 million to support women's sports at the same schools. It said the money could be covered by increased revenues already set to be collected by the schools through the NCAA in coming years.
--CNN's Sara Ganim and Dave Cera contributed to this report.