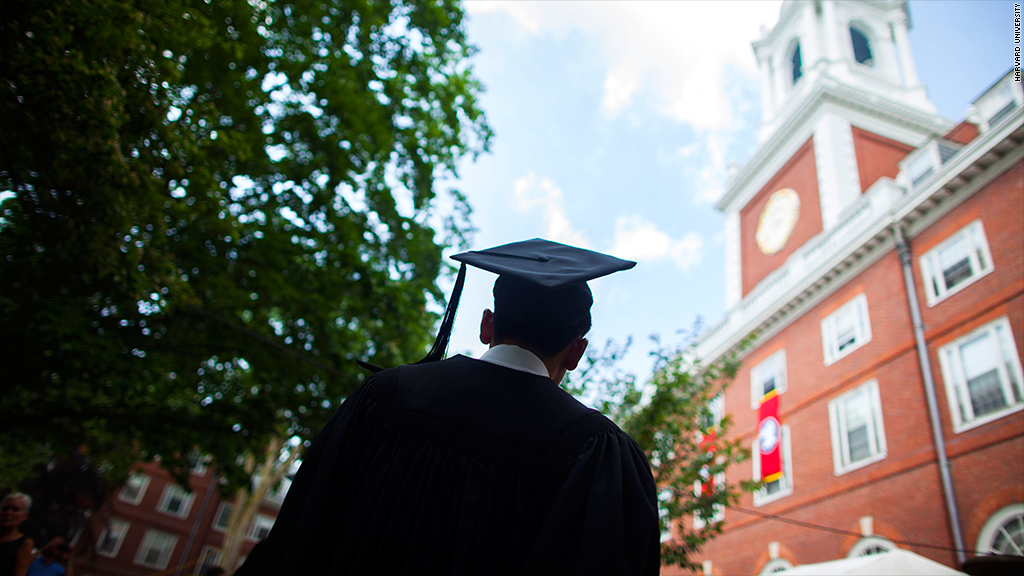 College endowments made a comeback last year, gaining an average 11.7% in the 12 months that ended June 30 amid a rally in stocks.
The gains helped colleges to recover from the average 0.3% loss incurred in fiscal 2012, and built on a nearly 20% average gain in the prior year, according to the Commonfund Institute and the National Association of College and University Business Officers which compiled data from 835 U.S. college and universities.
Harvard University's endowment was worth more than $32 billion last year, beating out other universities by billions of dollars.
Other top endowments included Yale University with $20.8 billion, the University of Texas system with $20.4 billion and Stanford University with $18.7 billion.
Related: Yale beats Harvard on endowment returns
Harvard's endowment earned an 11.3% investment return for the 2013 fiscal year, while Yale's climbed 12.5%, according to prior university reports.
The gains were good news for schools, helping them to continue to rebuild from deep market losses during the recession, said Kenneth Redd, director of research and policy analysis at NACUBO.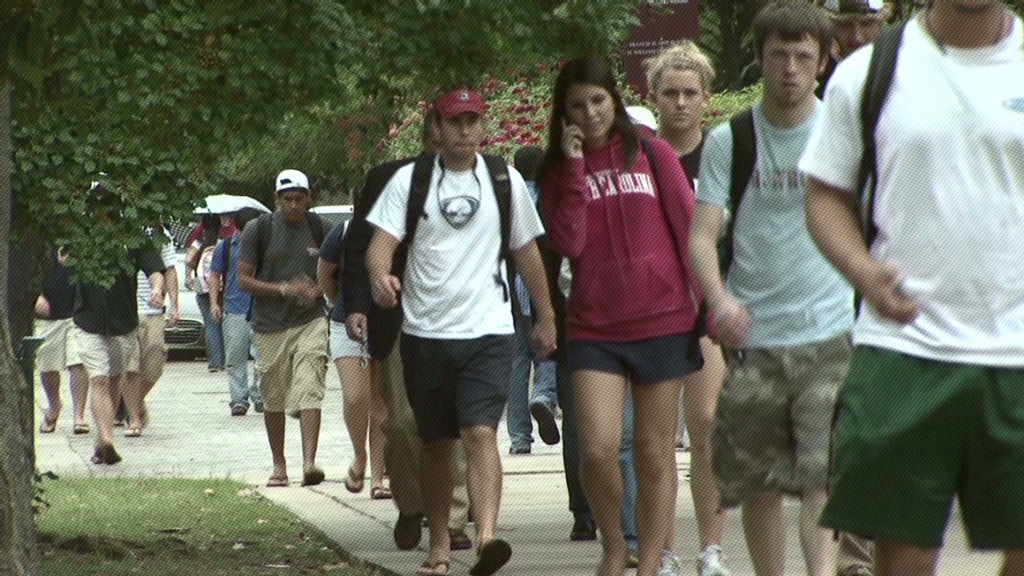 Many schools dip into their endowments to fund financial aid and other student and faculty programs, and two-thirds of the schools surveyed said they spent more of their endowment money last year.
Related: How much will that college really cost?
For example, Harvard's endowment is up only 6.2% even though it's investment returns were nearly double that amount.
With the stock market getting bumpier again, it's unlikely schools will enjoy such strong returns this year.
"The stronger market for 2013 was a huge benefit, but its hard to know at this point if that will continue," Redd said. "The volatility of the last 10 years seems to have reemerged."
20 largest university endowments
| Rank | School | Endowment | Change from 2012 |
| --- | --- | --- | --- |
| 1 | Harvard University | $32,334,293,000 | 6.2% |
| 2 | Yale University | $20,780,000,000 | 7.4% |
| 3 | University of Texas System | $20,448,313,000 | 12.0% |
| 4 | Stanford University | $18,688,868,000 | 9.7% |
| 5 | Princeton University | $18,200,433,000 | 7.4% |
| 6 | Massachusetts Institute of Technology | $11,005,932,000 | 6.8% |
| 7 | Texas A&M University System and Foundations | $8,732,010,000 | 14.3% |
| 8 | University of Michigan | $8,382,311,000 | 9.0% |
| 9 | Columbia University | $8,197,880,000 | 7.1% |
| 10 | Northwestern University | $7,883,323,000 | 10.7% |
| 11 | University of Pennsylvania | $7,741,396,000 | 14.6% |
| 12 | University of Notre Dame | $6,856,301,000 | 8.3% |
| 13 | University of Chicago | $6,668,974,000 | 1.5% |
| 14 | University of California | $6,377,379,000 | 7.0% |
| 15 | Duke University | $6,040,973,000 | 8.7% |
| 16 | Emory University | $5,816,046,000 | 6.5% |
| 17 | Washington University in St. Louis | $5,651,860,000 | 8.1% |
| 18 | Cornell University | $5,272,228,000 | 6.6% |
| 19 | University of Virginia | $5,166,660,000 | 7.9% |
| 20 | Rice University | $4,836,728,000 | 9.5% |