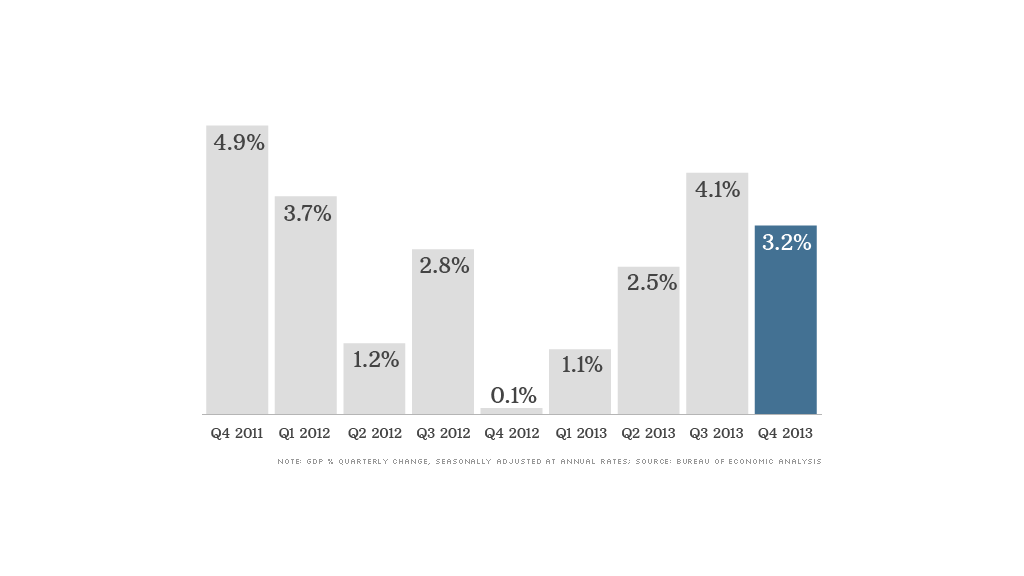 The U.S. economy ended the year with solid growth, driven by stronger consumer spending and exports.
Gross domestic product -- the broadest measure of economic activity -- grew at a 3.2% annual pace in the fourth quarter, according to a Commerce Department report. That figure beat economists' expectations, and although it's not indicative of gangbusters growth, the data seems to show the economy is moving forward modestly. GDP rose at a 4.1% clip in the third quarter.
"We've got a good balance, and that's a positive for job growth going forward," said John Silvia, Wells Fargo chief economist.
Consumer spending picked up at a 3.3% annual pace, its highest level of growth in three years. The strongest area for spending was food services and accommodation, a category that includes restaurants, bars and hotels. Spending on these services alone grew at a 10.2% annual rate in the fourth quarter, its fastest pace since 1992.
Spending also picked up in almost every other category, including clothing, autos and health care.
Meanwhile, international trade was a large driver of economic growth, as exports grew at a faster clip than imports from other countries.
But cuts in federal government spending continued to weigh on the economy. GDP would have grown at a 4.2% pace in the quarter, if it weren't for federal spending cuts, according to the report.
For the whole year, the economy grew 1.9%, down from a 2.8% growth rate in 2012.