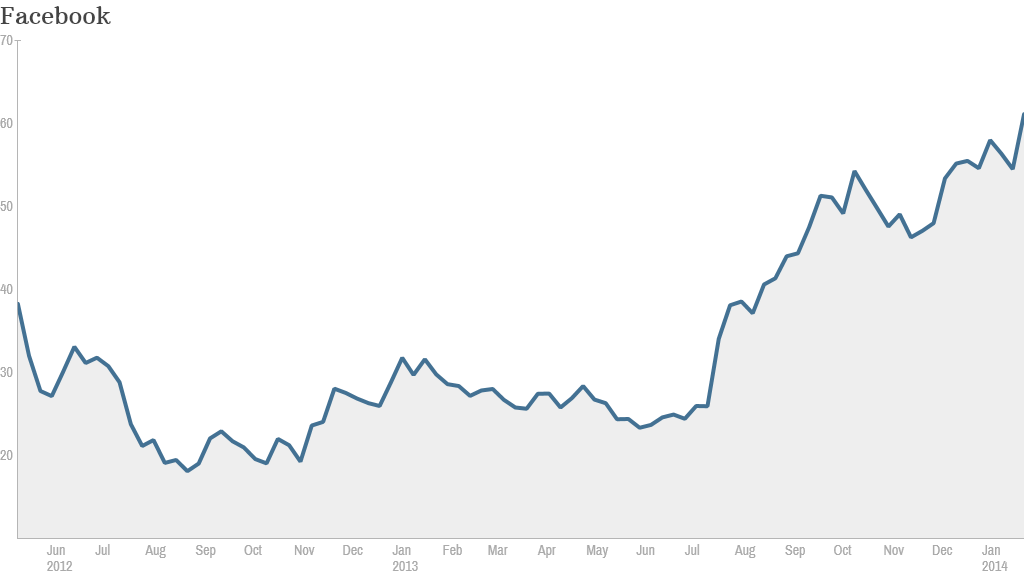 Facebook may be turning ten years old next week, but its stock is just a toddler. Still, Wall Street isn't expecting the equivalent of the Terrible Twos for Facebook.
Though Facebook (FB) shares got off to a rocky start after their initial public offering in May 2012, they more than doubled in 2013 as the company proved it had a strong mobile strategy. And the stock has continued to climb this year.
In fact, after Facebook's fourth-quarter earnings report revealed that mobile ads now account for a majority of the company's total ad sales, shares jumped 14% to a new all-time high above $60.
The gains are paying off handsomely for Facebook's top two executives. Founder and CEO Mark Zuckerberg's net worth has risen to nearly $30 billion. Chief operating officer Sheryl Sandberg, who owns more than 12 million shares, recently became a billionaire thanks to her Facebook stock as well as options and other stock awards.
Related: Facebook profit soars
While there have been some worries about whether teens are fleeing Facebook and a recent academic study suggesting that Facebook could eventually suffer the same fate as MySpace, Wall Street analysts don't seem too bothered.
"Of course prudent investors will always have those concerns in the back of their minds, but Facebook has really crossed the chasm of being a cool new app to being more of a utility," said Robert Peck, an analyst with SunTrust Robinson Humphrey.
Peck said that while teens may not be using Facebook as frequently on a daily basis because they're also on newer services like Snapchat or Frontback, it's not as if young people have completely abandoned Facebook.
"Facebook is where all their information is and where all their pictures are stored," he said. "The utility that Facebook provides has the scale and reach that MySpace never even got close to."
Peck added that the company is successfully finding ways to make more money off its users.
Related: Facebook's Sandberg is now a billionaire
Analysts were particularly impressed by the fact that the average price per ad marketers were willing to pay on Facebook almost doubled in the fourth quarter. Meanwhile, ad rates at Google (GOOG) and Yahoo (YHOO) are declining.
And Facebook still has more that it can do to boost its advertising revenues, said RBC Capital Markets analyst Mark Mahaney. Though Facebook has introduced auto-play video ads and advertising on Instagram, the rollouts remain in their early stages, leaving room for substantial upside in future quarters.
Peck estimates that photo-sharing site Instagram, which Facebook bought in 2012 for about $1 billion, could add $500 million in annual revenue within a couple of years.
Though Facebook is already one of the largest companies in the world, with a market value of about $150 billion, Peck believes the stock has the potential to double in value and join the ranks of Apple (AAPL), Google (GOOG) and Microsoft (MSFT).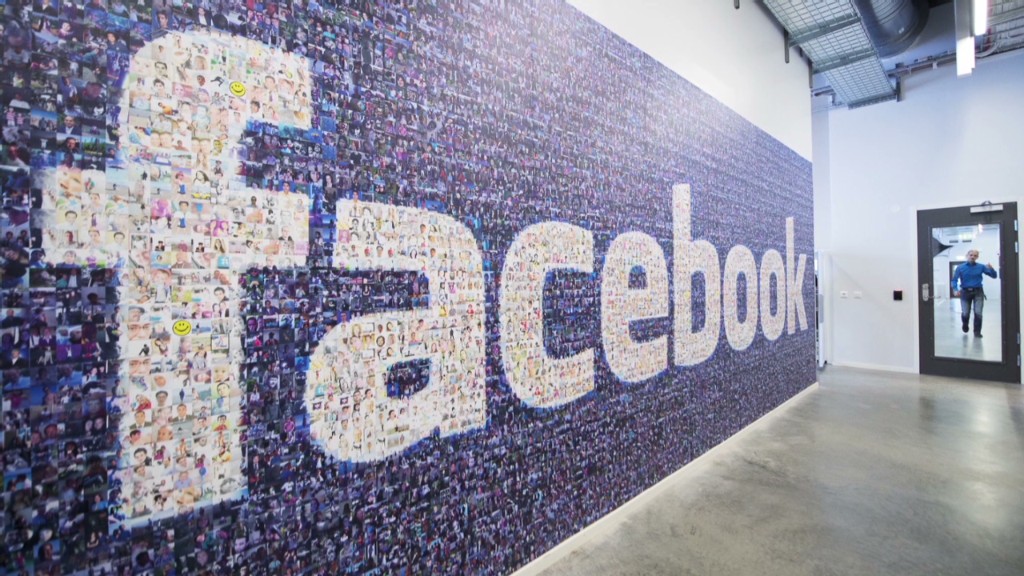 But he said Facebook will have to remain focused on maintaining its user experience and not overloading on ads. It may also need to take concerns about privacy, which has been a sore spot for many Facebook users over the years, more seriously.
Related: Zuckerberg rarely mentions the word 'privacy'
"Facebook must fund the right balance of information sharing that will enable it to deliver favorable ad targeting, but not upset users or regulators who desire greater levels of privacy," said Morgan Stanley analyst Scott Devitt.
Nearly all of the analysts who cover Facebook have a "buy" rating on stock. The average target price just above $70 per share, up nearly 15% from current levels.
The stock is by no means a screaming bargain. Shares trade at 50 times 2014 earnings estimates. But analysts are forecasting extremely strong levels of growth: they expect the company to report an earnings increase of 40% this year.
And even if you don't think Facebook is the right investment for your portfolio, odds are you already own a small piece of it. Facebook is now in the S&P 500, the index that many people invest in via mutual funds or exchange-traded funds for their retirement accounts. So "like" it or not, you should care about what's next for Facebook's stock.