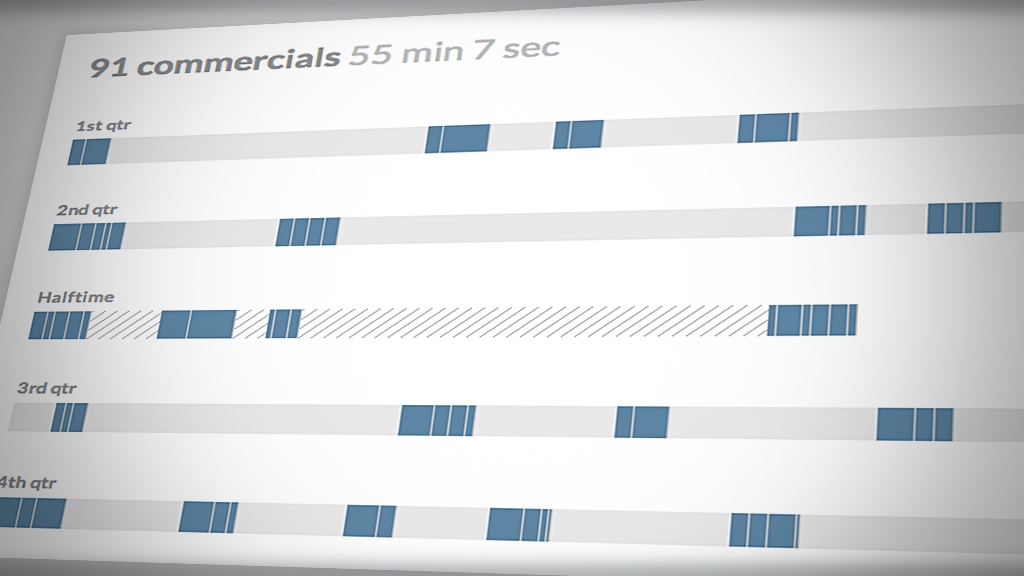 Where did all the bikinis go?
The absence of such bro-centric staples from this year's stable of Super Bowl ads, and a preference for multi-racial, patriotic and small business entrepreneurial themes, seems to suggest that America is growing more serious and more sentimental.
"GoDaddy - another advertiser known for boobs and babes - and what are they are showing? A small business advertising," said Kelly O'Keefe, professor of brand strategy at the Virginia Commonwealth University Brand Center. He was referring to an ad in which actor John Turturro introduces an entrepreneur quitting her job to launch a company called Puppets by Gwen.
"She actually quits her job on the air, which is an interesting stunt, but what is even more interesting is that GoDaddy has abandoned their raunchy ways of the past," he said.
He said that ads were more mature this year, seeming to abandon their adolescent themes of the past.
There were several ads that raised attention for their highbrow themes: a Coca-Cola (KO) commercial that emphasized the multi-ethnic nature of America; a Bank of America (BAC) ad that emphasized a U2-backed fundraiser for AIDS treatment in Africa; and a Budweiser ad from Anheuser-Busch (BUD) featuring a soldier coming home from war.
Related: Gallery of Super Bowl XLVIII ads
"Emotional gripping messages," said Derek Rucker, professor of marketing for the Kellogg School of Management at Northwestern University, naming the Super Bowl ad theme of 2014. "It's time to be powerful in the ad. Companies are trying to get new messages to consumers.
"It could be that we're coming out of a recession and advertisers are trying to re-embrace consumers," Rucker added.
There was also a Cheerios ad from General Mills (GIS) that continued with its theme of an interracial family.
"Multi-racial people are kind of the last frontier in getting realistic portrayal in advertising," said Charles Taylor, professor of marketing of Villanova School of Business. He noted that the first Cheerios ad featuring the multi-racial couple was considered controversial, but the company went ahead and ran a similar ad on the Super Bowl.
"I think it's conventional wisdom not to alienate any of the target audience," Taylor said. "But we're at a point in American history where multi-racial families are well accepted by most of the population and I respect Cheerios by not worrying about what a minority of the population is thinking."
Related: 2014 Super Bowl ads and what they cost
Fox, broadcaster of the football game between the Seattle Seahawks and the Denver Broncos at MetLife Stadium in East Rutherford, N.J., charged up to $4.5 million per 30-second spot. So ad experts felt it was particularly important for advertisers to convey a message that was closely linked to their brand.
Rucker said that the most effective advertiser, on that score, was Radio Shack (RSH). The venerable electronics retailer, which has been struggling to compete with newer upstarts, said that it was leaving behind its older 1980s model. The spot featured '80s icons including the wrestler Hulk Hogan, Olympian Mary Lou Retton, Dee Snider of Twisted Sister, the sitcom puppet Alf and the horror-show marionette Chucky of "Child's Play."
"I'm a child of the '80s so it was great seeing all the characters," said Rucker. "I remember seeing Alf. I remember seeing Hulk Hogan. I get what was the message was: Radio Shack isn't the Radio Shack you think it is; it's more modernized."
Among car advertisers, Kia scored big with its ad reminiscent of "The Matrix" featuring actor Laurence Fishburne, according to a survey by car website Edmunds.com that measures would-be buyer consideration. A Honda (HMC) ad with actor Bruce Willis and comedian Fred Armisen failed to resonate.
The game itself was a blowout, with the Seahawks beating the Broncos 43-8. Since the game was headed in that direction from the start, advertisers who ran their spots late in the game ran the risk that viewers were going to drop out early.
Related: Behind the scenes of Apple's iconic '1984' spot
Jonathan Symonds, executive vice president of marketing at Ace Metrix, said that Anheuser-Busch probably enjoyed strong viewership of the Bud Lite ad series featuring movie star and former California Gov. Arnold Schwarzenegger, which ran early in the game. But their much-anticipated ad that featured a puppy and Clydesdales, and another ad depicting a soldier coming home from war, ran late in the game, when there was no question of the outcome.
"It's a calculated risk that these guys take every year," said Symonds. "In the last few years, having that ad late in the game was a payoff for them because the game was so close. But that certainly wasn't the case this year, and I'm sure that they did lose viewership."
However, he added, it might not matter in the long run, because the Budweiser ads ran prominently in social media, and millions of people had already seen them before the game even began.
--CNNMoney's Peter Valdes-Dapena contributed to this story.