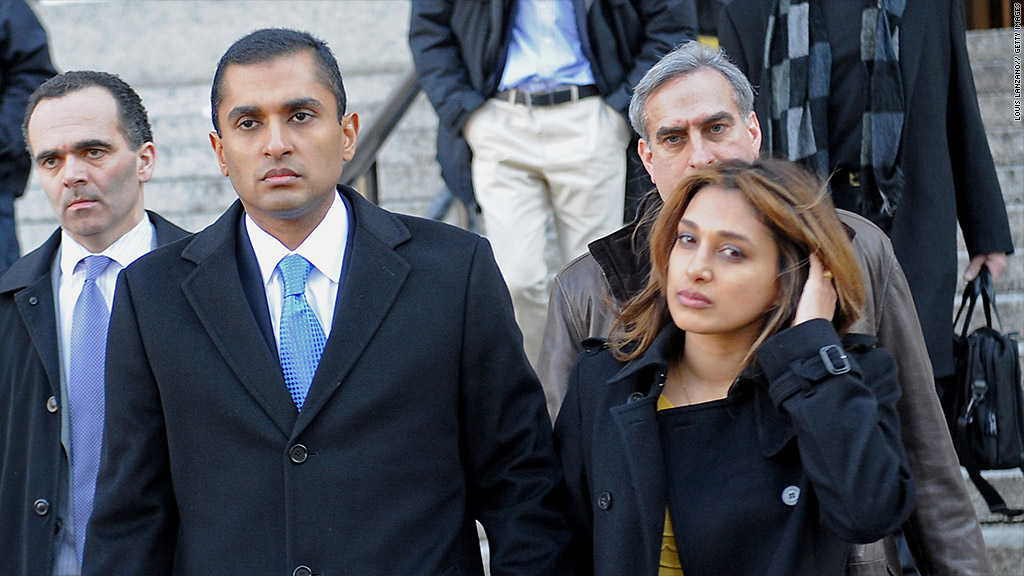 A federal jury in New York Thursday found former SAC Capital portfolio manager Mathew Martoma guilty of charges related to insider trading.
He faces up to 45 years in prison and remains free on a $5 million bond.
Martoma was charged with two counts of securities fraud and conspiracy to commit securities fraud. He was accused of obtaining inside information about the drug stocks Elan and Wyeth (now owned by Pfizer (PFE)).
"In the short run, cheating may have been profitable for Martoma," said U.S. Attorney Preet Bharara. "But in the end, it made him a convicted felon."
Bharara said Martoma's actions netted SAC Capital "a quarter billion dollars in profits and losses avoided" and a $9 million bonus for himself.
SAC Capital, once one of the nation's largest hedge funds, is run by founder and billionaire Steve Cohen.
Related: Insider trading suspect was booted from Harvard Law
Seven of Martoma's former SAC co-workers who were charged with insider trading have already pleaded guilty or been convicted, including Michael Steinberg, who is awaiting sentencing after his conviction last year. Steinberg could face up to 20 years in prison for dumping shares of Dell and Nvidia (NVDA) in 2008 based on inside information about the companies' lousy earnings.
Cohen himself has not been charged with a crime, though the feds have been circling him for years. The Securities and Exchange Commission filed a civil suit against him last year, accusing him of failing to properly supervise employees who committed insider trading. He has denied the allegation.
Related: SAC Capital to plead guilty to insider trading charges
SAC Capital itself pleaded guilty to criminal insider trading charges last year, agreeing to pay a fine exceeding $1.8 billion and to close its doors to outside investors.
"The FBI will continue to investigate these cases of impropriety until those in the financial industry understand the importance of following the law," FBI Assistant Director George Venizelos said in a statement.
Martoma's lead defense attorney Rich Strassberg also issued a statement that said, "We are disappointed and we are planning an appeal."
Mathew Martoma is the 79th person to be convicted of insider trading by Bharara's office in the last four years.