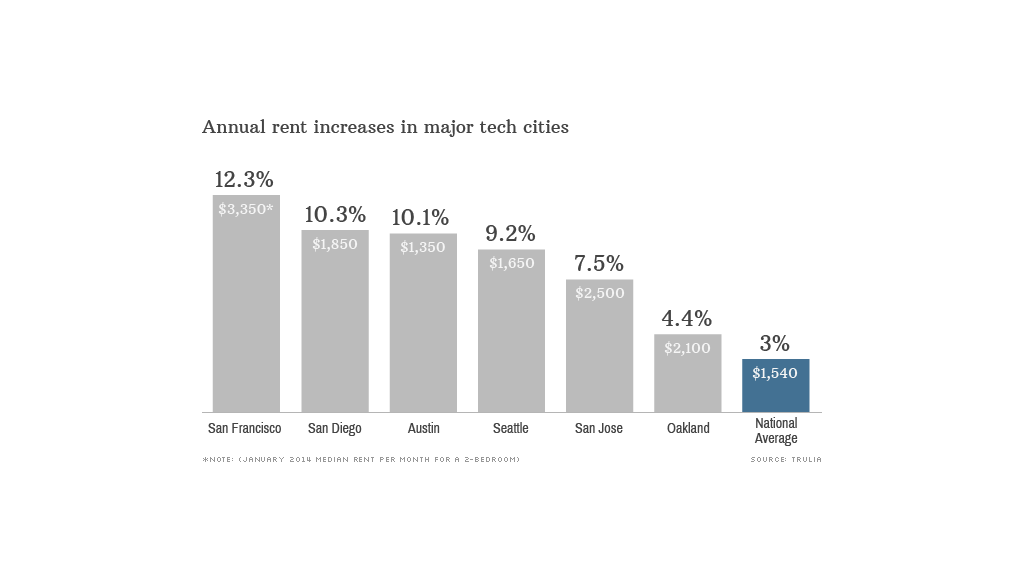 Low- and middle-income residents of San Francisco, Oakland, Seattle and other metro areas, are getting pushed out of their homes as an influx of deep pocketed tech workers drive up rents.
Rental rates for the 10 metro areas most dominated by tech companies rose by an average of 5.7% year-over-year through January, nearly twice the average 3% increase seen in the nation's 90 other largest cities, according to Trulia. Certain cities have seen far bigger hikes: rents in San Francisco rose by 12.3%, to a median of $3,350 a month in January.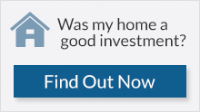 So high are rents in San Francisco and neighboring Oakland, in fact, that protestors have taken to blocking the shuttle buses that transport tech workers to the Silicon Valley offices of companies like Google (GOOG) and Apple (AAPL), blaming the companies and their highly paid workers for a spate of evictions.
Related: 10 hottest housing markets
"At locations along the Google, Apple or Genentech bus stops, most apartments are going to tech workers," said Craig Berendt, a property manager and apartment broker in the city. An apartment in San Francisco's Pacific Heights neighborhood that rented for $2,100 in 2010, for example, now rents for $3,200 a month, he said.
Many tech workers can afford it. The average paycheck in Silicon Valley has surged past $100,000, while the median wage for private sector workers nationwide is far smaller at $38,600.
Despite the fat paychecks, many young tech workers are choosing to rent over buy, in part because home prices in tech-saturated cities are even more prohibitively expensive than rents.
Cost of living: How far will my salary go in another city?
And prices keep rising. Year-over-year, asking prices in San Francisco and Oakland were up 16.2% and 24.4%, respectively, in January, according to Trulia. That's compared to a national average gain of 11.4%.
Making matters worse in places like San Francisco is that little is being done to meet the increase in demand. The city is hemmed in by the sea so there's very little land to build on and strict regulations have been put in place to preserve the low-rise charm of the city.
Instead, in once working class neighborhoods like San Francisco's Castro, South of Market, and the Mission, affordable multifamily rental housing is being converted into high-priced condos, said Victoria Stewart Davis, an agent with Pacific Union.
The pattern is similar in the Seattle area, home to tech giants like Amazon.com (AMZN) and Microsoft (MSFT).
Related: Top 10 cities people are moving to
"There's been a huge influx of people into the city and there's little land left for development," said Jonathan Grant, president of the Tenants Union of Washington State. "Housing in low-income neighborhoods is being converted to high-income rentals."
It wasn't like home prices were cheap in these places to begin with. In most tech hubs, home prices were 52% higher than the national average back in 1990 -- and that was before anyone really knew what the Internet was. Now, prices are 82% above the national average, Trulia reported.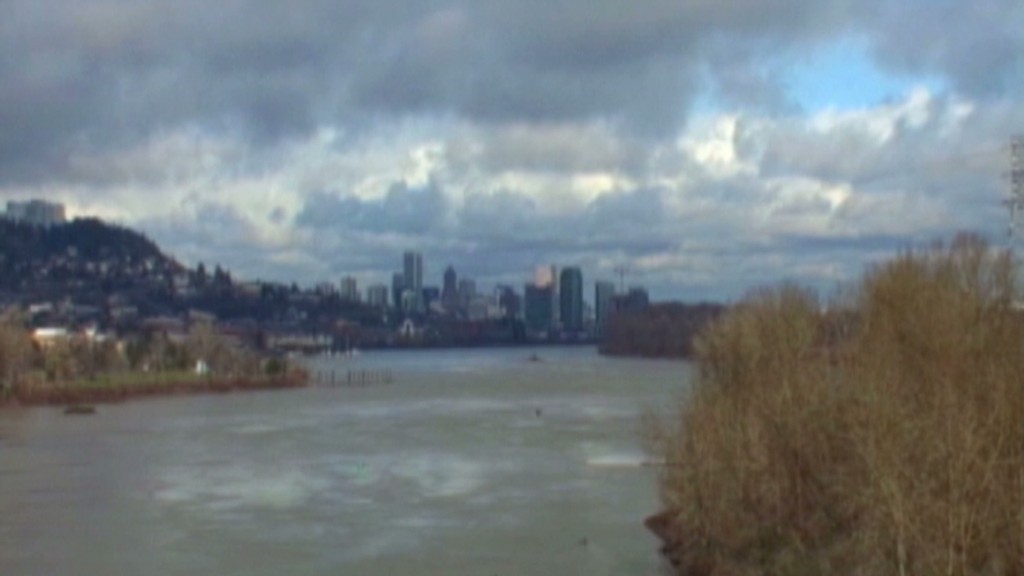 Even some tech workers are getting displaced. David Stoesz, a 46 year-old website content developer for Microsoft, left his old apartment in the Ballard neighborhood of Seattle last October when his new landlord doubled his $1,000 a month rent.
"The apartment was in a complex built in the 1940s and owned by a family," he said. "They sold it to a developer who immediately started to kick out old renters. There's nowhere for them to go. It sends the message that 'This is not your city.'"
Related: Where American millionaires live
Ballard was a blue-collar neighborhood of Norwegian fishermen and other working-class people -- the cast members of "Deadliest Catch," drink at a bar there, said Stoesz. Many of his old neighbors, which included a retired librarian and a grocer, were forced to move outside of town.
Stoesz was able to stay, but he is now paying $1,800 for a two-bedroom townhouse, which he shares with his daughter. "Now, everyone around me is the same, same age, same demographic, many are tech workers," said Stoesz. "It just sucks. The city is losing its character."