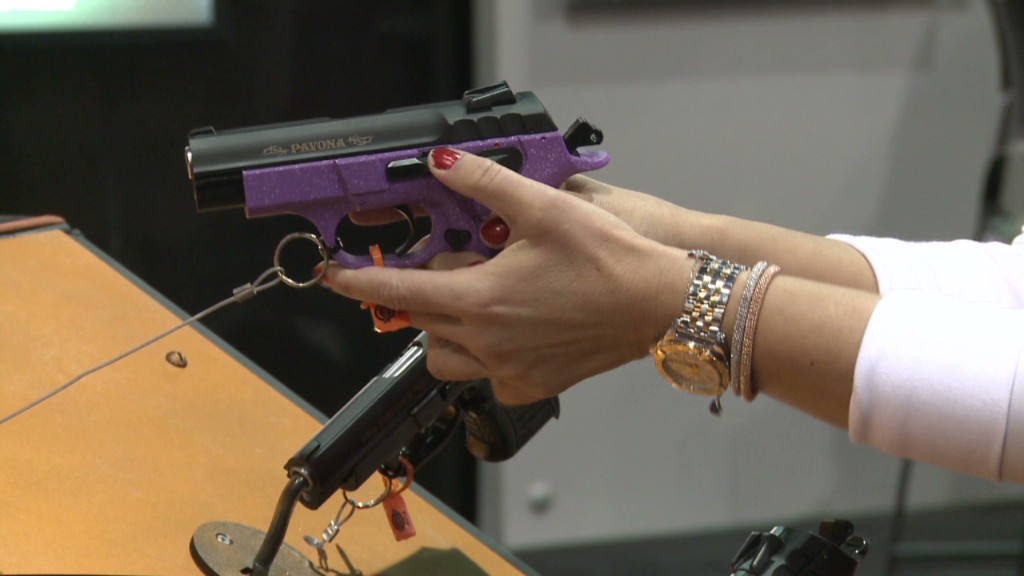 Guns with slim profiles, pink stocks and glittery grips are aimed at one of the industry's fastest-growing clientele: women.
"Make it pretty and make it purple," said Tori Nonaka, a purple-haired competitive shooter and "Glock Girl" at the SHOT Show.
Nonaka and her colleague Michelle Viscuzi, an Army veteran, were selected by the Austrian gun maker to demonstrate and sell Glock guns to distributors at the extravaganza hosted by the National Shooting Sports Foundation in Las Vegas last month.
Viscuzi has modeled for Maxim, but also competed on a History channel show called "Top Shot." Nonaka started shooting at age 3 and has competed since age 12, racking up a slew of awards in gun competitions.
Glock has a series of sub-compact and slimline handguns for women; Nonaka has a purple-toned model. Many manufacturers have women-specific styles. A Smith & Wesson a model called the Lady Smith retails for about $760.
Rifles and shotguns are also getting the pink treatment. Mossberg slathers some of its shotguns and rifles in a pink camo pattern, trademarked Muddy Girl. The Gun Store, an indoor shooting range in Las Vegas, caters to bachelorette parties with pink AK-47s.
Related: New ammo packs three shots into one
Manufacturers generally pitch weapons to women in the name of self defense.
"We didn't just want to take a gun and slap a pretty color on it," said Sharon Lacy, a designer for European American Armory, which has a unit, Pavona Arms, aimed at women. Those guns feature smaller grips, and a firing mechanism that doesn't require as much strength as burlier handguns.
Nearly 80% of gun retailers reported an increase in female customers in 2012, the most recent figures from the NSSF. In Florida, 22% of the concealed carry permits are held by women. In Texas, women hold 28% of concealed carry permits, up sevenfold in the last 10 years.
Tiffany Lakosky, a former flight attendant who hunts professionally on the Outdoor Channel show "Crush with Lee & Tiffany," said she's noticed a big increase in gun-related products for women. She doesn't care about pink guns, but she does appreciate pistols with smaller frames, like her .380-caliber semiautomatic.
Related: Machine gun tourism in Sin City
"I wear it for protection," she said. "I like it because when I go running on a dirt road I have a belly band and it fits that. I can mow my lawn with it. I can wear it in my purse and no one even knows that I have it."
Some gun companies, like Pavona, make purses that have holsters for concealed pistols. These handbags are available in bison skin from a San Diego shop called Coronado Leather, as well as in faux ostrich and crocodile from an outfit called Concealed Carrie.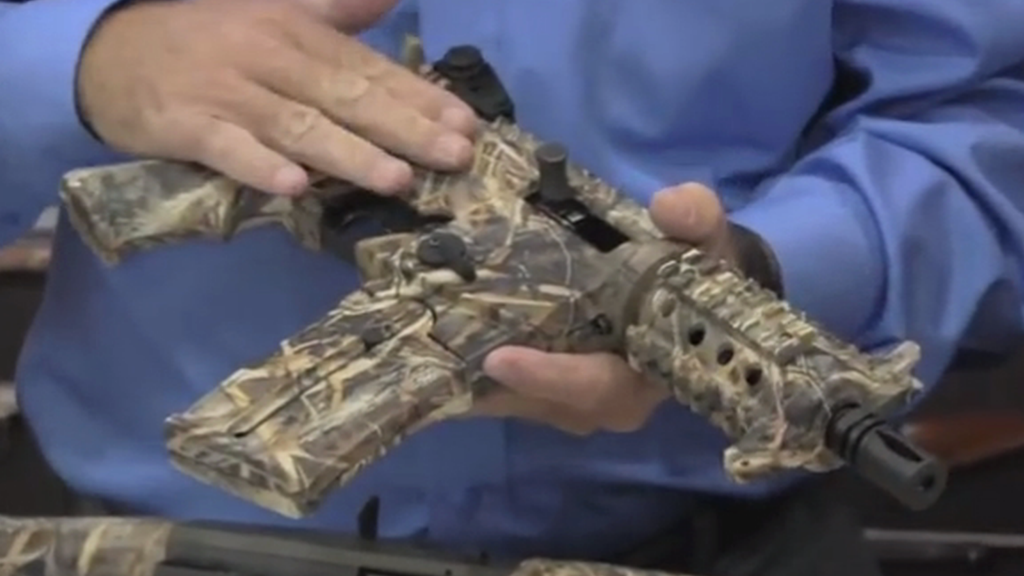 Karen Butler, who works full-time as a civilian employee of the U.S. Army, founded her company Shoot like a Girl in 2008 to introduce women to shooting. She gets sponsorships from gun companies like Smith & Wesson (SWHC), Glock, Taurus and Charter Firearms and travels to gun shows and hunting events around the country with a trailer that has an indoor gun range.
She said that many of the women who visit her trailer eventually buy firearms, and that gun retailers need to take female customers more women seriously, instead of "talking over them" when they walk into a store with their husbands.
Related: Shooting full auto at the gun show
Butler, who is married to a Marine veteran of Afghanistan and who has a son that is also serving there, said that shooting is a relaxing sport for women who are stressed from balancing the pressures of career and family.
"When you are aiming at your target and you're executing a safe shot, you're not thinking about what's for dinner," she said. "You're not thinking about the problems of the day. You're thinking about what you have to do to hit the target. When you do that, it's just a sense of relaxation, followed by a sense of gratification. I think that every woman should experience that feeling."