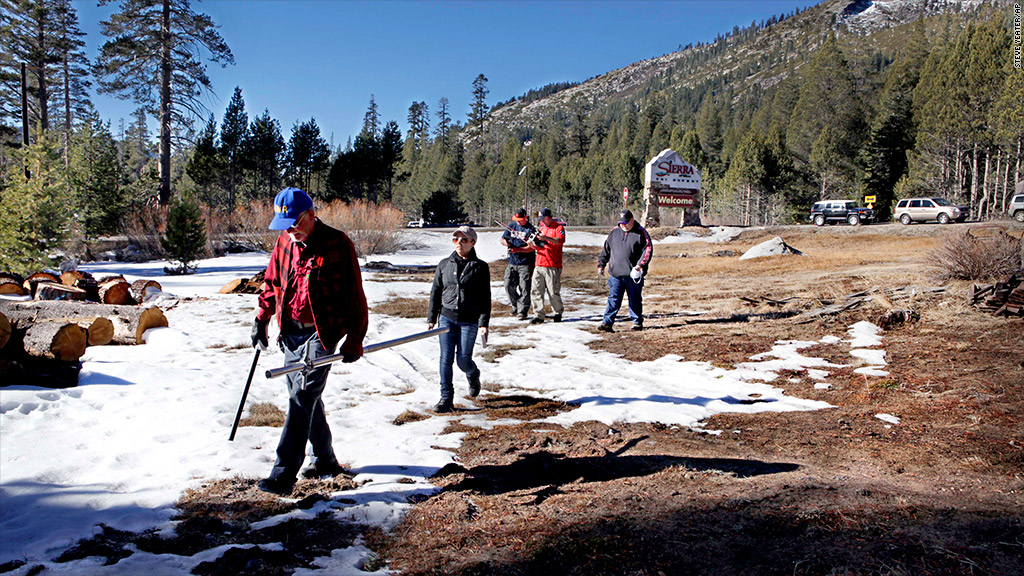 The ski lifts aren't running, the slopes are brown, and the lodge is empty at Mt. Shasta Ski Park in Northern California.
The park, which usually opens in mid-December, was running for just a few days around Christmas. Otherwise it's been closed all season.
"There's currently no snow on the mountain," said Jason Young, the base operations manager. "We need two feet to open."
It's been one of the driest years in the West that locals can remember, and two feet of snow isn't expected to fall anytime soon. California Gov. Jerry Brown declared a drought emergency for the state three weeks ago, calling it possibly the worst in at least 100 years.
Many small ski resorts in Northern California, Oregon and Idaho that typically open in December are still closed. It's not only killing business on the slopes but also for the hotels, restaurants and bars that depend on tourists coming to town for winter activities.
Related: America's favorite businesses
The family-run Mt. Shasta Ski Park does half of its winter business in December and January, said Young. By this point in the season, it has usually had 75,000 visitors. While Young said they have snow-making machines, temperatures have been well above the 28-degree mark needed to make that work.
"Having the ski park closed really affects the whole town," said Marci Wenstad, the general manager at the Best Western in Mt. Shasta, where 69 fewer rooms were booked this January compared to last year.
Vaune and Barbara Dillmann own a brewery and restaurant just north of Mt. Shasta. He says business is so slow that they only made $161 on Super Bowl Sunday. He's owned businesses in the area since 1974 and has never seen it this dry. Five staffers at Mt. Shasta Brewery have left to find work elsewhere, leaving seven employees.
It's not just the skiers who local restaurants are missing. Dog sled races and tobogganing also bring visitors to the brewery -- but not this year.
Kevin Wear said Casey's Depot, a diner near the still-closed Soldier Mountain Ski Area in Idaho, relied even more on visitors who come to kite ski and board, also impossible without snow.
After less than two years in business, Wear had to close the doors of his restaurant in January when there was still no snow.
"That was the nail in the coffin," Wear said.
Related: Shutdown ends, but small businesses lost big
Ski resorts are a huge source of jobs in their regions, so when they're closed, it means even less money goes into the community. There are about 300 Mt. Shasta employees who are essentially laid off until it snows.
"We still get travelers," said Terry Eilers who owns the Wayside Grill, located just off the highway in Mt. Shasta. "The main problem is that the locals don't have money to spend."
He estimates sales are down 30% this season.
Although there are still a couple of months left in the ski season, the National Weather Service predicts the severe regional drought will persist and possibly intensify through at least April. If the dry spell creeps into the summer, that could mean forest fires, keeping campers and hikers away.
Dillmann and his wife are in their late 60s and would like to retire, but don't see that as a possibility anytime soon.