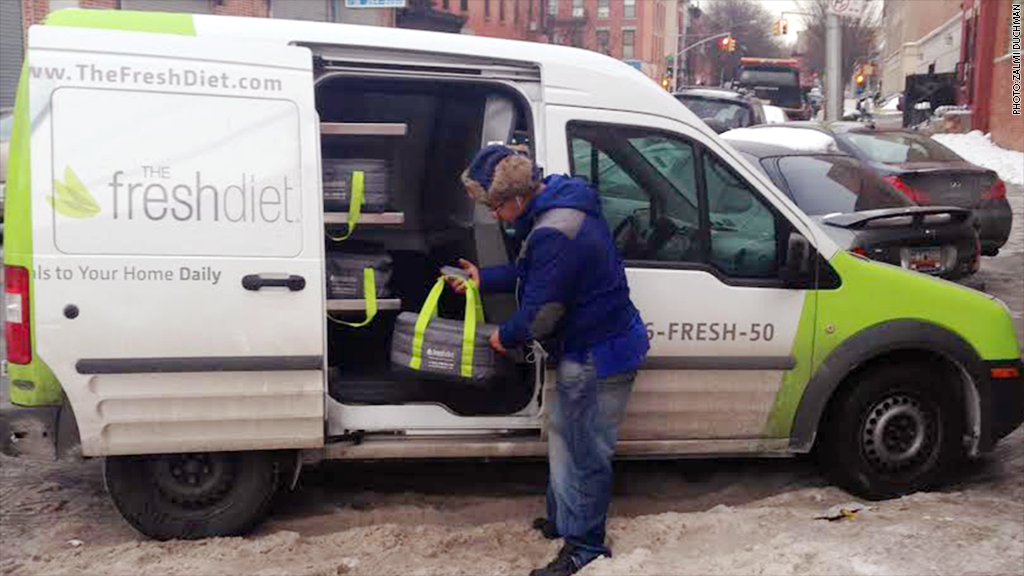 It's been a bad winter for business.
Snow, ice and freezing temperatures across much of the country have kept people home, slowing business at shops and restaurants. Extreme weather in places like Atlanta and the Carolinas caught many people off guard, and even the Northeast experienced average temperatures of 19 degrees in January, 4 degrees cooler than normal.
But even some businesses that don't rely on foot traffic are feeling the cold.
"This winter has been the worst since we opened our Brooklyn kitchen back in 2008," said Zalmi Duchman, founder of Fresh Diet.
Customers sign up online for Duchman's gourmet meal delivery service expecting a shipment each day. The company uses its own trucks to deliver daily meals to the New York City area, as well as Washington D.C., Philadelphia and Boston.
Related: The snow is great for my business
But the weather prevented Fresh Diet trucks from making deliveries on six days in January alone. For two of those days, the weather caught them off guard and meals already made were never shipped -- costing the company about $20,000 each day.
Not to mention that for all six missed days, Duchman will add six onto the end of the monthly subscriptions, meaning a customer who would have otherwise renewed on March 1 wouldn't need to until March 6 -- costing the company thousands of dollars in cash flow.
"It's been a hard winter, and things like that make a huge difference for small businesses," said Marc Glazer, CEO of Business Financial Services, a national lender.
Glazer has seen small business loan applications increase 60% in the past six weeks when compared to last year, at least half of which he said is weather related. Many applications are from existing customers on the East Coast who have had to close their stores multiple times due to winter storms and need financial help to meet payments.
Related: Drought hits ski towns hard
Sales for Car Part Kings, an online seller of car parts, always drop about 20% in the winter, but this year, they've declined by an additional 10% to 15%.
Half the company's sales are usually to mechanics, but the weather is preventing people from even getting their cars to the shop, said President Mike Dash.
Car Part Kings ships worldwide from its main warehouses in New York, and FedEx has sometimes failed to show up, causing delays and order cancellations.
"It's crushed our ability to deliver on time," Dash said.
Customers are only understanding to a point, he said, so Car Part Kings has been giving some partial refunds when shipments are delayed.
But extreme weather isn't always bad for business. Last summer's heat waves brought an increase in sales because cars broke down more easily, Dash said. He's hoping that will happen again this summer, making up for this winter's lost revenue.