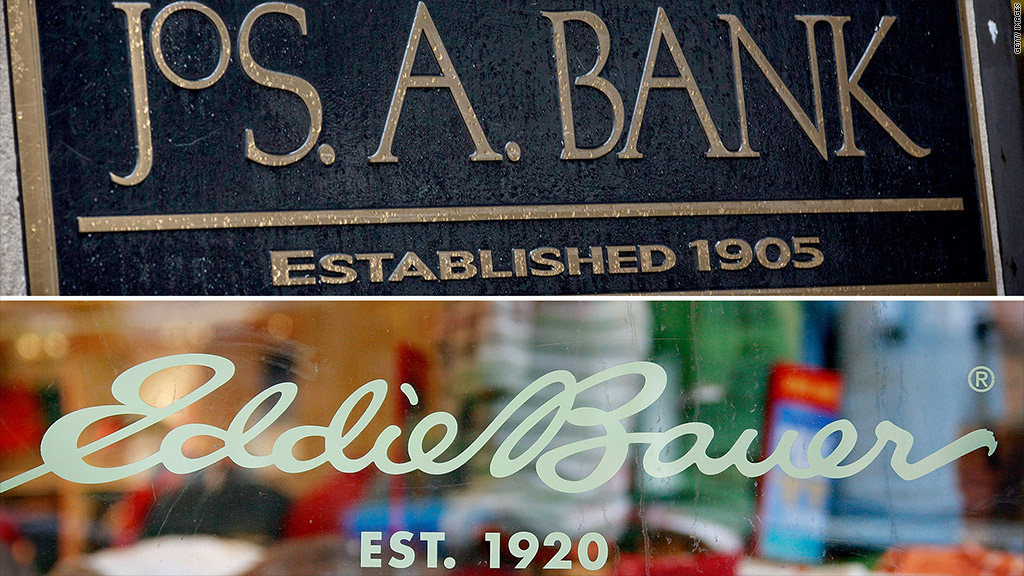 Jos. A. Bank, the men's clothing retailer that has been fighting off a hostile takeover attempt from larger rival Men's Wearhouse, announced Friday it has reached a deal to buy the Eddie Bauer clothing brand for $825 million.
The deal will include $564 million in cash and approximately 4.7 million new shares of common stock of Jos. A. Bank. To deal with the dilution of shares of existing shareholders, the company said it will repurchase the same number of its own shares for $65 a share, well above current trading prices.
Men's Wearhouse had offered $57.50 in a hostile bid for Jos. A. Bank, worth $1.6 billion. After Jos. A. Bank rejected the deal, Men's Wearhouse said it was prepared to increase its all-cash offer if the company would enter into negotiations and provide limited access to its financial information. The retailer said Friday that it would evaluate its options in light of Jos. A. Bank's latest move.
The bidding war began with Jos. A. Bank making an unsolicited $2.4 billion offer for Men's Wearhouse in October.
Related: Jos. A. Bank rejects Men's Wearhouse
The deal for Eddie Bauer can be canceled by Jos. A. Bank if its board decides to accept the Men's Wearhouse offer.
Eddie Bauer was started in Seattle by its namesake founder in 1920. Bauer created the first quilted goose down jacket in North America in 1936, according to the company's website.
The company started to develop a national reputation with production of clothing and sleeping bags for the military during World War II. After the war, it started catalog sales. Today, its products are sold at roughly 370 nationwide.
The company was owned by General Mills (GIS) from 1971 to 1988. It was then purchased by the Spiegel Catalog Co., but Spiegel ended up filing for bankruptcy.
Eddie Bauer was spun-off as a separate company in 2004 as part of the bankruptcy reorganization, but it struggled with a big debt load and was forced to file for bankruptcy in 2009.
Jos. A. Bank also warned that its fourth-quarter earnings would be well below analysts' forecasts, blaming weak post-Christmas clearance sales.
Shares of Jos. A. Bank (JOSB) edged lower in early trading, while shares of Men's Wearhouse (MW) fell more sharply.