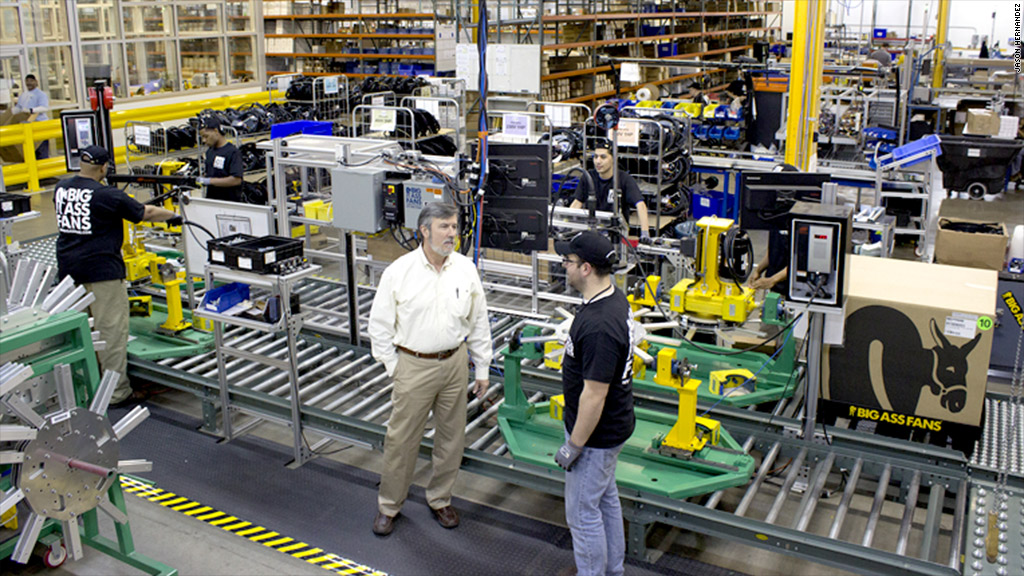 Carey Smith grew up familiar with a hard day's work. He started selling Christmas cards door to door at age nine and moved on to setting newspaper type, cleaning hospital bedpans and washing shirts.
"I come from a blue-collar family," Smith said. "My mother used to work for a company that gave employees a ham at the holidays as a bonus. It really bothered her to work so hard all year and get a $5 ham as a 'thank you'."
Employees of Big Ass Fans don't have to worry about that. Based in Lexington, Ky., the company sells fans for homes, factories and businesses in 80 countries. In 2012, Smith's 481 workers were paid about 30% more than the U.S. median of $45,790 -- and 50% more than Kentucky's median of $38,940.
And in 2013, Big Ass Fans rewarded all factory employees with a $1-per-hour raise.
There has been a lot of controversy lately over whether to raise the minimum wage. But Smith insisted his practices are "just good business."
Related: How will a minimum wage hike hit businesses?
Smith's policy of paying employees well goes back to a remark he heard in his 20s when he worked for an insurance company. A senior executive said the insurer could afford to pay people much more than they did -- but since employees were willing to accept low wages, why bother?
The comment, and the attitude behind it, rankled Smith so much that he began thinking of starting an enterprise "where employees could share in the company's financial success," Smith said.
And Big Ass Fans does just that. Smith pays out about 30% of the company's annual profits as bonuses (nary a ham in sight). While they dipped a bit during the recession, Smith takes pride in the fact that no employees were laid off.
Not only is the no-layoffs policy good for company morale, Smith says it also saves Big Ass Fans thousands of dollars in recruiting and training new employees.
Related: Hardest part of being the boss: Firing people
Workers have returned the favor by sticking around, and not just for high pay. To head off boredom and burnout, Big Ass Fans encourages people to move from one job to another.
Matt Nader, for instance, joined Big Ass Fans as a salesman when it launched it in 1999. Although he was successful, he tired of it after a few years. So Smith put him in charge of supply-chain management, where he's thriving. That kind of flexibility helps Big Ass Fans maintain a retention rate of about 90%, far outpacing the 63% national average. It's also helped them dramatically increase productivity over the last four years.
And revenues? They've gone up even more. From 2009 to 2012, sales jumped from $34 million to $87 million. In 2013, that figure shot up to about $122 million.
"We couldn't have increased revenues almost sixfold in five years if we weren't rewarding people well and keeping them around," Smith said.