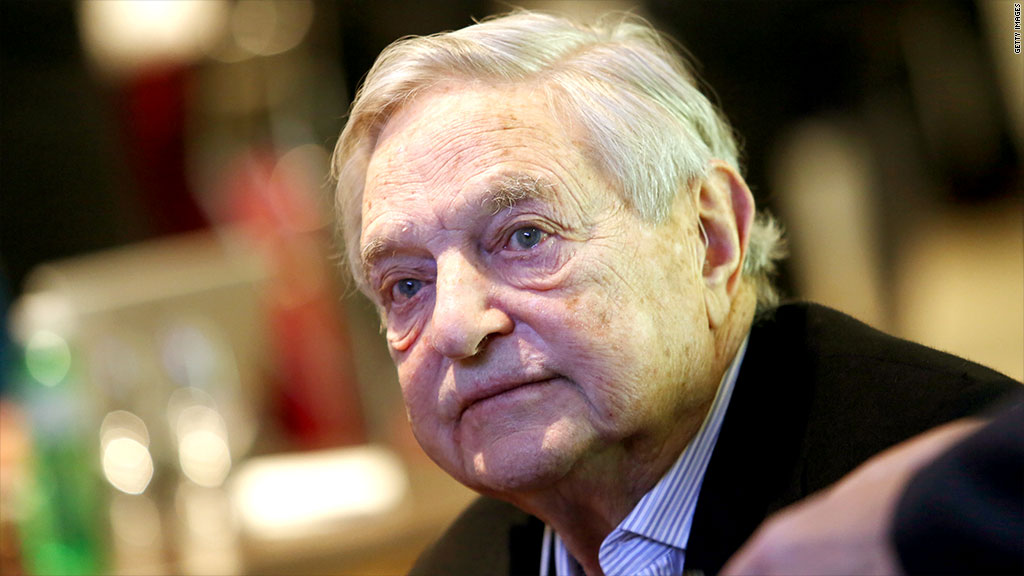 Hedge fund heavyweight George Soros appears to be making a billion dollar bet against the stock market. But looks can be deceiving.
Tongues have been wagging on Wall Street since Soros Fund Management revealed in a quarterly filing with the Securities and Exchange Commission Friday that his fund owned 7 million "puts" on the S&P 500 (SPY) exchange traded fund in the fourth quarter. Puts are essentially a bet that the price of an asset will go down. The total value of the "puts" as of the filing date was $1.3 billion.
Soros first bought the position last year as the S&P 500 was on its way to setting a series of new record highs. So if Soros is boosting the size of an investment that many short sellers and other market bears use, then that should be big news to make investors worried about where are stocks going, right? Not necessarily.
According to one investment expert, the move may be nothing more than a standard hedging practice for Soros, whose total portfolio is worth about $11.7 billion. Insider Monkey research director Ian Dogan noted that even though the size of the S&P 500 put position increased by a whopping 150%, this may be normal given that Soros also increased his overall long position on the market by $2 billion.
Related: Soros and other hedge fund bailed on gold in 2013
To that end, Friday's filing also revealed that Soros added to stakes in several well-known stocks, such as Apple (AAPL), General Motors (GM), JPMorgan Chase (JPM) and Dish Network (DISH), in the fourth quarter.
Another thing to remember is that the latest filing is a snapshot of what the fund held as of the end of December. We won't know what Soros has bought or sold in the first quarter until sometime in May when his firm is required to file its latest quarterly update.
A Soros representative declined to comment on the filing. But with his history of big bets, it's understandable why some investors are curious.
A little more than 20 years ago Soros made his most famous investment. He shorted the British pound and pocketed a billion dollars in the process.