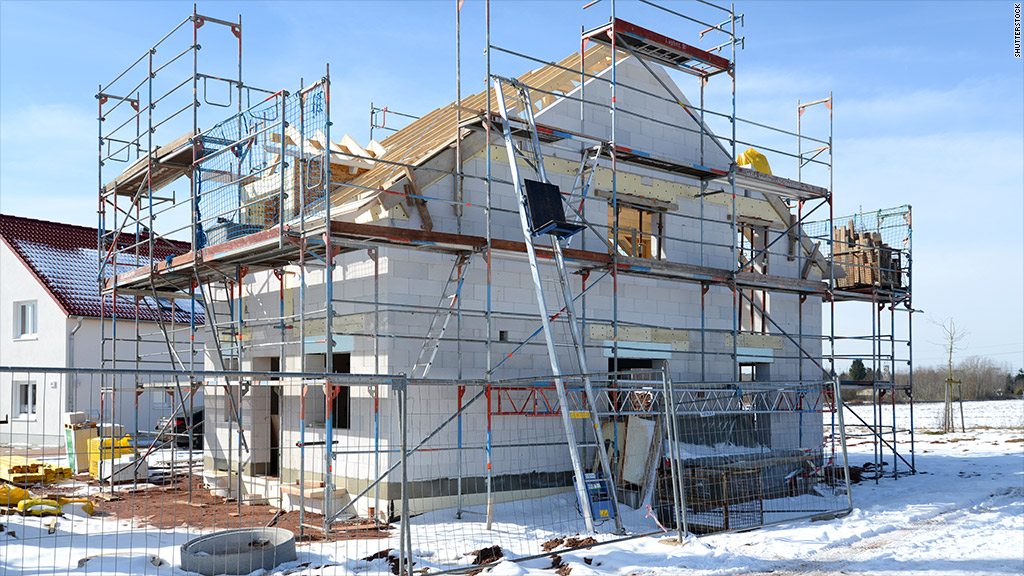 Bad weather took a bite out of home construction in January, and there are signs that the housing recovery is losing steam for reasons beyond the snow and cold.
A government reading showed the annual pace of housing starts fell to 880,000 from 1.05 million in December, the biggest one-month drop in that reading in seven years. The pace of starts was also lower than levels a year ago for the first time in three years.
But the bad weather didn't hurt construction in every region. Housing starts were actually up in the Northeast despite some bad storms, and down in the West, where the weather was relatively good.
Applications for building permits, a measure of demand for new homes that is less affected by weather, also fell from December, down 5%. But they were above levels from a year ago.
There are other signs of softness in the housing market.
Mortgage rates are higher, and the pace of home sales has slowed in recent months.
Related: 10 hottest housing markets for 2014
A National Association of Home Builders survey released Tuesday showed a sharp decline in builder confidence, and new home sales showed a decline in December according to a separate government reading.
But some experts believe that the the fundamentals of the housing market recovery remain strong despite the latest weakness.
Related: Home prices show signs of topping out
"Given what we already know about weather disruptions in the economy in January, it is not surprising that the starts and permits data were weak," said Joseph LaVorgna, chief U.S. economist at Deutsche Bank in a note to clients Wednesday. He said while February's bad weather may keep construction weak for another month, "our central view is that the weather is simply creating pent-up demand, which will ultimately lead to a surge in activity at some not-so-distant future date."