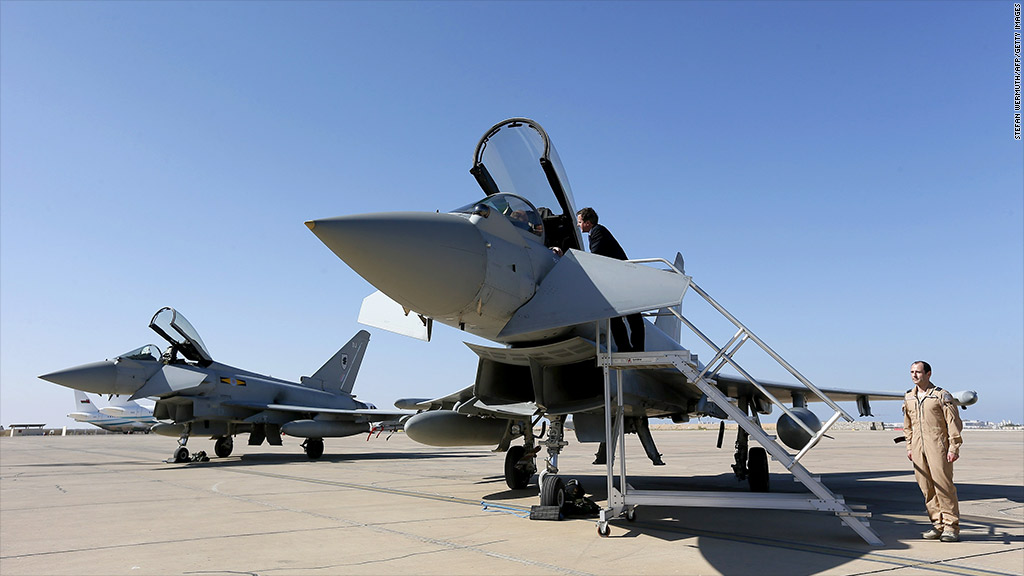 Shares in BAE Systems plunged Thursday after the defense contractor warned that U.S. budget cuts would hit profits in 2014.
BAE (BAESY) said its U.S. defense and security business will shrink by roughly 15% over the course of 2013 and 2014, as the U.S. cuts defense spending by roughly $450 billion -- or 10% -- over the next decade.
As a result, earnings per share this year will be as much as 10% lower than in 2013.
The stock was down 8% in London trading, after falling as much as 11% earlier in the day.
BAE CEO Ian King said the company was facing budget pressures in some of its larger markets but was diversifying its business, securing £6.4 billion ($10.7 billion) in deals with Saudi Arabia over the course of 2013.
Still, 2013 sales and earnings figures published Thursday came in below analyst expectations.
Earlier this week, the company also announced it had settled a long-running pricing dispute over the supply of Typhoon aircraft to Saudi Arabia.
Related: Food stamp use among military rising again
Shares in several big U.S defense firms, including Lockheed Martin (LMT), Raytheon (RTN), General Dynamics (GD) and Northrop Grumman (NOC), have traded at or around all-time highs this week. Each of these companies has seen its shares surge by 100% or more over the last five years. BAE shares are back where they were in 2009.
In 2012, BAE tried to merge its operations with EADS (EADSF) but the plans were dropped after the companies failed to win political support for the $45 billion deal. The combination would have created a European aerospace and defense rival to the American powerhouses.