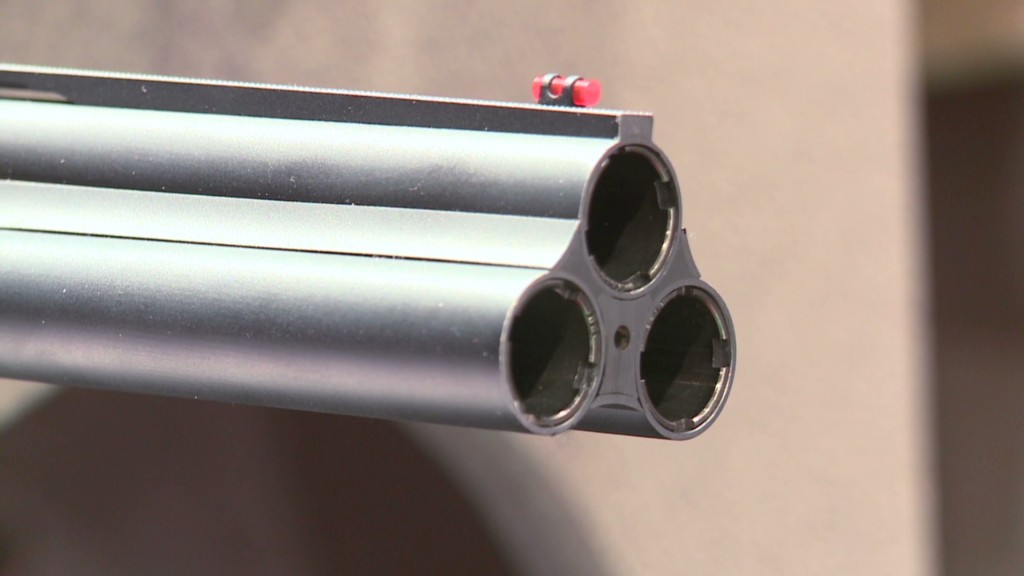 Chiappa, an Italian gunmaker known for its exotic firearms, is going to start making them in America.
The gun maker already employs 14 people in Ohio and Kentucky who import and sell Chiappa's guns. Now the 56-year old company is building a factory in Dayton, Ohio, and plans to bring it online by the summer.
Business has been good for Chiappa, which was founded in 1958 and is based in Italy. The company's biggest distributor in the U.S. doubled its orders for 2014. The manufacturer has more than quadrupled its Dayton space to 33,000 square feet, according to sales and marketing director Jim Eubank. This year it plans to double its U.S. workforce to about 30 people.
Chiappa's success runs counter to the overall trend for the gun industry as a whole, which has seen sales lose steam after a big runup last year, possibly because it makes unusual weapons.
The manufacturer specializes in replicas of vintage American guns. It produces a slew of firearms based on 19th-century designs, such as the Spencer repeating rifle that helped the Union beat the Confederacy during the Civil War, as well as Western-style revolvers, rifles and shotguns. One popular model is the so-called Mare's Leg, the sawed-off lever-action rifle featured in the 1950s TV Western "Wanted Dead or Alive," starring Steve McQueen.
Related video: Meet the man behind the .50 caliber rifle
Chiappa also makes unique modern weapons that are very different from the assault rifles that have been driving the industry's sales. It just rolled out a triple-barrelled shotgun that Eubanks says is one of a kind. "I don't think there's any competitor," he says.
Its signature product is the Rhino, a unusual revolver with an especially low cylinder-barrel alignment to better control the gun's recoil.
Chiappa's top-selling gun in the U.S. is a single-shot .22-caliber rifle called the Little Badger, which retails for about $200. Although it's not specifically made for children, Eubank, who has three children and also grandchildren, said that it's a good gun for kids because "you've got one shot that you're controlling, so you can teach the safety aspects of it."
Related: Pink is the new black for women who love guns
Chiappa also has the X-Caliber, a lightweight, break-action rifle-shotgun that was invented by Tim Ralston, a survivalist featured on the National Geographic show "Doomsday Preppers." This gun's claim to fame is an adapter that lets the gun fire 10 different calibers of ammunition through its 12-gauge barrel.
Related: Machine gun tourism in Sin City
Ralston,said the X-Caliber is the best gun for the apocalypse "because it gives you that ability to go and scavenge for ammunition whatever you can."
"Let's say I've run out of my 12 gauge shells, but I've come across your dead body," he said. "So I go and rifle through your jacket and I find .357 bullets. With this gun, all I have to do is slide [the adapter] in, and I'm shooting .357 out of a shotgun."