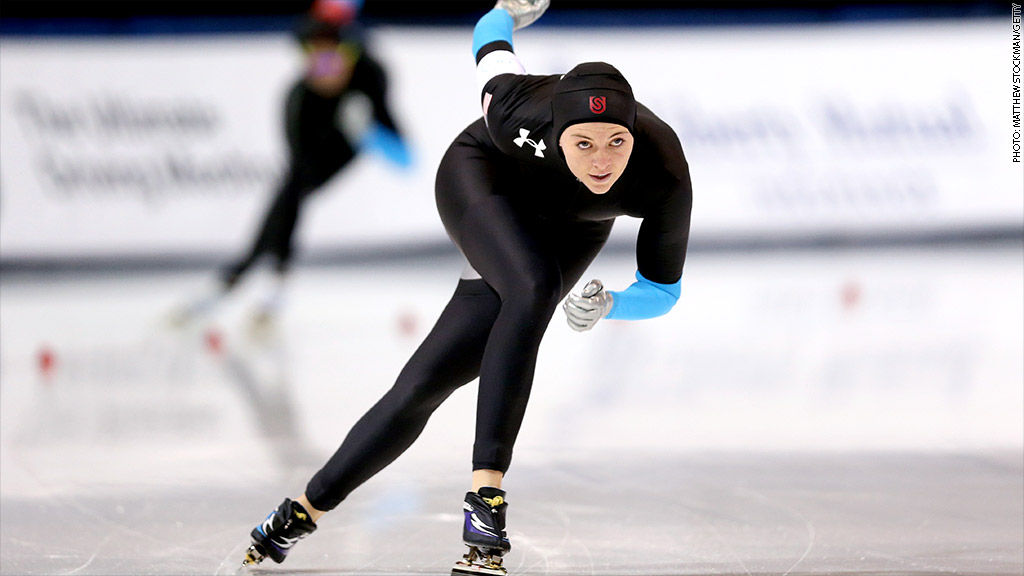 Under Armour has extended its exclusive contract with the U.S. Speedskating Association despite some controversy involving the suits worn by athletes at the 2014 Winter Olympics in Sochi, Russia.
Under Armour (UA), a provider of sports apparel, and the U.S. Speedskating Association said Friday that they extended their contract by eight years, through the end of 2022.
This means that they'll be providing skin suits for U.S. speedskaters at the next two Winter Olympics: 2018 in Pyeongchang, South Korea, and 2022 in a site to be determined.
The renewal comes after U.S. speedskaters failed to capture any medals in Sochi, sparking a debate about whether the suits are somehow to blame.
Under Armour founder and Chief Executive Officer Kevin Plank told CNNMoney that criticisms of the suits were based on "sheer conjecture and speculation. There were no facts to back it up. We mathematically know it's not the suit."
He said that Under Armour partnered with aerospace company Lockheed Martin (LMT) to design the suits, which were made in San Francisco and provided free to the speedskating team, along with an annual cash contribution. He said the U.S. team trained with the suits, but did not compete with them before the Olympics.
Related: Norwegian curlers kick Olympic butt with crazy pants
Kevin Haley, senior vice president of innovation for Under Armour, told CNN in a Feb. 14 interview that the vents in the back of the suits were removed, at the request of coaches and athletes, and replaced with a "permeous, more rubber-like fabric from the front of the suit."
But he added, "The vent was not an issue. The results were the same without the vent as with the vent."
Going forward, Plank said he will urge "clear transparency" in all dealings with athletes while training with the suits.
"U.S. Speedskating will be in good hands," he said. "It will be in our hands and we're going to give them the best chance to win."
Related: Americans avoid expensive Sochi
The Dutch skeedskating team has dominated the Olympics this year, annihilating the competition by winning 21 medals.
Baltimore-based Under Armour also provides apparel to the U.S. bobsled and skeleton teams, as well as the Canadian snowboarders.