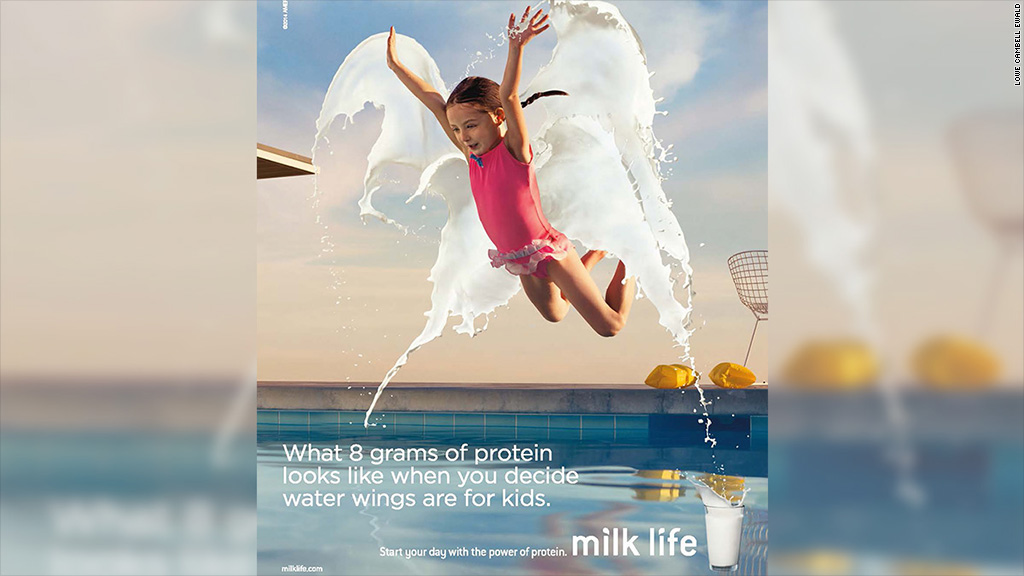 "Got Milk?" is one of the most recognizable ad campaigns of the past 20 years. But the iconic ads are getting axed as the industry looks for a new hook to increase milk consumption amid declining sales.
The Got Milk ad first appeared in 1994 featuring supermodel Naomi Campbell wearing a milk mustache. Over the years, the ads have featured celebrities such as Elton John, Katie Couric, Bill Clinton and David Beckham.
"The reason why we used celebrities at the time was to help improve milk's image," said Sal Taibi, president of Lowe Campbell Ewald, the agency involved in the "Got Milk" ads. "The idea was to convey the message that everybody drinks milk, even successful cool people."
The new ads, which roll out Tuesday, have the tagline "Milk Life" and feature ordinary people and tout milk's protein richness.
"We want to show how milk can help you power through everyday moments and everyday achievements," said Taibi, whose agency also conceptualized the Milk Life ads. The ads are commissioned by the Milk Processor Education Program (MilkPEP), which is spending $50 million on the marketing effort.
The story was reported earlier Monday by industry publication AdAge.
It was time to get consumers to rethink milk, said Julia Kadison, interim CEO for MilkPEP, which represents milk processors around the nation.
Not only is milk consumption declining -- with sales down about 1% each year for the past two years -- consumers also aren't aware of its other nutritional benefits, she said.
"Milk is a rich source of protein. There are 8 grams of protein in every 8-ounce serving of it," Kadison said.
Taibi said his agency started working on a new concept with MilkPEP a year ago. He said the ads are intended to convey the power of protein after you drink milk.
One ad shows a little girl jumping into the pool without any protective gear. Milk gives her the "wings" (and, presumably, the confidence) necessary to make the jump.
"All the ads will use special effects to show the energy you get from milk," said Taibi. "It could be through wings, a parachute or even propellers."