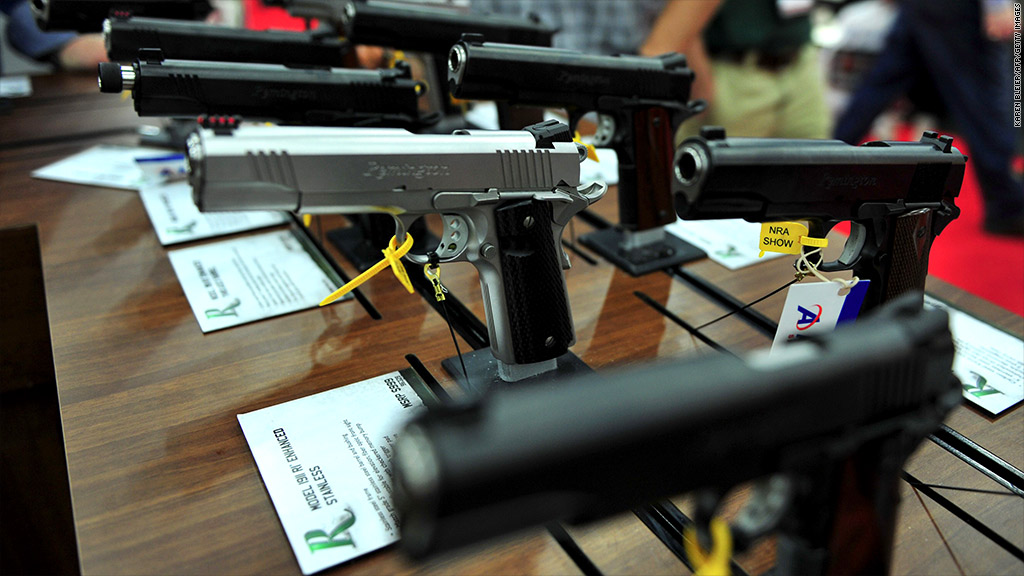 Sturm Ruger gun sales surged last year, but are coming down to more "realistic" levels in 2014, the company's chief executive said Wednesday.
Retail sales last year were "driven primarily by emotion" and also by "the political environment of 2013 that favorably impacted the entire gun industry," said CEO Michael Fifer, in a call with investors.
Net sales jumped 28% and earnings surged by one-third in the fourth quarter of 2013, compared to the year before, according to the Southport, Conn.-based company.
But there were downsides to the frenetic demand, according to Fifer. While guns were flying off the shelves last year, he said that many distributors placed "grossly unrealistic" orders with Sturm Ruger -- such as "that guy with $25,000 worth of credit line hoping he's going to get $100 million worth of product before the surge ended."
Related: Gun sales are plunging from last year's peak
Gun sales have been driven industry-wide by fear that President Obama would successfully push further restrictions on guns following a series of massacres that culminated with the Newtown, Conn., school shooting in December 2012. But Obama failed to get a gun bill through Congress, and statistics from the Federal Bureau of Investigation show that sales this year are falling from their peak.
Last year's increased demand helped Sturm Ruger (RGR) open a new factory in Mayodan, N.C., where the company started producing rifles in November. Fifer said that about 100 workers are employed at that factory, compared to at least 1,000 workers at each of the other factories in Newport, N.H., and Prescott, Ariz.
Related: Italian gunmaker brings factory jobs to U.S.
Hiring new workers is a challenge, he said.
"We really tapped out the workforce in our primary manufacturing areas," he said Fifer. "We have people commuting more than an hour for entry-level manufacturing jobs, and that's kind of ridiculous."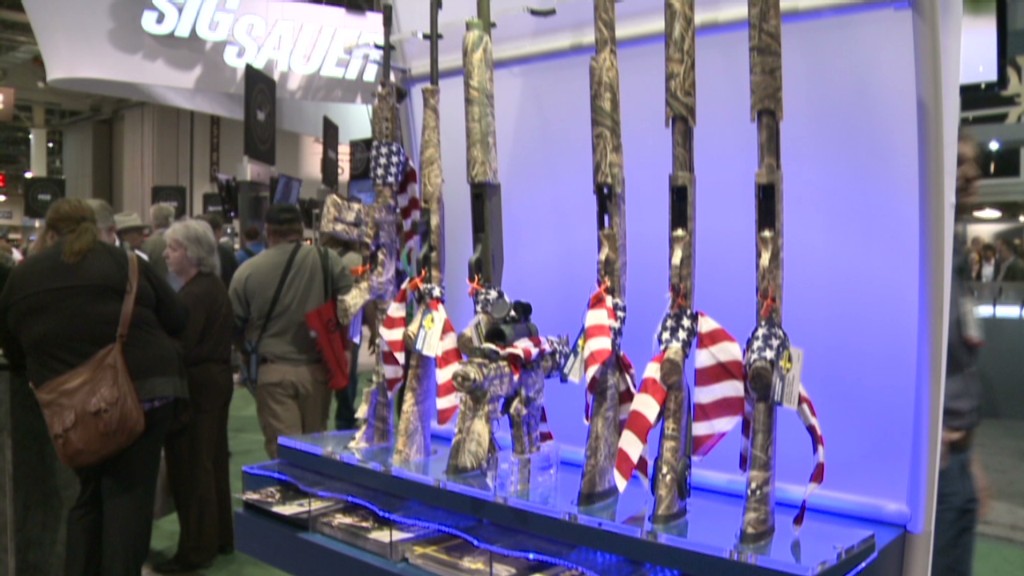 Another challenge has been the shortage in ammunition, which Sturm Ruger does not make. Fifer, a former Navy submariner with an MBA from Harvard Business School, said the shortage has been so acute that his company has had difficulty getting enough ammo to test its guns.
But he ruled out the idea of expanding Sturm Ruger's manufacturing capacity into ammo.
"I don't think we would, unless we were fortunate enough to acquire the ammunition manufacturers, and, at the moment, none of them are for sale," he said.
Related: Pink is the new black for women who buy guns
Fifer said Sturm Ruger plans to keep sales strong by continuing to debut new products, bolstered by the growing ranks of new shooters, particularly women.
"There's a lot more female participation, and frankly we're delighted by that," he said. "Some of them will buy more than one gun. They realize that one size doesn't fit all needs in firearms."